In a recent survey of home sellers by Qualtrics, 87% of respondents said they were concerned their home won't sell because of the pandemic and resulting economic recession. Of the respondents, 51% said they are "seriously worried." That concern seems reasonable considering the current condition of the economy. The data, however, is showing that home purchasers are still very active despite the disruptions American families have experienced this year.
The latest Existing Home Sales Report published by the National Association of Realtors (NAR) revealed that 340,000 single-family homes sold in this country last month. NAR's most recent Pending Sales Report (homes going into contract) surpassed last month's number by over 44%, which far exceeded analysts' projections of 15%. ShowingTime reported that appointments to see homes (both virtually and in-person) have increased in every region of the country and are up 21.4% nationwide over the same time last year.
While buyer activity is surging, the number of listings has fallen to an all-time low. Zelman Associates, in their latest residential real estate report, revealed that housing inventory as a percentage of households has fallen to 1.2%, which is half of the long-term average and lower than any other time in our history.
Bidding Wars Heating Up Again
With buyer demand growing and the supply of available homes shrinking, purchasers are again finding themselves needing to outbid other buyers. NAR, in a recent blog post, revealed:
"On average, there were about three offers on a home that closed in May, up from just about two in April 2020 and in May 2019 (2.3 offers)."
Bidding wars guarantee houses sell quickly at a price near or even slightly over the listing price.
Bottom Line
If you're thinking of selling, don't be concerned about putting your house on the market right now. There's no better time to sell an item than when demand for it is high and supply is low. It is exactly at that time when you will negotiate your best possible deal.
Everyone is ready to buy a home at different times in their lives, and despite the health crisis, today is no exception. Understanding how affordability works and the main market factors that impact it may help those who are ready to buy a home narrow down their optimal window of time to make a purchase.
There are three main factors that go into determining how affordable homes are for buyers:
Mortgage Rates
Mortgage Payments as a Percentage of Income
Home Prices
The National Association of Realtors (NAR), produces a Housing Affordability Index, which takes these three factors into account and determines an overall affordability score for housing. According to NAR, the index:
"…measures whether or not a typical family earns enough income to qualify for a mortgage loan on a typical home at the national and regional levels based on the most recent price and income data."
Their methodology states:
"To interpret the indices, a value of 100 means that a family with the median income has exactly enough income to qualify for a mortgage on a median-priced home. An index above 100 signifies that family earning the median income has more than enough income to qualify for a mortgage loan on a median-priced home, assuming a 20 percent down payment."
So, the higher the index, the more affordable it is to purchase a home. Here's a graph of the index going back to 1990: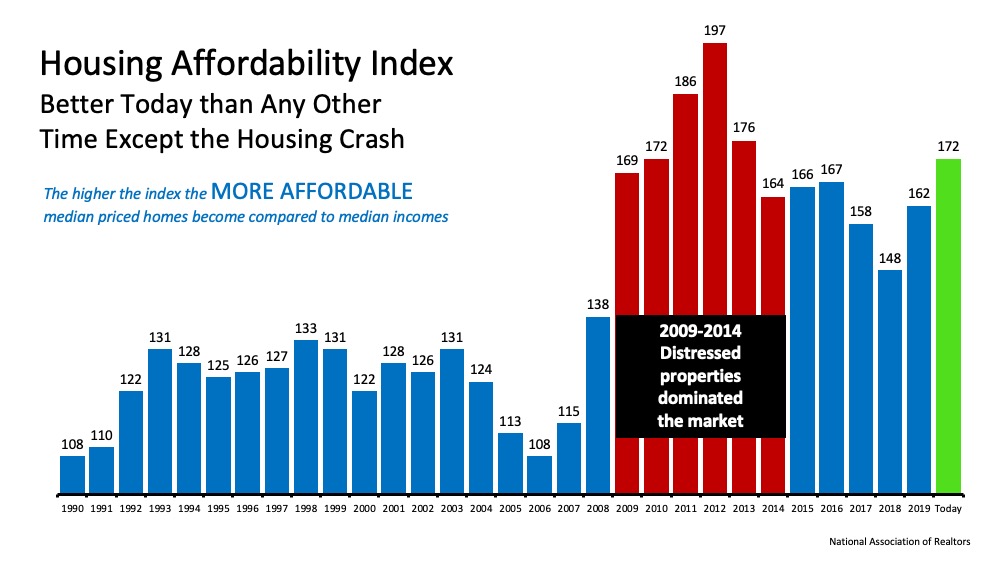 The green bar represents today's affordability. We can see that homes are more affordable now than they have been at any point since the housing crash when distressed properties (foreclosures and short sales) dominated the market. Those properties were sold at large discounts not seen before in the housing market.
Why are homes so affordable today?
Although there are three factors that drive the overall equation, the one that's playing the largest part in today's homebuying affordability is historically low mortgage rates. Based on this primary factor, we can see that it is more affordable to buy a home today than at any time in the last seven years.
If you're considering purchasing your first home or moving up to the one you've always hoped for, it's important to understand how affordability plays into the overall cost of your home. With that in mind, buying while mortgage rates are as low as they are now may save you quite a bit of money over the life of your home loan.
Bottom Line
If you feel ready to buy, purchasing a home this season may save you significantly over time based on historic affordability trends. Let's connect today to determine if now is the right time for you to make your move.
A recent survey by Lending Tree tapped into behaviors of over 1,000 prospective buyers. The results indicated 53% of all homebuyers are more likely to buy a home in the next year, even amid the current health crisis. The survey further revealed why, naming several reasons buyers are more likely to move this year (see graph below):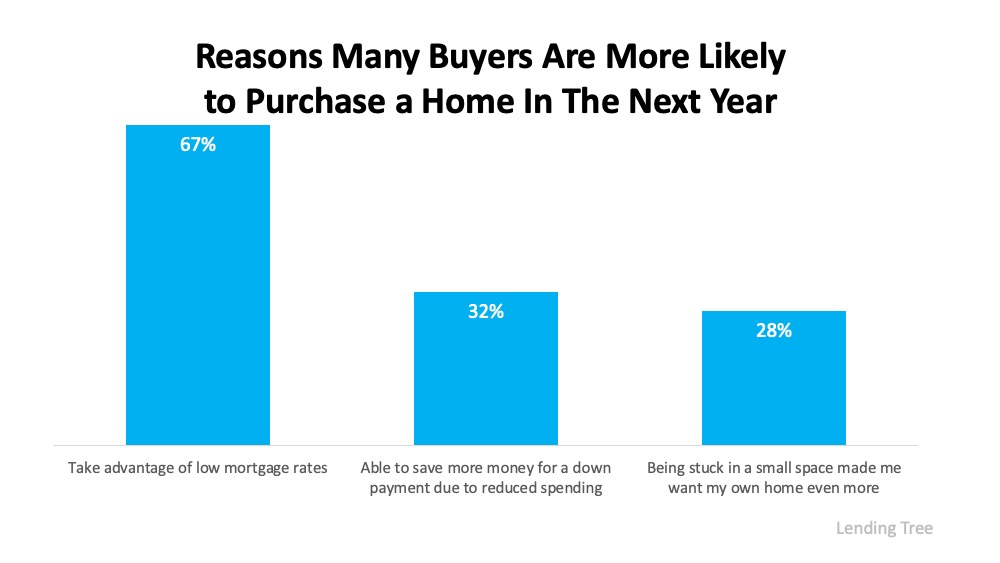 Let's break down why these are a few of the key factors motivating buyers to actively engage in the home search process, and the corresponding wins for sellers as well.
1. Low Mortgage Rates
The biggest reason potential homebuyers indicated they're eager to purchase this year is due to current mortgage rates, which are hovering near all-time lows. Today's low rates are making it more affordable than ever to buy a home, which is a huge incentive for purchasers. In fact, 67% of respondents in the Lending Tree survey want to take advantage of low mortgage rates. This is no surprise when comparing historic mortgage rates by decade (see below):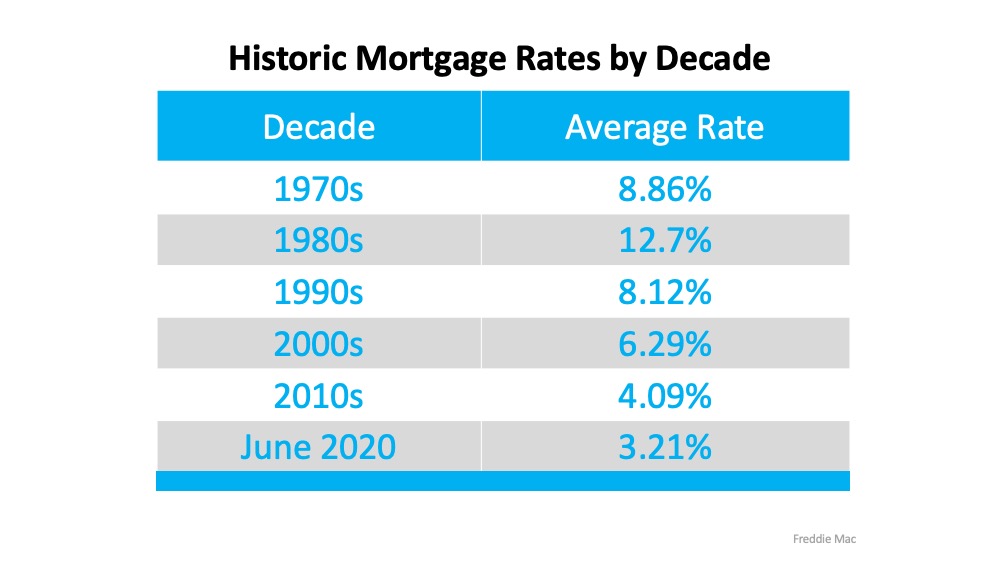 Sam Khater, Chief Economist at Freddie Mac recently said:
"As the economy is slowly rebounding, all signs continue to point to a solid recovery in home sales activity heading into the summer as prospective buyers jump back into the market. Low mortgage rates are a key factor in this recovery."
2. Reduced Spending
Some people have also been able to save a little extra money over the past few months while sheltering in place. One of the upsides of staying home recently is that many have been able to work remotely and minimize extra spending on things like commuting expenses, social events, and more. For those who fall into this category, they may have a bit more saved up for down payments and closing costs, making purchasing a home more feasible today.
3. Re-Evaluating Their Space
Spending time at home has also given buyers a chance to really evaluate their living space, whether renting or as a current homeowner. With time available to craft a wish list of what they really need in their next home, from more square footage to a more spacious neighborhood, they're ready to make it happen.
What does this mean for buyers and sellers?
With these three factors in play, the demand for housing will keep growing this year, especially over the summer as more communities continue their phased approach to reopening. Buyers can take advantage of additional savings and low mortgage rates. And if you're thinking of selling, know that your home may be in high demand as buyer interest grows and the number of homes for sale continues to dwindle. This may be your moment to list your house and make a move into a new space as well.
Bottom Line
If you're ready to buy or sell – or maybe both – let's connect to put your plans in motion. With low mortgage rates leading the way, it's a great time to take advantage of your position in today's market.
Last Friday, the U.S. Bureau of Labor Statistics released their May Employment Situation Summary. Leading up to the release, most experts predicted the unemployment rate would jump up to approximately 20% from the 14.7% rate announced last month.
The experts were shocked.
The Wall Street Journal put it this way:
"The May U.S. jobless rate fell to 13.3% and employers added 2.5 million jobs, blowing Wall Street expectations out of the water: Economists had forecast a loss of 8.3 million jobs and a 19.5% unemployment rate."
In addition, CNBC revealed:
"The May gain was by far the biggest one-month jobs surge in U.S. history since at least 1939."
Here are some of the job gains by sector:
Food Service and Bartenders – 1,400,000
Construction – 464,000
Education and Health Services – 424,000
Retail – 368,000
Other Services – 272,000
Manufacturing – 225,000
Professional Services – 127,000
There's still a long way to go before the economy fully recovers, as 21 million Americans remain unemployed. That number is down, however, from 23 million just last month. And, of the 21 million in the current report, 73% feel their layoff is temporary. This aligns with a recent Federal Reserve Bank report that showed employers felt 75% of the job losses are temporary layoffs and furloughs.
The Employment Situation Summary was definitely a pleasant surprise, and evidence that the country's economic turnaround is underway. The data also offers a labor-market snapshot from mid-May, when the government conducted its monthly survey of households and businesses. Many states did not open for business until the second half of May. This bodes well for next month's jobs report.
Bottom Line
We cannot rejoice over a report that reveals millions of American families are still without work. We can, however, feel relieved that we are headed in the right direction, and much more quickly than most anticipated.
Note: In its original report, the BLS explained that a misclassification error could have occurred over the last 3 months, starting in March of 2020. Readjusting for this error, the unemployment rate would actually show a drop from 19.7% in April to 16.3% in May. Nobody would say the original report of 13.3% unemployment was a good number, nor is the revised 16.3%. What is a positive move for our country and the economy is the significant drop in the rate from April to May, meaning more people are getting jobs than losing them. That's the key takeaway.
With stay-at-home orders starting to gradually lift throughout parts of California, data indicates homebuyers are jumping back into the market. After many families put their plans on hold due to the COVID-19 pandemic, what we once called the busy spring real estate season is shifting into the summer. In 2020, summer is the new spring for real estate.
Joel Kan, Economist at The Mortgage Bankers Association (MBA) notes:
"Applications for home purchases continue to recover from April's sizable drop and have now increased for five consecutive weeks…Government purchase applications, which include FHA, VA, and USDA loans, are now 5 percent higher than a year ago, which is an encouraging turnaround after the weakness seen over the past two months."
Additionally, according to Google Trends, which scores search terms online, searches for real estate increased from 68 points the week of March 15th to 92 points last week. As we can see, more potential homebuyers are looking for homes virtually.
What's the Opportunity for Buyers?
Another reason buyers are coming back to the market, even with forced unemployment and stay-at-home orders, is historically low mortgage rates. Sam Khater, Chief Economist at Freddie Mac indicates:
"For the fourth consecutive week, the 30-year fixed-rate mortgage has been below 3.30 percent, giving potential buyers a good reason to continue shopping even amid the pandemic…As states reopen, we're seeing purchase demand improve remarkably fast, now essentially flat relative to a year ago."
With mortgage rates at such low levels and states gradually beginning to reopen, there's more incentive than ever to buy a home this summer.
What's the Opportunity for Sellers?
Finding a home to buy, however, is still a challenge, as this spring sellers removed many listings from the market. Though more people are now putting their houses up for sale this month as compared to last month, current inventory is still well below last year's level.
According to last week's Weekly Economic and Housing Market Update from realtor.com:
"Weekly Housing Inventory showed continued tightening. New Listings declined 28% compared with a year ago, as sellers grappled with uncertainty and hesitated bringing homes to market. Total Listings dropped 20% YoY, a faster rate than in prior weeks, leaving very few homes available for sale. As Time on Market was 15 days slower YoY, asking prices moved up 1.5% YoY."

If you're thinking of selling your house this summer, now may be your best opportunity. With so few homes on the market for buyers to purchase, this season may be the time for your house to stand out from the crowd. Trusted real estate professionals can help you list safely and effectively, keeping your family's needs top of mind. Buyers are looking, and your house may be at the top of their list.
Bottom Line
If you're thinking of selling, many buyers may be eager to find a home just like yours. Let's connect today to make sure you can get your house in on the action this summer.
The interest rate you secure when buying a home not only greatly impacts your monthly housing costs, but also impacts your purchasing power.  Purchasing power, simply put, is the amount of home you can afford to buy for the budget you have available to spend.
As rates increase, the price of the house you can afford will decrease if you plan to stay within a certain monthly housing budget.
Whether you've considered becoming a homeowner for the first time or have decided to sell your home and buy one that better suits your current lifestyle, now is a great time to get together and discuss your options.
There are many benefits to working with a real estate professional when selling your house. During challenging times like the one we face today, it becomes even more important to have an expert help guide you through the process. If you're considering selling on your own, known in the industry as a For Sale By Owner or FSBO, please consider the following:
1. Your Safety Is a Priority
During this pandemic, your family's safety comes first. When you FSBO, it is incredibly difficult to control entry into your home. A real estate professional will have the proper protocols in place to protect not only your belongings, but your family's health and well-being too. From regulating the number of people in your home at one time to ensuring proper sanitization during and after a showing, and even facilitating virtual tours for buyers, agents are equipped to follow the latest industry standards recommended by the National Association of Realtors (NAR) to help protect you and your family.
2. A Powerful Online Strategy Is a Must to Attract a Buyer
Recent studies have shown that, even before COVID-19, the first step 44% of all buyers took when looking for a home was to search online. Throughout the process, that number jumped to 93%. Today, those numbers have grown exponentially. Most real estate agents have developed a strong Internet and social media strategy to promote the sale of your house. Have you?
3. There Are Too Many Negotiations
Here are just a few of the people you'll need to negotiate with if you decide to FSBO:
The buyer, who wants the best deal possible
The buyer's agent, who solely represents the best interest of the buyer
The inspection companies, which work for the buyer and will almost always find challenges with the house
The appraiser, if there is a question of value
As part of their training, agents are taught how to negotiate every aspect of the real estate transaction and how to mediate the emotions felt by buyers looking to make what is probably the largest purchase of their lives.
4. You Won't Know if Your Purchaser Is Qualified for a Mortgage
Having a buyer who wants to purchase your house is the first step. Making sure they can afford to buy it is just as important. As a FSBO, it's almost impossible to be involved in the mortgage process of your buyer. A real estate professional is trained to ask the appropriate questions and, in most cases, will be intimately aware of the progress that's being made toward a purchaser's mortgage commitment.
Further complicating the situation is how the current mortgage market is rapidly evolving because of the number of families out of work and in mortgage forbearance. A loan program that was there yesterday could be gone tomorrow. You need someone who is working with lenders every day to guarantee your buyer makes it to the closing table.
5. FSBOing Has Become More Difficult from a Legal Standpoint
The documentation involved in the selling process has increased dramatically as more and more disclosures and regulations have become mandatory. In an increasingly litigious society, the agent acts as a third-party to help the seller avoid legal jeopardy. This is one of the major reasons why the percentage of people FSBOing has dropped from 19% to 8% over the last 20+ years.
6. You Net More Money When Using an Agent
Many homeowners believe they'll save the real estate commission by selling on their own. Realize that the main reason buyers look at FSBOs is because they also believe they can save the real estate agent's commission. The seller and buyer can't both save the commission.
A study by Collateral Analytics revealed that FSBOs don't actually save anything by forgoing the help of an agent. In some cases, the seller may even net less money from the sale. The study found the difference in price between a FSBO and an agent-listed home was an average of 6%. One of the main reasons for the price difference is effective exposure:
"Properties listed with a broker that is a member of the local MLS will be listed online with all other participating broker websites, marketing the home to a much larger buyer population. And those MLS properties generally offer compensation to agents who represent buyers, incentivizing them to show and sell the property and again potentially enlarging the buyer pool."
The more buyers that view a home, the greater the chance a bidding war will take place.
Bottom Line

Listing on your own leaves you to manage the entire transaction yourself. Why do that when you can hire an agent and still net the same amount of money? Before you decide to take on the challenge of selling your house alone, let's connect to discuss your options.
Given how we have seen more unemployment claims than ever before over the past several weeks, fear is spreading widely. Some good news, however, shows that more than 4 million initial unemployment filers have likely already found a new job, especially as industries such as health care, food and grocery stores, retail, delivery, and more increase their employment opportunities. Breaking down what unemployment means for homeownership, and understanding the significant equity Americans hold today, are important parts of seeing the picture clearly when sorting through this uncertainty.
One of the biggest questions right now is whether this historic unemployment rate will initiate a new surge of foreclosures in the market. It's a very real fear. Despite the staggering number of claims, there are actually many reasons why we won't see a significant number of foreclosures like we did during the housing crash twelve years ago. The amount of equity homeowners have today is a leading differentiator in the current market.
Today, according to John Burns Consulting, 58.7% of homes in the U.S. have at least 60% equity. That number is drastically different than it was in 2008 when the housing bubble burst. The last recession was painful, and when prices dipped, many found themselves owing more on their mortgage than what their homes were worth. Homeowners simply walked away at that point. Now, 42.1% of all homes in this country are mortgage-free, meaning they're owned free and clear. Those homes are not at risk for foreclosure (see graph below):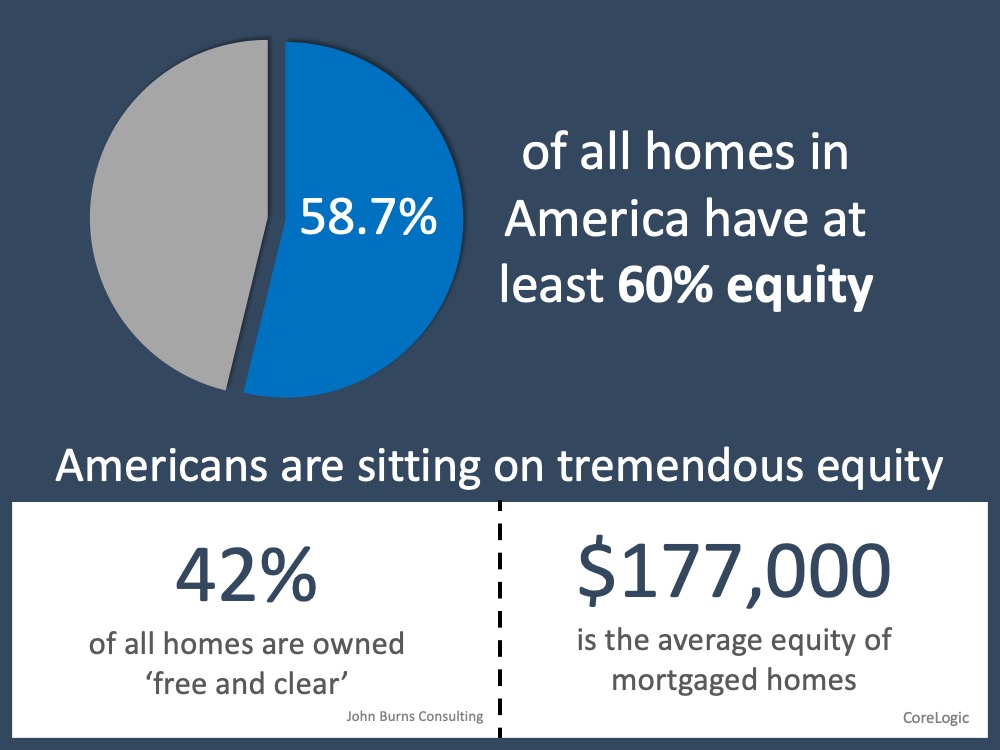 In addition, CoreLogic notes the average equity mortgaged homes have today is $177,000. That's a significant amount that homeowners won't be stepping away from, even in today's economy (see chart below):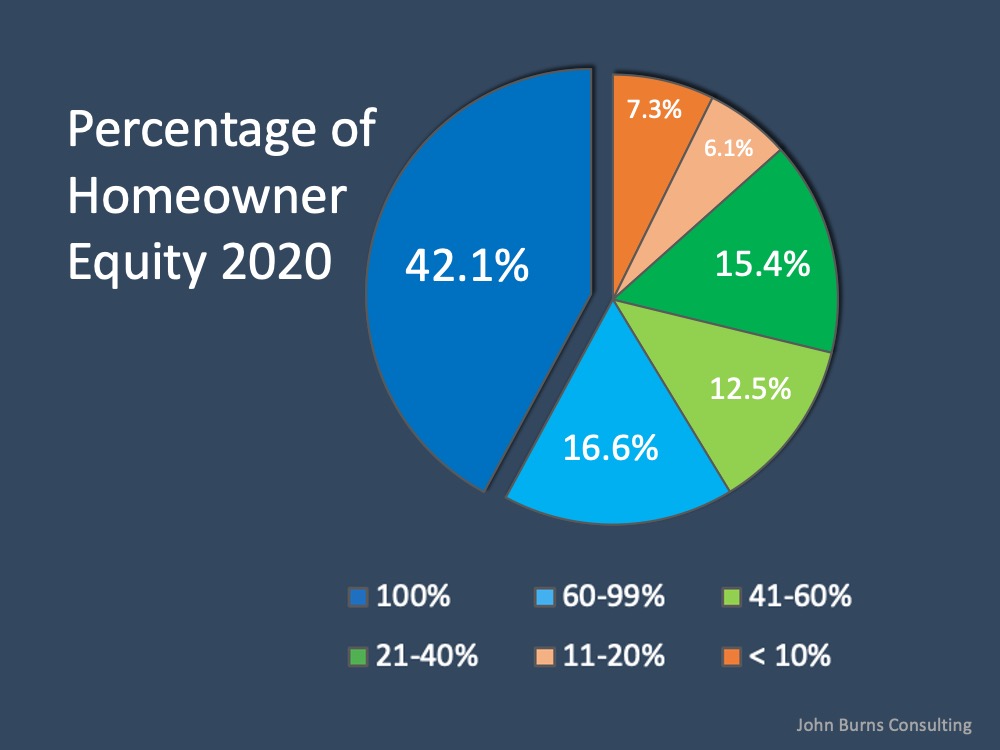 In essence, the amount of equity homeowners have today positions them to be in a much better place than they were in 2008.
Bottom Line 
The fear and uncertainty we feel right now are very real, and this is not going to be easy. We can, however, see strength in our current market through homeowner equity that has not been there in the past. That may be a bright spark to help us make it through.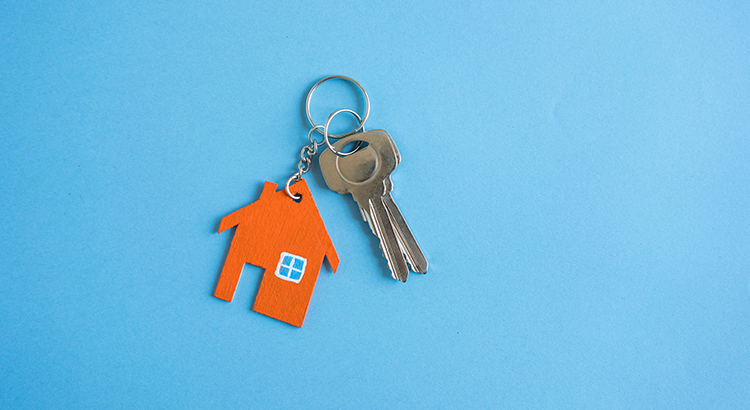 In a recent survey by realtor.com, people thinking about selling their homes indicated they're generally willing to allow their agent and some potential buyers inside if done under the right conditions. They're less comfortable, however, hosting an open house. This is understandable, given the health concerns associated with social contact these days. The question is, if you need to sell your house now, what virtual practices should you use to make sure you, your family, and potential buyers stay safe in the process?
In today's rapidly changing market, it's more important than ever to make sure you have a digital game plan and an effective online marketing strategy when selling your house. One of the ways your agent can help with this is to make sure your listing photos and virtual tours stand out from the crowd, truly giving buyers a detailed and thorough view of your home.
So, if you're ready to move forward, virtual practices may help you win big when you're ready to sell. While abiding by state and local regulations is a top priority, a real estate agent can help make your sale happen. Agents know exactly what today's buyers need, and how to put the necessary digital steps in place. For example, according to the same survey, when asked to select what technology would be most helpful when deciding on a new home, here's what today's homebuyers said, in order of preference:
Virtual tour of the home
Accurate and detailed listing information
Detailed neighborhood information
High-quality listing photos
Agent-led video chat
After leveraging technology, if you have serious buyers who still want to see your house in person, keep in mind that according to the National Association of Realtors (NAR), there are ways to proceed safely. Here are a few of the guidelines, understanding that the top priority should always be to obey state and local restrictions first:
Limit in-person activity
Require guests to wash their hands or use an alcohol-based sanitizer
Remove shoes or cover with booties
Follow CDC guidance on social distancing and wearing face coverings
Getting comfortable with your agent – a true trusted advisor – taking these steps under the new safety standards might be your best plan. This is especially important if you're in a position where you need to sell your house sooner rather than later.
Nate Johnson, CMO at realtor.com ® notes:
"As real estate agents and consumers seek out ways to safely complete these transactions, we believe that technology will become an even more imperative part of how we search for, buy and sell homes moving forward."
It sounds like some of these new practices might be here to stay.
Bottom Line
In a new era of life, things are shifting quickly, and virtual strategies for sellers may be a great option. Opening your doors up to digital approaches may be game-changing when it comes to selling your house in the Los Angeles area. Let's connect so you have a trusted real estate professional to help you safely and effectively navigate through all that's new when it comes to making your next move.