In a recent survey of home sellers by Qualtrics, 87% of respondents said they were concerned their home won't sell because of the pandemic and resulting economic recession. Of the respondents, 51% said they are "seriously worried." That concern seems reasonable considering the current condition of the economy. The data, however, is showing that home purchasers are still very active despite the disruptions American families have experienced this year.
The latest Existing Home Sales Report published by the National Association of Realtors (NAR) revealed that 340,000 single-family homes sold in this country last month. NAR's most recent Pending Sales Report (homes going into contract) surpassed last month's number by over 44%, which far exceeded analysts' projections of 15%. ShowingTime reported that appointments to see homes (both virtually and in-person) have increased in every region of the country and are up 21.4% nationwide over the same time last year.
While buyer activity is surging, the number of listings has fallen to an all-time low. Zelman Associates, in their latest residential real estate report, revealed that housing inventory as a percentage of households has fallen to 1.2%, which is half of the long-term average and lower than any other time in our history.
Bidding Wars Heating Up Again
With buyer demand growing and the supply of available homes shrinking, purchasers are again finding themselves needing to outbid other buyers. NAR, in a recent blog post, revealed:
"On average, there were about three offers on a home that closed in May, up from just about two in April 2020 and in May 2019 (2.3 offers)."
Bidding wars guarantee houses sell quickly at a price near or even slightly over the listing price.
Bottom Line
If you're thinking of selling, don't be concerned about putting your house on the market right now. There's no better time to sell an item than when demand for it is high and supply is low. It is exactly at that time when you will negotiate your best possible deal.
Everyone is ready to buy a home at different times in their lives, and despite the health crisis, today is no exception. Understanding how affordability works and the main market factors that impact it may help those who are ready to buy a home narrow down their optimal window of time to make a purchase.
There are three main factors that go into determining how affordable homes are for buyers:
Mortgage Rates
Mortgage Payments as a Percentage of Income
Home Prices
The National Association of Realtors (NAR), produces a Housing Affordability Index, which takes these three factors into account and determines an overall affordability score for housing. According to NAR, the index:
"…measures whether or not a typical family earns enough income to qualify for a mortgage loan on a typical home at the national and regional levels based on the most recent price and income data."
Their methodology states:
"To interpret the indices, a value of 100 means that a family with the median income has exactly enough income to qualify for a mortgage on a median-priced home. An index above 100 signifies that family earning the median income has more than enough income to qualify for a mortgage loan on a median-priced home, assuming a 20 percent down payment."
So, the higher the index, the more affordable it is to purchase a home. Here's a graph of the index going back to 1990: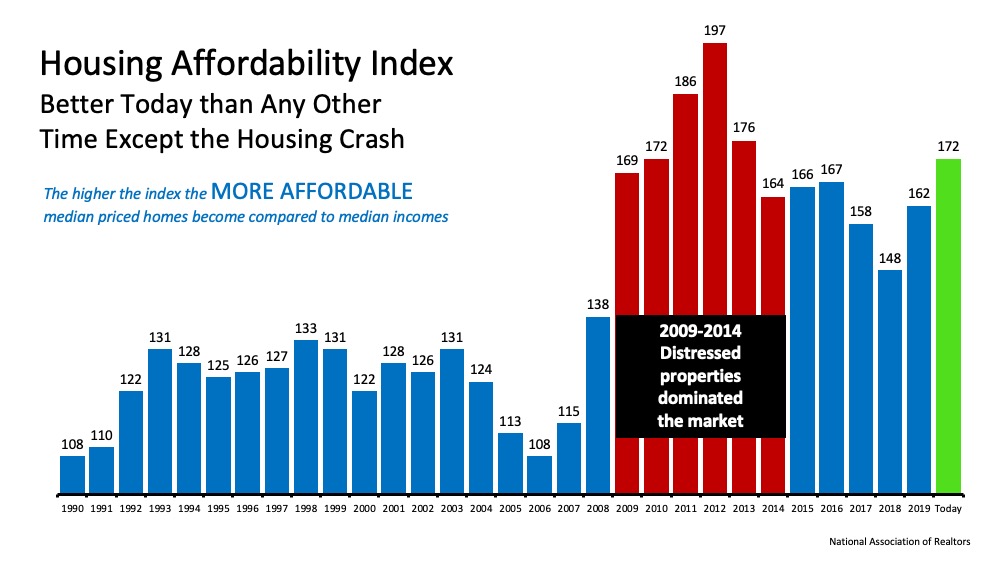 The green bar represents today's affordability. We can see that homes are more affordable now than they have been at any point since the housing crash when distressed properties (foreclosures and short sales) dominated the market. Those properties were sold at large discounts not seen before in the housing market.
Why are homes so affordable today?
Although there are three factors that drive the overall equation, the one that's playing the largest part in today's homebuying affordability is historically low mortgage rates. Based on this primary factor, we can see that it is more affordable to buy a home today than at any time in the last seven years.
If you're considering purchasing your first home or moving up to the one you've always hoped for, it's important to understand how affordability plays into the overall cost of your home. With that in mind, buying while mortgage rates are as low as they are now may save you quite a bit of money over the life of your home loan.
Bottom Line
If you feel ready to buy, purchasing a home this season may save you significantly over time based on historic affordability trends. Let's connect today to determine if now is the right time for you to make your move.
A recent survey by Lending Tree tapped into behaviors of over 1,000 prospective buyers. The results indicated 53% of all homebuyers are more likely to buy a home in the next year, even amid the current health crisis. The survey further revealed why, naming several reasons buyers are more likely to move this year (see graph below):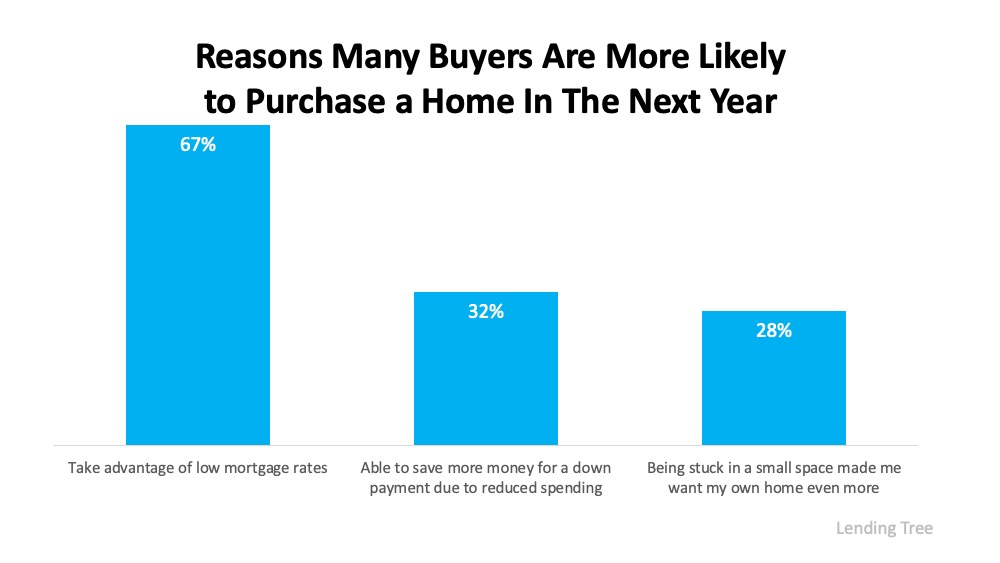 Let's break down why these are a few of the key factors motivating buyers to actively engage in the home search process, and the corresponding wins for sellers as well.
1. Low Mortgage Rates
The biggest reason potential homebuyers indicated they're eager to purchase this year is due to current mortgage rates, which are hovering near all-time lows. Today's low rates are making it more affordable than ever to buy a home, which is a huge incentive for purchasers. In fact, 67% of respondents in the Lending Tree survey want to take advantage of low mortgage rates. This is no surprise when comparing historic mortgage rates by decade (see below):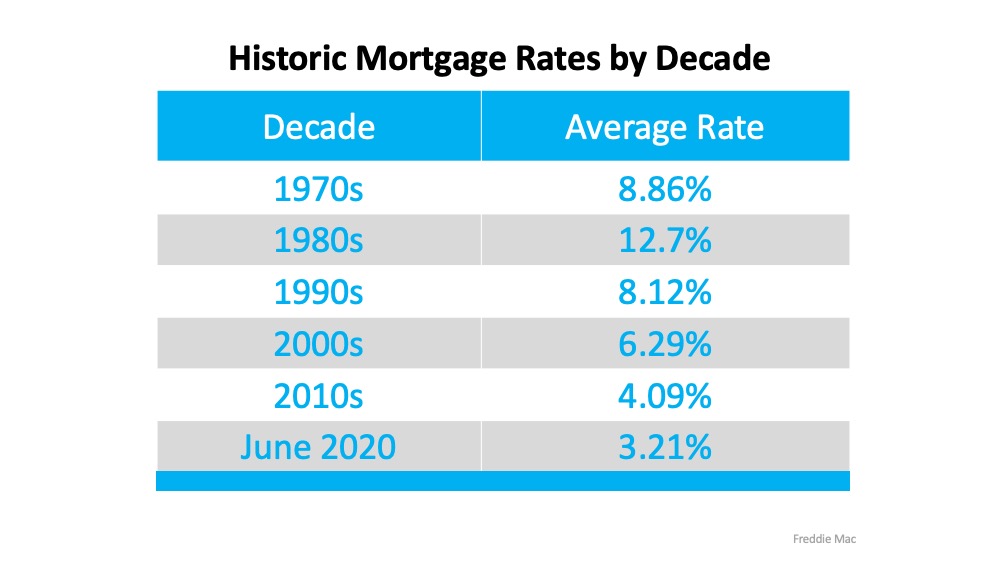 Sam Khater, Chief Economist at Freddie Mac recently said:
"As the economy is slowly rebounding, all signs continue to point to a solid recovery in home sales activity heading into the summer as prospective buyers jump back into the market. Low mortgage rates are a key factor in this recovery."
2. Reduced Spending
Some people have also been able to save a little extra money over the past few months while sheltering in place. One of the upsides of staying home recently is that many have been able to work remotely and minimize extra spending on things like commuting expenses, social events, and more. For those who fall into this category, they may have a bit more saved up for down payments and closing costs, making purchasing a home more feasible today.
3. Re-Evaluating Their Space
Spending time at home has also given buyers a chance to really evaluate their living space, whether renting or as a current homeowner. With time available to craft a wish list of what they really need in their next home, from more square footage to a more spacious neighborhood, they're ready to make it happen.
What does this mean for buyers and sellers?
With these three factors in play, the demand for housing will keep growing this year, especially over the summer as more communities continue their phased approach to reopening. Buyers can take advantage of additional savings and low mortgage rates. And if you're thinking of selling, know that your home may be in high demand as buyer interest grows and the number of homes for sale continues to dwindle. This may be your moment to list your house and make a move into a new space as well.
Bottom Line
If you're ready to buy or sell – or maybe both – let's connect to put your plans in motion. With low mortgage rates leading the way, it's a great time to take advantage of your position in today's market.
Every year, Gallup conducts a survey of Americans to determine their choice for the best long-term investment. Respondents are asked to select real estate, stocks/mutual funds, gold, savings accounts/CDs, or bonds.
For the seventh year in a row, real estate has come out on top as the best long-term investment. Gallup explained:
"Real estate remains the most favored investment to Americans, as has been the case since 2013, when the housing market was on the rebound. More than a third of Americans have named real estate as the top investment since 2016."
This year's results indicated 35% of Americans chose real estate, followed by stocks at 21%. The full results covering the last decade are shown in the chart below: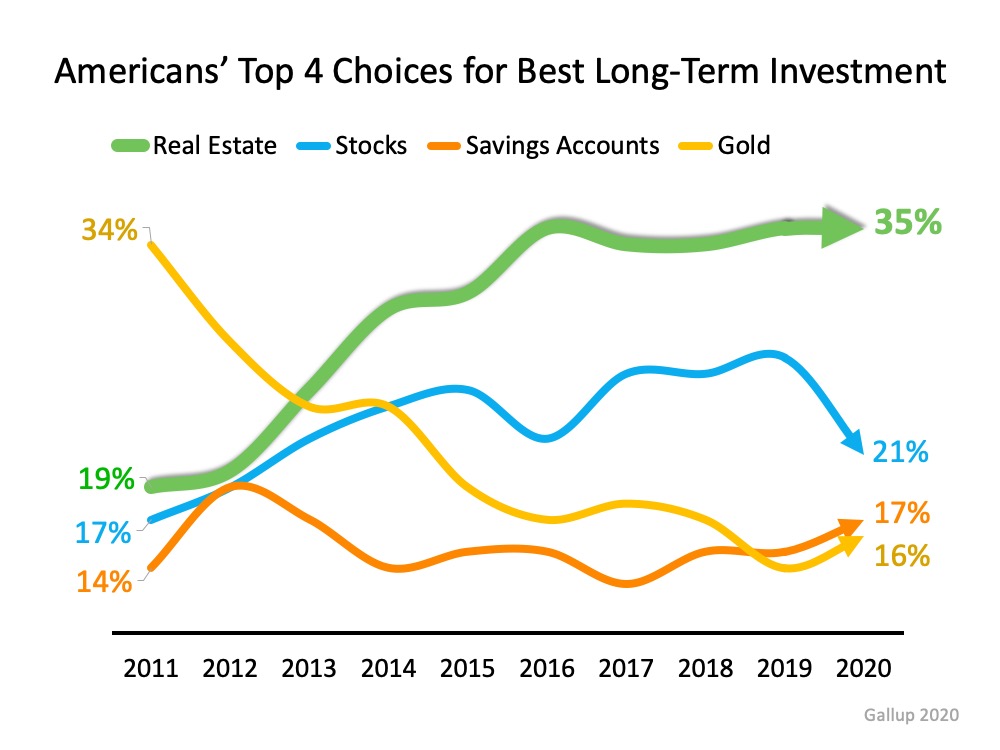 Bottom Line
The belief of the American people in the stability of housing as a long-term investment remains strong, even through the many challenges our economy faces today.
Last Friday, the U.S. Bureau of Labor Statistics released their May Employment Situation Summary. Leading up to the release, most experts predicted the unemployment rate would jump up to approximately 20% from the 14.7% rate announced last month.
The experts were shocked.
The Wall Street Journal put it this way:
"The May U.S. jobless rate fell to 13.3% and employers added 2.5 million jobs, blowing Wall Street expectations out of the water: Economists had forecast a loss of 8.3 million jobs and a 19.5% unemployment rate."
In addition, CNBC revealed:
"The May gain was by far the biggest one-month jobs surge in U.S. history since at least 1939."
Here are some of the job gains by sector:
Food Service and Bartenders – 1,400,000
Construction – 464,000
Education and Health Services – 424,000
Retail – 368,000
Other Services – 272,000
Manufacturing – 225,000
Professional Services – 127,000
There's still a long way to go before the economy fully recovers, as 21 million Americans remain unemployed. That number is down, however, from 23 million just last month. And, of the 21 million in the current report, 73% feel their layoff is temporary. This aligns with a recent Federal Reserve Bank report that showed employers felt 75% of the job losses are temporary layoffs and furloughs.
The Employment Situation Summary was definitely a pleasant surprise, and evidence that the country's economic turnaround is underway. The data also offers a labor-market snapshot from mid-May, when the government conducted its monthly survey of households and businesses. Many states did not open for business until the second half of May. This bodes well for next month's jobs report.
Bottom Line
We cannot rejoice over a report that reveals millions of American families are still without work. We can, however, feel relieved that we are headed in the right direction, and much more quickly than most anticipated.
Note: In its original report, the BLS explained that a misclassification error could have occurred over the last 3 months, starting in March of 2020. Readjusting for this error, the unemployment rate would actually show a drop from 19.7% in April to 16.3% in May. Nobody would say the original report of 13.3% unemployment was a good number, nor is the revised 16.3%. What is a positive move for our country and the economy is the significant drop in the rate from April to May, meaning more people are getting jobs than losing them. That's the key takeaway.