Today's housing market is truly one for the record books. Over the past year, we've seen the lowest mortgage rates in history. And while those rates seemed to bottom out in January of this year, the golden window of opportunity for buyers isn't over just yet. If you're one of the buyers who worry they've missed out, rest assured today's mortgage rates are still worth taking advantage of.
Even today, our mortgage rates are below what they've been in recent decades. So, while you may not be able to lock in the rate your friend got recently, you're still in a great position to secure a rate well below what your parents and even grandparents got in years past. The key will be acting sooner rather than later.
In late September, mortgage rates ticked above 3% for the first time in months. And according to experts throughout the industry, mortgage rates are projected to continue rising in the months ahead. Here's where experts say rates are headed: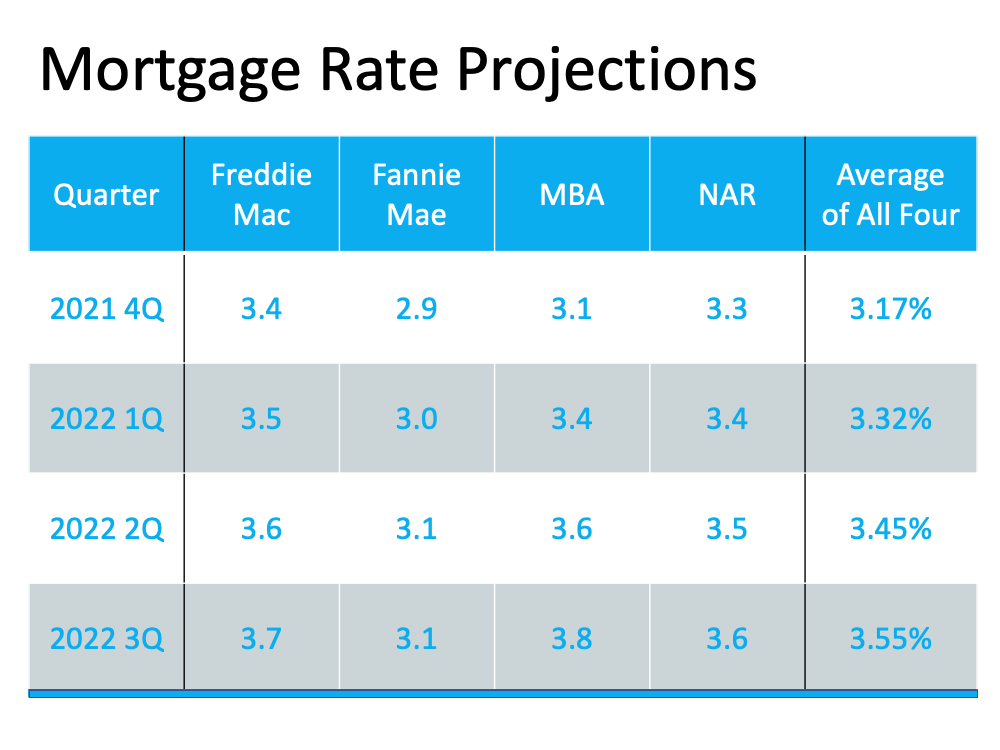 While a projected half percentage point increase may not seem substantial, it does have an impact when you're buying a home. When rates rise even slightly, it affects how much you'll pay month-to-month on your home loan. The chart below shows how it works: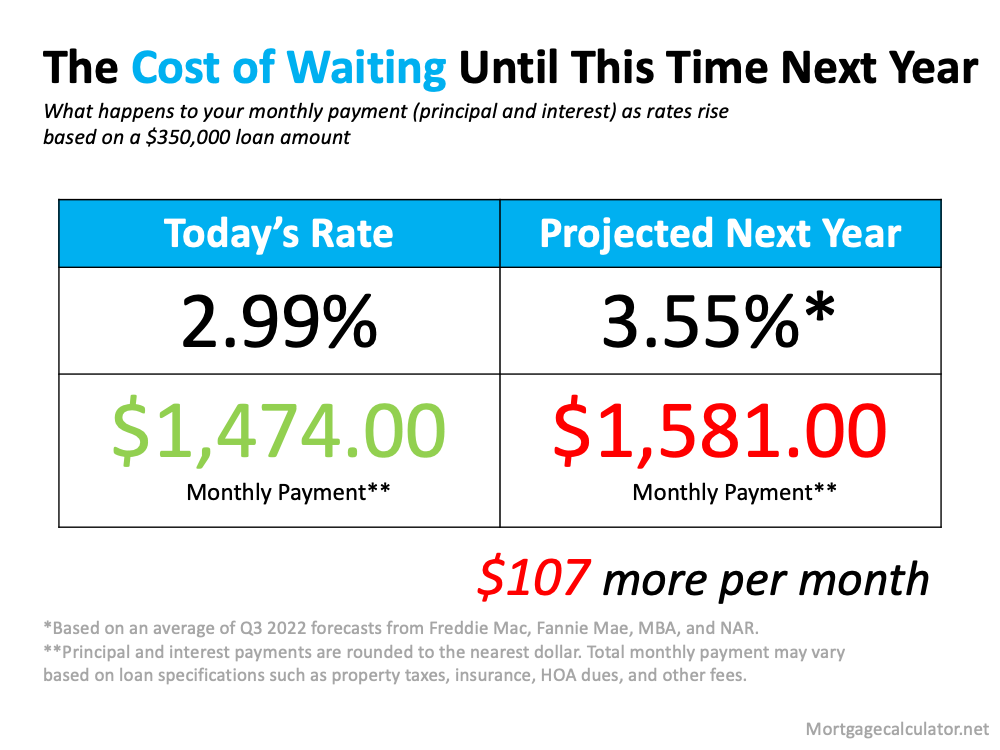 In this example, if rates rise to 3.55%, you'll pay an extra $100 each month on your monthly mortgage payment if you purchase a home around this time next year. That extra money can really add up over the life of a 15 or 30-year loan.
Clearly, today's mortgage rates are worth taking advantage of before they climb further. The rates we're seeing right now give you a unique opportunity to afford more home for your money while keeping your monthly payment down.
Bottom Line
Waiting for a lower mortgage rate could cost you. Experts project rates will continue to rise in the months ahead. Let's connect so you can seize this opportunity before they increase further.
Even in a hot sellers' market like today's in which homes are selling so quickly, it's still important to make a good first impression on potential buyers. Taking the time upfront to prep your house appropriately can bring in the greatest return on your investment.
Here are four simple tips to make sure you maximize the sale of your house this fall.
1. Price It Right
One of the first things buyers will notice is the price of your house. That's why it's important to price it right. Your goal in pricing your house is to draw attention from competing buyers and let bidding wars push the final sales price up. Pricing your house too high to begin with could put you at a disadvantage by discouraging buyers from making an offer.
Your trusted real estate advisor can help you find the price for your home that reflects the current market value. Lean on your agent to help you with this crucial first step.
2. Keep It Clean
It may sound simple, but keeping your house clean is key to making sure it gets the attention it deserves. As realtor.com says in the Home Selling Checklist:
"When selling your home, it's important to keep everything tidy for buyers. . . . Remember to take special care with the bathroom, making sure the tile, counters, shower, and floors shine."
Before each buyer visits, assess your space and determine what needs your attention. Wash the dishes, make the beds, and put away any toys. Doing these simple things can reduce any potential distractions for buyers.
3. Make It Easy To Visit
Giving buyers the opportunity to see your house on their schedule can be a true game-changer. Buyers are less likely to make an offer if it's difficult to plan a tour or they can't easily fit it into their schedule. Making your house available as often as possible helps create opportunities for more buyers to fall in love with your house.
Rest assured your trusted real estate advisor will keep your health and safety top of mind when buyers tour your home. Agents use the latest guidance to stay up to date on any protocols and sanitization recommendations.
4. Help Buyers Feel at Home
Finally, it's important for buyers to see all the possible ways they can make your house their next home. As the realtor.com article puts it:
"The goal is to create a blank canvas on which buyers can project their own visions of living there, and loving it."
An easy first step to create this blank canvas is removing personal items – pictures, awards, and sentimental belongings – from your space. If you're unsure what should be packed away and what can stay, consult your trusted real estate advisor. Spending the time on this step can pay off in the long run, as the 2021 Profile of Home Staging from the National Association of Realtors notes:
"Eighteen percent of sellers' agents said home staging increased the dollar value of a residence between 6% and 10%."
Bottom Line
To make the most of today's sellers' market, avoid the temptation to skip over the essential preparation steps. Let's connect today to discuss all the ways you can maximize your home sale.
There's a well-known economic theory – the law of supply and demand – that explains what's happening with prices in the current real estate market. Put simply, when demand for an item is high, prices rise. When the supply of the item increases, prices fall. Of course, when demand is very high and supply is very low, prices can rise significantly.
Understanding the impact both supply and demand have can provide the answers to a few popular questions about today's housing market:
Why are prices rising?
Where are prices headed?
What does this mean for homebuyers?
Why Are Prices Rising?
According to the latest Home Price Insights report from CoreLogic, home prices have risen 18.1% since this time last year. But what's driving the increase?
Recent buyer and seller activity data from the National Association of Realtors (NAR) helps answer that question. When we take NAR's buyer activity data and compare it to the seller traffic during the same timeframe, we can see buyer demand continues to outpace seller activity by a wide margin. In other words, the demand for homes is significantly greater than the current supply that's available to buy (see maps below):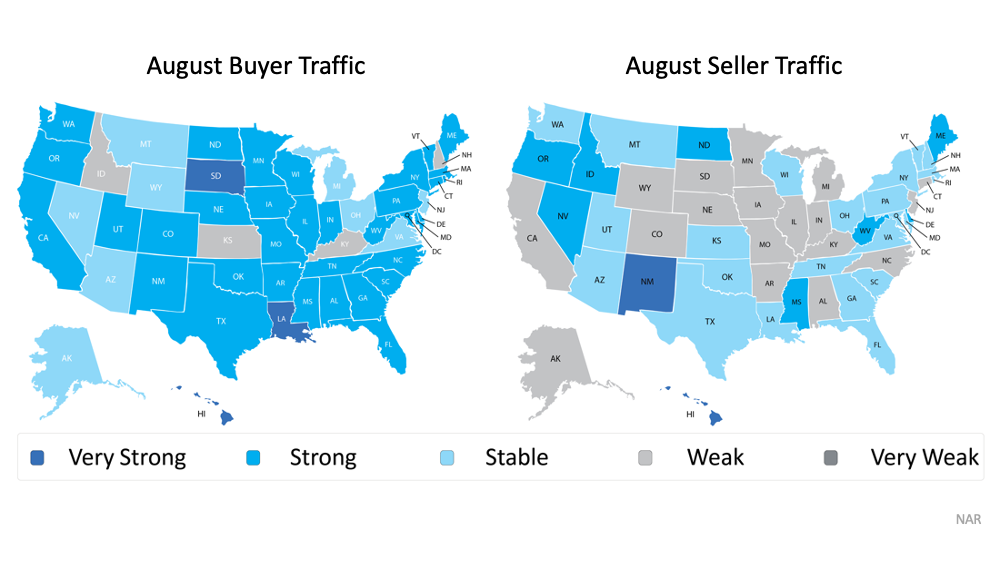 This combination of low supply and high demand is what's driving home prices up. Bill McBride, author of the Calculated Risk blog, puts it best, saying:
"By some measures, house prices seem high, but the recent price increases make sense from a supply and demand perspective."
Where Are Prices Headed?
The supply of homes for sale will greatly affect where prices head over the coming months. Many experts forecast prices will continue to increase, but they'll likely appreciate at a slower rate.
Buyers hoping to purchase the home of their dreams may see this as welcome news. In this case, perspective is important: a slight moderation of home prices does not mean prices will depreciate or fall. Price increases may occur at a slower pace, but experts still expect them to rise.
Five major entities that closely follow the real estate market forecast home prices will continue appreciating through 2022 (see graph below):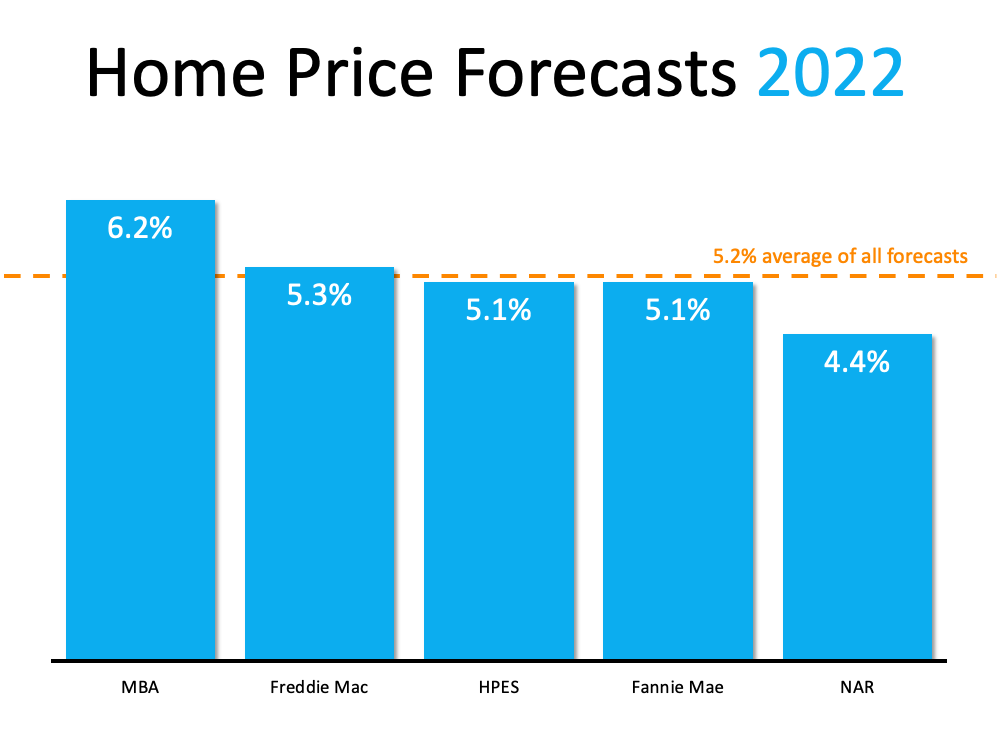 What Does This Mean for Homebuyers?
If you're waiting to enter the market because you're expecting prices to drop, you may end up paying more in the long run. Even if price increases occur at a slower rate next year, prices are still projected to rise. That means the home of your dreams will likely cost even more in 2022.
Bottom Line
The truth is, high demand and low supply are what's driving up home prices in today's housing market. And while prices may increase at a slower pace in the coming months, experts still expect them to rise. If you're a potential homebuyer, let's connect today to discuss what that could mean for you if you wait even longer to buy.
Every Thursday, Freddie Mac releases the results of their Primary Mortgage Market Survey which reveals the most recent movement in the 30-year fixed mortgage rate. Last week, the rate was announced as 3.01%. It was the first time in three months that the mortgage rate surpassed 3%. In a press release accompanying the survey, Sam Khater, Chief Economist at Freddie Mac, explains:
"Mortgage rates rose across all loan types this week as the 10-year U.S. Treasury yield reached its highest point since June."
The reason Khater mentions the 10-year U.S. Treasury yield is because there has been a very strong relationship between the yield and the 30-year mortgage rate over the last five decades. Here's a graph showing that relationship: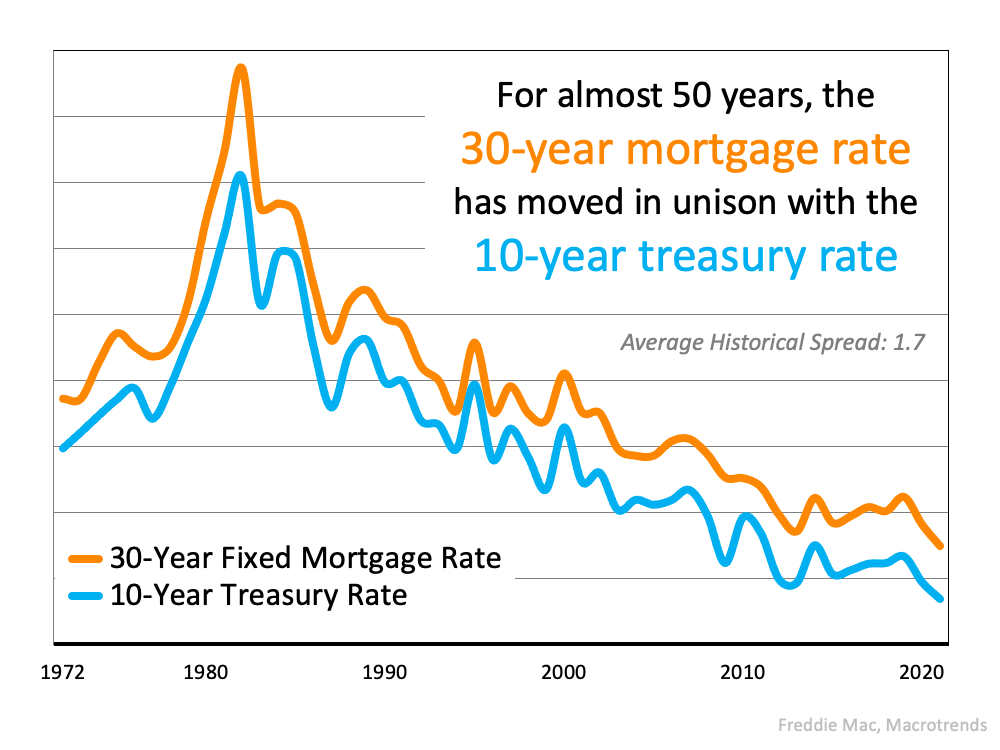 The relationship has also been consistent throughout 2021 as evidenced by this graph: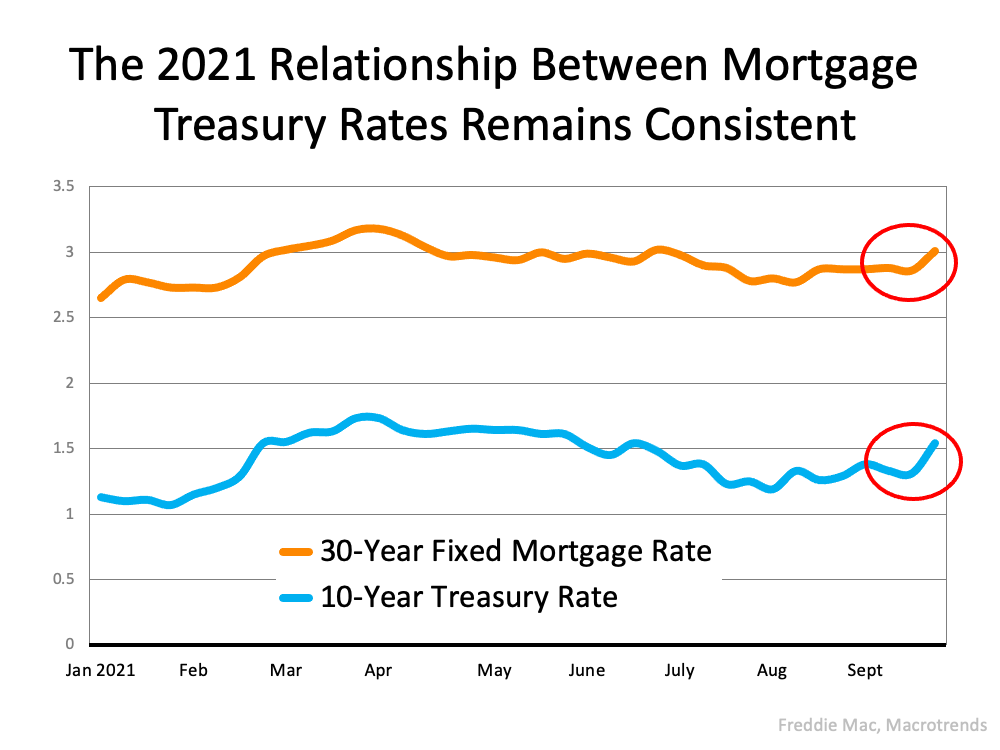 The graph also reveals the most recent jump in mortgage rates was preceded by a jump in the 10-year Treasury rate (called out by the red circles).
So, What Impacts the Yield Rate?
According to Investopedia:
"There are a number of economic factors that impact Treasury yields, such as interest rates, inflation, and economic growth."
Since there are currently concerns about inflation and economic growth due to the pandemic, the Treasury yield spiked last week. That spike impacted mortgage rates.
What Does This Mean for You?
Khater, in the Freddie Mac release mentioned above, says:
"We expect mortgage rates to continue to rise modestly which will likely have an impact on home prices, causing them to moderate slightly after increasing over the last year."
Nadia Evangelou, Senior Economist and Director of Forecasting for the National Association of Realtors (NAR), also addresses the issue:
"Consumers shouldn't panic. Keep in mind that even though rates will increase in the following months, these rates will still be historically low. The National Association of REALTORS forecasts the 30-year fixed mortgage rate to reach 3.5% by mid-2022."
Bottom Line
Forecasting mortgage rates is very difficult. As Mark Fleming, Chief Economist at First American, once quipped:
"You know, the fallacy of economic forecasting is don't ever try and forecast interest rates and or, more specifically, if you're a real estate economist mortgage rates, because you will always invariably be wrong."
That being said, if you're either a first-time homebuyer or a current homeowner thinking of moving into a home that better fits your current needs, keep abreast of what's happening with mortgage rates. It may very well impact your decision.
If you're looking to maximize your sale and minimize your effort, you need to work with a real estate professional. In a sellers' market like today's, it can be tempting to list your house on your own – known as For Sale By Owner (FSBO). But the truth is, a real estate professional can save you time and money by managing every step of the process, from pricing your home to reviewing documents and handling negotiations.
Before you decide to sell your house on your own, here are five reasons why working with an agent is your best bet to maximize the sale of your home.
1. First impressions are everything – and an agent knows how to make a great one.
Prepping a house for sale requires a significant amount of time and effort, even though it may seem simple at first glance. Doing it right so it stands out takes expertise and an understanding of what buyers are looking for. An agent considers things like:
Should you take down any personal art or pictures?
How much landscaping should you invest in to boost your house's curb appeal?
What wall colors are most appealing to buyers?
An expert real estate advisor relies on their experience to answer these questions and more so you don't invest in the wrong things. Your time and money are important – you shouldn't waste either.
2. Agents have tools to maximize the number of views your home gets.
Put plainly, the more buyers that view your house, the better your return will be. In our current market, homes are receiving 3.8 offers on average per sale, according to recent data from the National Association of Realtors (NAR). While that's promising for the sale of your home, it's important to understand your agent's role in bringing buyers in.
Agents have multiple tools at their disposal – from social media to agency resources – to ensure your home is viewed by more prospective buyers. Leveraging the tools available to your agent and your agent's expertise may help boost your sale price as well.
3. An agent won't miss anything in the fine print.
Your agent can also save you time by taking any guesswork out of navigating the required documentation. Today, more disclosures and regulations are mandatory, meaning the number of legal documents you need to juggle is growing.
Because there's so much to take care of, it can be hard to truly understand all of the requirements and the fine print. That's where an expert advisor can truly shine. They've been through the process before and can be your guide to avoid any costly missteps.
4. Expert advisors know the market and how to price your home.
Another way your agent maximizes the sale of your home is by making sure it's priced right. Real estate professionals have the experience to compare your house to recently sold homes in your area. They also understand the market at large and can factor in any upgrades you've completed to your home. Combining these factors is the key to making sure your home is priced to move quickly – and at a competitive price.
When you FSBO, you're operating without this expertise. Even with your own research, you may not find the most up-to-date information and could risk setting a price that's inaccurate or unrealistic. If you price your house too high, you could turn buyers away before they're even in the front door. This could also cause problems when it's time for the appraisal.
5. Your agent will be an expert negotiator.
In addition to their experience navigating sales, real estate professionals understand how to negotiate every aspect of a deal. They also know all the parties that will be involved with the sale, including:
The buyer, who wants the best deal possible.
The buyer's agent, who will use their expertise to advocate for the buyer.
The inspection company, which works for the buyer and will almost always find concerns with the house.
The appraiser, who assesses the property's value to protect the lender.
An agent relies on their experience and training to make the right moves during the negotiation. They'll know what levers to pull, how to address each individual's concerns, and when you may want to get a second opinion. Selling your house as a FSBO means you'll need to be prepared to have these conversations on your own.
Bottom Line
Selling a house takes time, effort, and expertise – don't go at it alone. Let's connect to make sure you have an expert on your side to make the most of your sale
Buyer •
September 27, 2021
In today's real estate market, buyers shouldn't shop for a home with the expectation they'll be able to negotiate a lower sales price. In a typical housing market, buyers try to determine how much less than the asking price they can offer and still get the home. From there, the buyer and seller typically negotiate and agree on a revised price somewhere in the middle.
Things Are Different Today
Today's housing market is anything but normal. According to the National Association of Realtors (NAR), homes today are:
Receiving an average of  3.8 offers
Selling in just 17 days
Homes selling quickly and receiving multiple offers highlights how competitive the housing market is right now. This is due, in large part, to the low supply of homes for sale. Low supply and high demand mean homes often sell for more than the asking price. In some cases, they sell for a lot more. Selma Hepp, Deputy Chief Economist at CoreLogic, explains how these stats can impact buyers:
"The imbalance between robust demand and dismal availability of for-sale homes has led to a continual bidding over asking prices, which reached record levels in recent months. Now, almost 6 in 10 homes listed are selling over the asking price."
You May Need To Rethink How You Look at a Home's Asking Price
What does that mean for you? If you've found your dream home, you need to be realistic about today's housing market and how that impacts the offer you'll make. Offering below or even at a home's asking price may not cut it. In today's market, the highest bidder often wins the home, much like at an auction.
Currently, the asking price is often the floor of the negotiation rather than the ceiling. If you really love a home, it may ultimately sell for more than the sellers are asking. That's important to keep in mind as you work with your agent to craft an offer.
Understand An Appraisal Gap Can Happen
Because of today's home price appreciation and the auction-like atmosphere in the selling process, appraisal gaps – the gap between the price of your contract and the appraisal for the house – are more frequent.
According to data from CoreLogic:
"Beginning in January 2020, nationally, 7% of purchase transactions had a contract price above the appraisal, but by May 2021, the frequency had increased to 19% of purchase transactions."
When this happens, your lender won't loan you more than the home's appraised value, and the seller may ask you to make up the difference out of pocket. Buyers in today's market need to be prepared for this possibility. Know your budget, know what you can afford, and work with a trusted advisor who can offer expert advice along the way.
Bottom Line
Bidding wars and today's auction-like atmosphere mean buyers need to rethink how they look at the asking price of a home. Let's connect so you have a trusted real estate professional who can advise you on the current market and help determine what the market value is on your dream home.
A lot has changed over the past year. For many people, the rise in remote work influenced what they're looking for in a home and created a greater appetite for a dedicated home office. Some professionals took advantage of the situation and purchased a bigger home. Other people thought working from home would be temporary, so they chose to get creative and make the space they already had work for them. But recent headlines indicate working from home isn't a passing fad.
If you're still longing for a dedicated home office, now may be the time to find the home that addresses your evolving needs. More and more companies are delaying their plans to return to the office – others are deciding to remain fully remote permanently. According to economists from Goldman Sachs in a recent article from CNN:
"Job ads increasingly offer remote work and surveys indicate that both workers and employers expect work from home to remain much more common than before the pandemic."
Other experts agree. A survey conducted by Upwork of 1,000 hiring managers found that due to the pandemic, companies were planning more remote work now and in the years to come. Upwork elaborates:
"The number of remote workers in the next five years is expected to be nearly double what it was before COVID-19: By 2025, 36.2 million Americans will be remote, an increase of 16.8 million people from pre-pandemic rates."
The charts below break down their findings and compare pre- and post-pandemic percentages.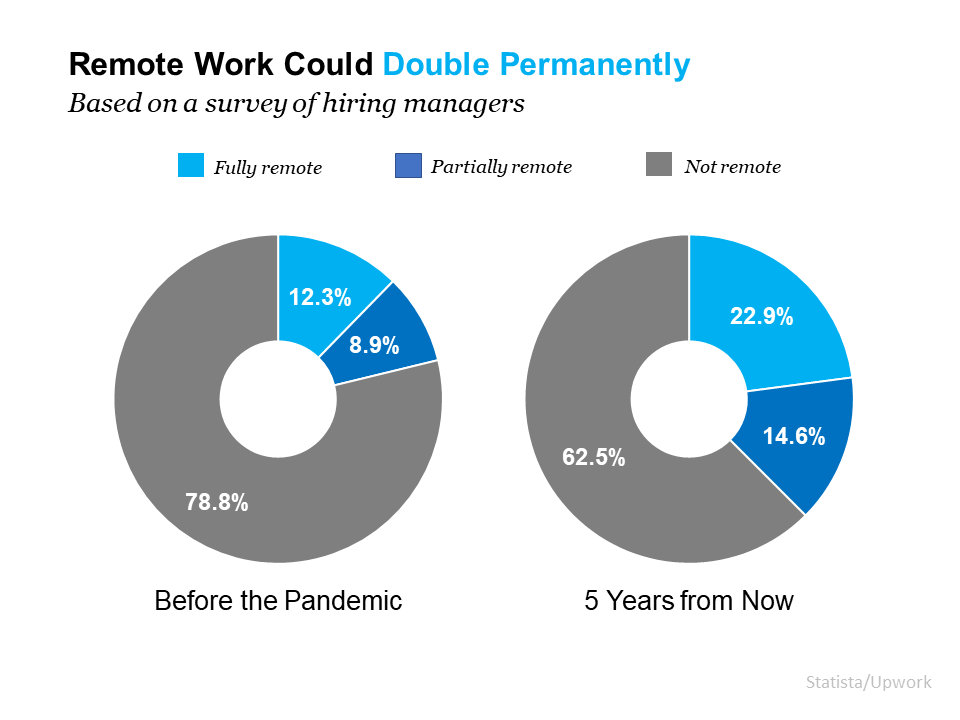 How Does This Impact Homeowners?
If you own your home, it's important to realize that continued remote work may give you opportunities you didn't realize you had. Since you don't need to be tied to a specific area for your job, you have more flexibility when it comes to where you can live.
If you're one of the nearly 23% of workers who will remain 100% remote: 
You have the option to move to a lower cost-of-living area or to the location of your dreams. If you search for a home in a more affordable area, you'll be able to get more home for your money, freeing up more options for your dedicated office space and additional breathing room.
You could also move to a location where you've always wanted to live – somewhere near the beach, the mountains, or simply a market that features the kind of weather and community amenities you're looking for. Without your job tying you to a specific location, you're bound to find your ideal spot.
If you're one of the almost 15% of individuals who will have a partially remote or hybrid schedule:
Relocating within your local area to a home that's further away from your office could be a great choice. Since you won't be going in to work every day, a slightly longer commute from a more suburban or rural neighborhood may be a worthy trade-off for a home with more features, space, or comforts.
Bottom Line
If ongoing remote work is changing what you need in a home, let's connect to find one that delivers on your new wish list.
One of the major story lines over the last year is how well the residential real estate market performed. One key metric in the spotlight is home price appreciation. According to the latest indices, home prices are skyrocketing this year.
Here are the latest percentages showing the year-over-year increase in home price appreciation:
The dramatic increases are seen at every price point and in all regions of the country.
Increases Are Across Every Price Point
According to the latest Home Price Index from CoreLogic, each price range is seeing at least a 19% increase year-over-year: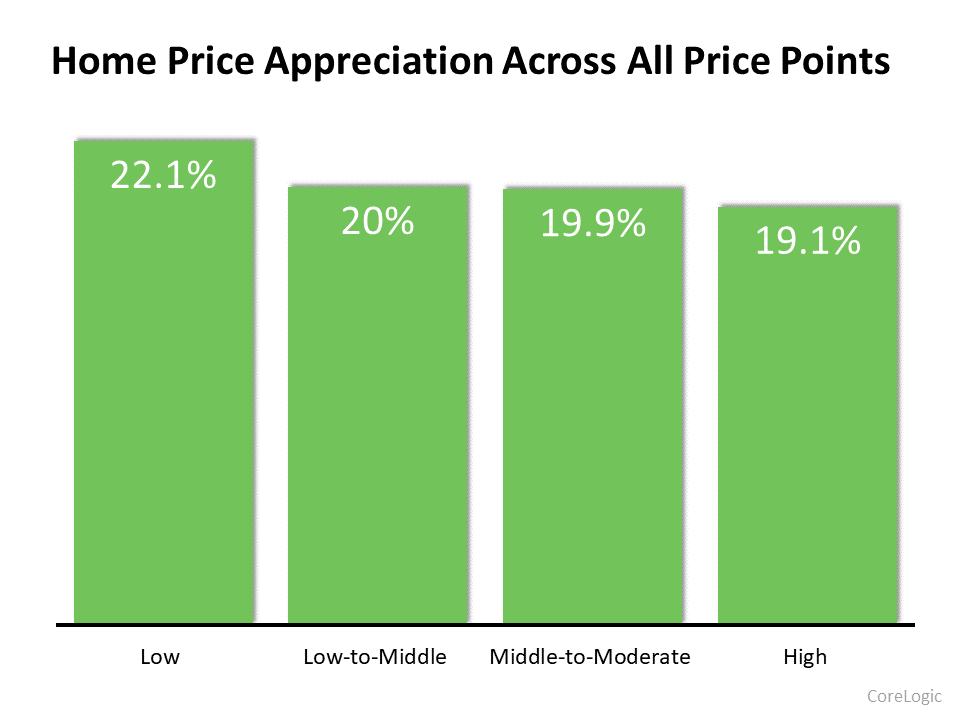 Increases Are Across Every Region in the Country
Every region in the country is experiencing at least a 14.9% increase in home price appreciation, according to the Federal Housing Finance Agency (FHFA):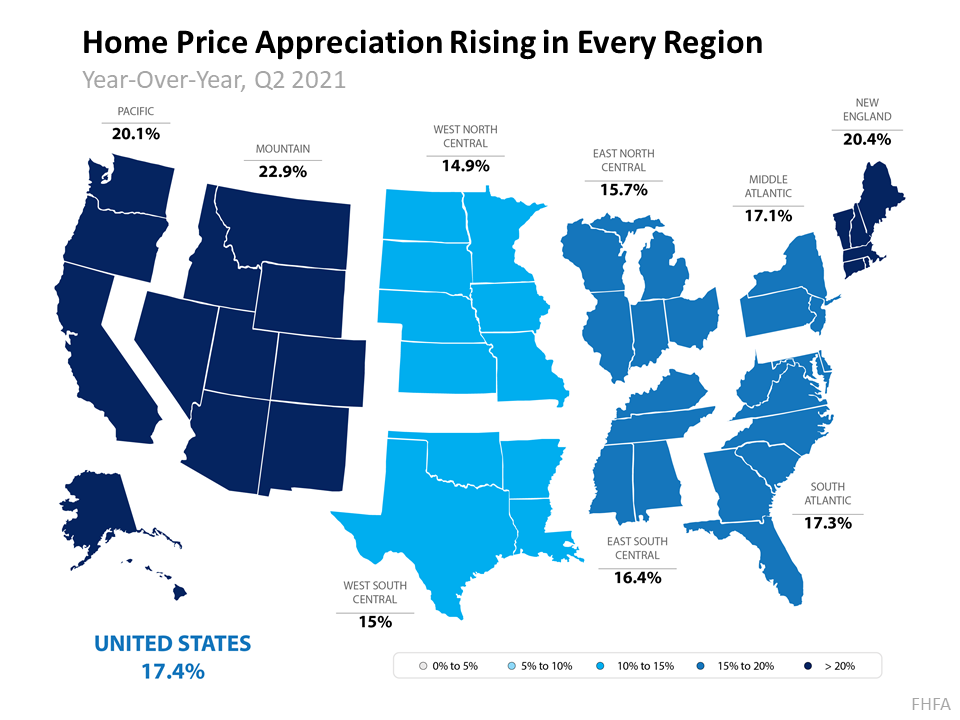 Increases Are Across Each of the Top 20 Metros in the Country
According to the U.S. National Home Price Index from S&P Case-Shiller, every major metro is seeing at least a 13.3% growth in prices (see graph below):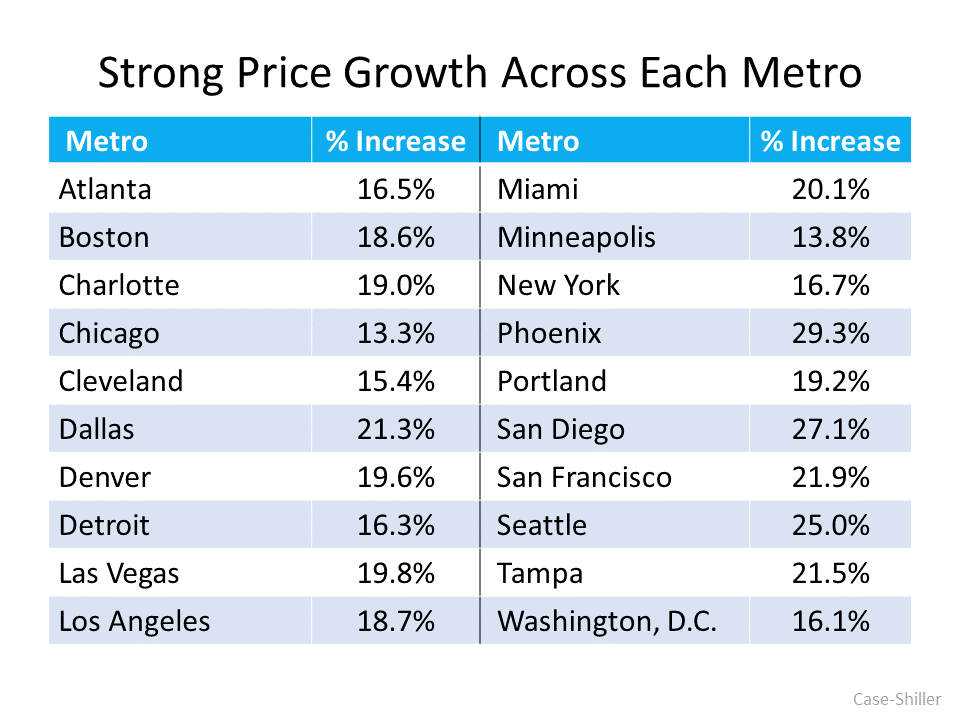 What About Price Appreciation in 2022?
Prices are the result of the balance between supply and demand. The demand for single-family homes has been strong over the last 18 months. The supply of houses available for sale was near historic lows. However, there's some good news on the supply side. Realtor.com reports:
"432,000 new listings hit the national housing market in August, an increase of 18,000 over last year."
There will, however, still be a shortage of supply compared to demand in 2022. CoreLogic reveals:
"Given the widespread demand and considering the number of standalone homes built during the past decade, the single-family market is estimated to be undersupplied by 4.35 million units by 2022."
Yet, most forecasts call for home price appreciation to moderate in 2022. The Home Price Expectation Survey, a survey of over 100 economists, investment strategists, and housing market analysts, calls for a 5.12% appreciation level next year. Here are the 2022 home appreciation forecasts from the four other major entities:
The 

National Association of Realtors

 (NAR): 4.4%
The Mortgage Bankers Association (MBA): 8.4%
Fannie Mae: 5.1%

Freddie Mac

: 5.3%
Price appreciation is expected to slow in 2022 when compared to the record highs of 2021. However, it is still expected to be greater than the annual average of 4.1% over the last 25 years.
Bottom Line
If you owned a home over the past year, you've seen your household wealth grow substantially, and you'll see another nice boost in 2022. If you're thinking of buying, consider buying now as prices are forecast to continue increasing through at least next year.
Even though experts agree there's no chance of a large-scale foreclosure crisis, there are a number of homeowners who may be coming face-to-face with foreclosure as a possibility. And while the overall percentage of homeowners at risk is decreasing with time (see graph below), that's little comfort to those individuals who are facing challenges today.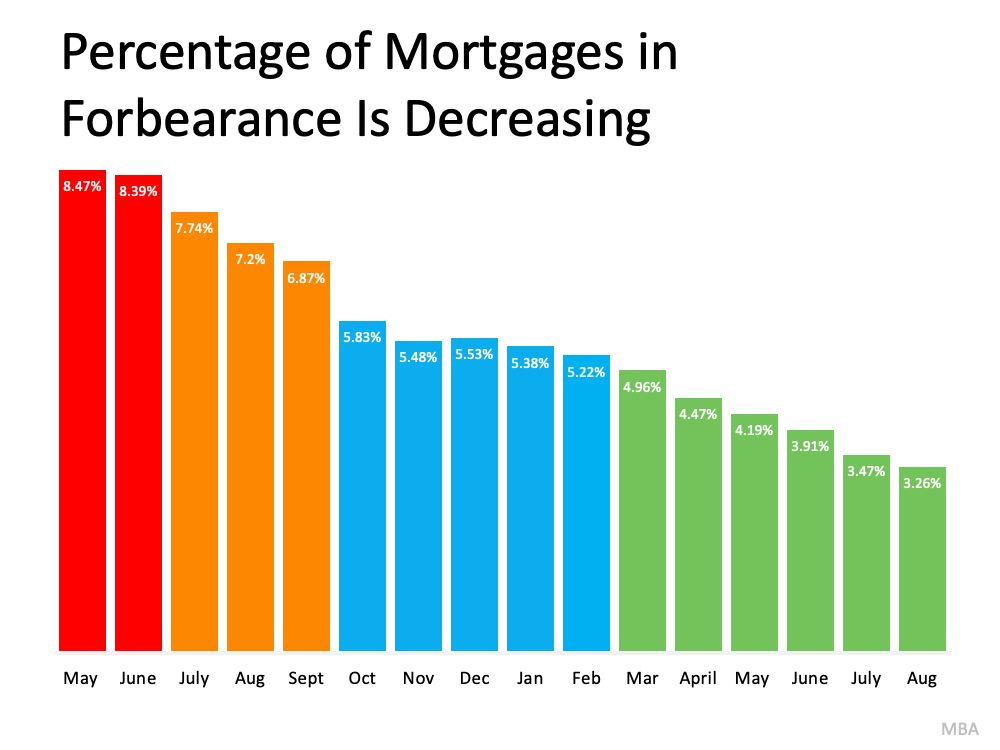 If you haven't taken advantage of the forbearance period, it may be time to research and understand your options. It starts with knowing what foreclosure is. Investopedia defines it like this:
"Foreclosure is the legal process by which a lender attempts to recover the amount owed on a defaulted loan by taking ownership of and selling the mortgaged property. Typically, default is triggered when a borrower misses a specific number of monthly payments . . ." 
The good news is, there are alternatives available to help you avoid having to go through the foreclosure process, including:
Reinstatement
Loan modification
Deed-in-lieu of foreclosure
Short sale
But before you go down any of those paths, it's worth seeing if you have enough equity in your home to sell it and protect your investment.
Understand Your Options: Sell Your House
Equity is the difference between what you owe on the home and its market value based on factors like price appreciation.
In today's real estate market, many homeowners have far more equity in their homes than they realize. Over the last year, buyer demand has been high, but housing supply has been low. That's led to a substantial increase in home values. When prices rise, so does the amount of equity you have in your house.
According to CoreLogic, on average, homeowners gained $33,400 in equity over the last 12 months, and the average equity on mortgaged homes is now $216,000 (see map below):
So, what does that mean for you? Over the past year, chances are your home's value and therefore your equity has risen dramatically. If you've been in your home for a while, the mortgage payments you've made over time chipped away at the balance of your loan. If your home's current value is higher than what you still owe on your loan, you may be able to use that increase to your advantage.
Frank Martell, President and CEO of CoreLogic, elaborates on how equity can help:
"Homeowner equity has more than doubled over the past decade and become a crucial buffer for many weathering the challenges of the pandemic. These gains have become an important financial tool and boosted consumer confidence in the U.S. housing market."
Don't Go at It Alone – Lean on Experts for Advice
To find out what your house is worth in today's market, work with a local real estate professional. We'll be able to give you an estimate of what your house could sell for based on recent sales of similar homes in your area. Since home prices are still appreciating, you may be able to sell your house to avoid foreclosure.
If you find out that you have to pursue other options, your agent can help with that too. We'll be able to connect you with other professionals in the industry, like housing counselors who can look into your unique situation and offer advice on next steps if selling isn't the best alternative.
Bottom Line
If you're a homeowner facing hardship, let's connect to explore your options and see if you can sell your house to avoid foreclosure.
If you're trying to decide when to sell your house, there may not be a better time to list than right now. The ultimate sellers' market we're in today won't last forever. If you're thinking of making a move, here are four reasons to put your house up for sale sooner rather than later.
1. Your House Will Likely Sell Quickly
According to the Realtors Confidence Index released by the National Association of Realtors (NAR), homes continue to sell quickly – on average, they're selling in just 17 days. As a seller, that's great news for you.
Average days on market is a strong indicator of buyer demand. And if homes are selling quickly, buyers have to be more decisive and act fast to submit their offer before other buyers swoop in.
2. Buyers Are Willing To Compete for Your House
In addition to selling quickly, homes are receiving multiple offers. That same survey shows sellers are seeing an average of 4.5 offers, and they're competitive ones. The graph below shows how the average number of offers right now compares to previous years: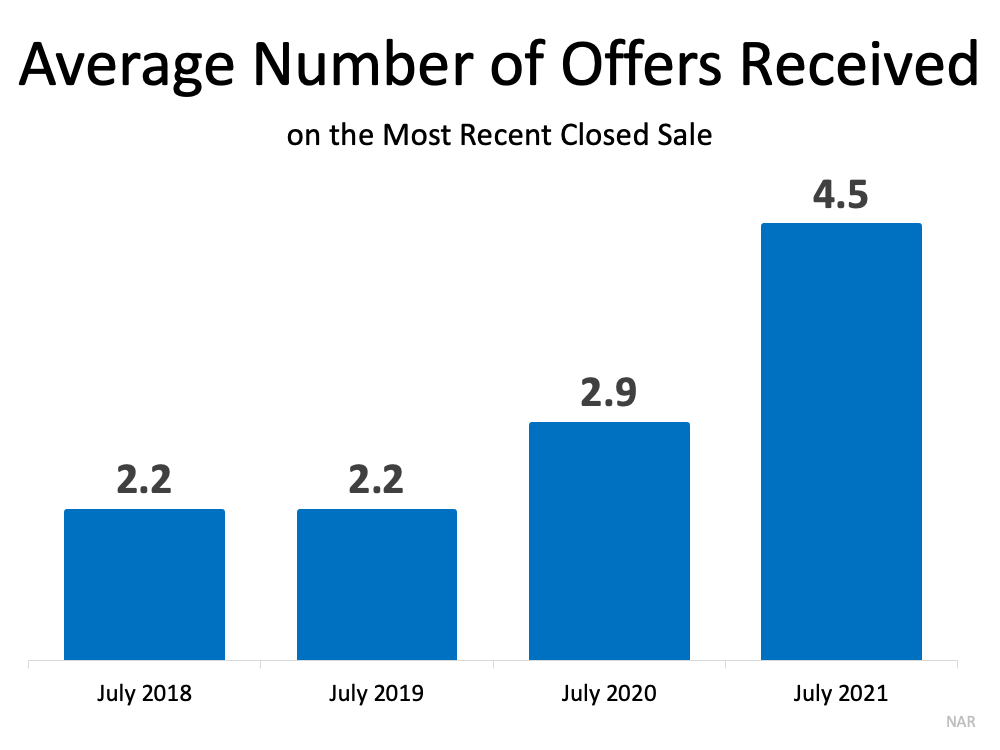 Buyers today know bidding wars are a likely outcome, and they're coming prepared with their best offer in hand. Receiving several offers on your house means you can select the one that makes the most sense for your situation and financial well-being.
3. When Supply Is Low, Your House Is in the Spotlight
One of the most significant challenges for motivated buyers is the current inventory of homes for sale. Though it's improving, it remains at near-record lows. The chart below shows how today's low inventory stacks up against recent years. The lighter the blue is in the chart, the lower the housing supply.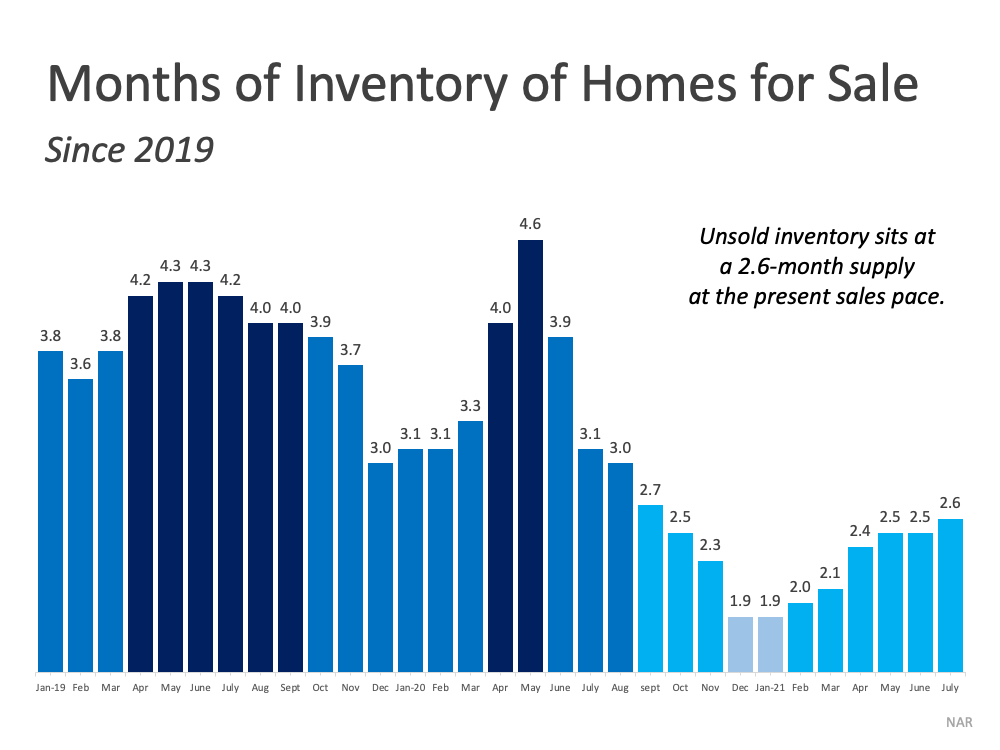 If you're looking to take advantage of buyer demand and get the most attention for your house, selling now before more listings come to the market might be your best option.
4. If You're Thinking of Moving Up, Now May Be the Time
If your current home no longer meets your needs, it may be the perfect time to make a move. Today, homeowners are gaining a significant amount of wealth through growing equity. You can leverage that equity, plus current low mortgage rates, to power your move now. But these near-historic low rates won't last forever.
Experts forecast interest rates will rise. In their forecast, Freddie Mac says:
"While we forecast rates to increase gradually later in the year, we don't expect to see a rapid increase. At the end of the year, we forecast 30-year rates will be around 3.4%, rising to 3.8% by the fourth quarter of 2022."
When rates rise, even modestly, it'll impact your monthly payment and by extension your purchasing power.
Bottom Line
Don't delay. The combination of housing supply challenges, low mortgage rates, and extremely motivated buyers gives sellers a unique opportunity this season. If you're thinking about making a move, let's chat about why it makes sense to list your house now.