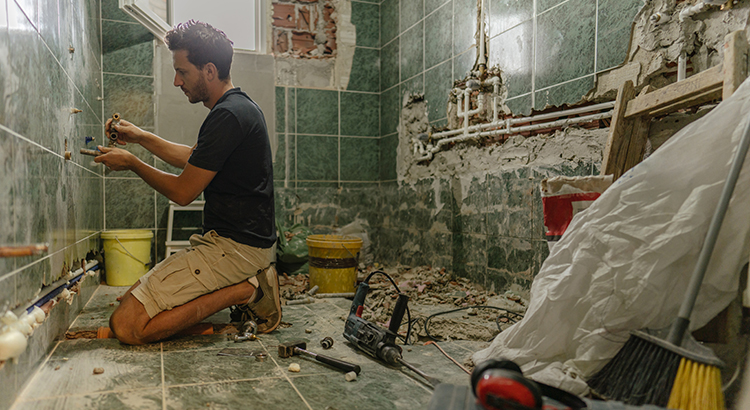 When thinking about selling, homeowners often feel they need to get their house ready with some remodeling to make it more appealing to buyers. However, with so many buyers competing for available homes right now, renovations may not be as vital as they would be in a more normal market. Here are two things to keep in mind if you're thinking of selling this season.
1. There aren't enough homes for sale right now.
A normal market has a 6-month supply of houses for sale, but today's housing inventory sits far below that benchmark. According to the National Association of Realtors (NAR), there's only a 1.9-month supply of homes available today. As a result, buyer competition is high and homes are only on the market for about 21 days, during which time many receive multiple offers from hopeful buyers.
In a competitive market that's moving so quickly, it makes sense to sell your house when buyers are scooping homes up as fast as they're being listed. Spending costly time and money on renovations before you sell might just mean you'll miss your key window of opportunity. While certain repairs on your house may be important, your best move right now is to work with a real estate advisor to determine which improvements are truly necessary, and which ones are not likely to be deal-breakers for buyers.
Today, many buyers are more willing to take on home improvement projects themselves in order to get the home they're after, even if it means putting in a little extra work. Home Advisor explains:
"When it comes to the number of home improvement projects completed, Gen Z homeowners are leading the pack, completing an average of 3.5 projects. Millennials closely follow Gen Z, taking on an average of 3.3 projects, followed by Gen X at 2.8 projects. Boomers completed an average of 2 projects, and the Silent Generation completed the fewest projects, on average, at 1.8 per household. Compared to 2019, millennials are spending 60% more on home improvement and doing on average 30% more projects."
In this market, it may be wise to let future homeowners remodel the bathroom or the kitchen to make design decisions that are best for their specific taste and lifestyle. As a seller, your dollars and time might be better spent working on small cosmetic updates, like refreshing some paint and power washing the exterior. Instead of over-investing in your home with upgrades that the buyers may change anyway, work with a real estate professional to determine the key projects that will maximize your listing, without overdoing it.
2. Focus on getting a good return on your investment.
When planning any bigger projects to tackle, you and your real estate agent will want to discuss the potential return on your investment and if those projects are worth the cost. Some homes do need a kitchen or bathroom renovation, roof repairs, or other major work, but definitely not all of them. You might be surprised by how well your house could fair in today's sellers' market. Hanley Wood states:
"The 2020 Cost vs. Value report shows a predictable increase in costs for all 22 remodeling projects but a consistent dip in the perceived value of those projects at the time of home sale, as estimated by real-estate professionals in more than 100 metro areas across the U.S. This results in a slight downturn on the return on investment for nearly all projects relative to the trends we saw in last year's report."
Ideally, homeowners getting ready to move should try to avoid over-investing in big renovations if they won't make that money back when they sell their house. According to the 2020 State of Home Spending report from Home Advisor:
"The average household spending on home services rose to $13,138, an increase over last year's survey results, where homeowners who did projects spent $9,081 on average in 2019."
Before you renovate, contact a local real estate professional to see if it's the best course of action. You may find out that putting your house on the market as-is will help you sell quickly, and it may result in the best return on your investment. Every home is different, but a conversation with your agent is mission-critical to make sure you make the right moves when selling this season.
Bottom Line
We're in a strong sellers' market, and that means you have the leverage to sell your house on your terms. Let's connect today to determine if renovating is really the best way to spend your time and money before you sell.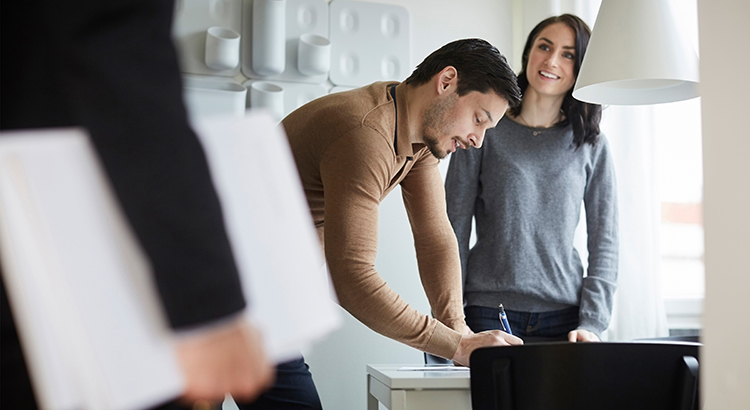 Today's homebuyers are faced with a strong sellers' market, which means there are a lot of active buyers competing for a relatively low number of available homes. As a result, it's essential to understand how to make a confident and competitive offer on your dream home. Here are five tips for success in this critical stage of the homebuying process.
1. Listen to Your Real Estate Advisor
An article from Freddie Mac gives direction on making an offer on a home. From the start, it emphasizes how trusted professionals can help you stay focused on the most important things, especially at times when this process can get emotional for buyers:
"Remember to let your homebuying team guide you on your journey, not your emotions. Their support and expertise will keep you from compromising on your must-haves and future financial stability."
A real estate professional should be the expert guide you lean on for advice when you're ready to make an offer.
2. Understand Your Finances
Having a complete understanding of your budget and how much house you can afford is essential. The best way to know this is to get pre-approved for a loan early in the homebuying process. Only 44% of today's prospective homebuyers are planning to apply for pre-approval, so be sure to take this step so you stand out from the crowd. Doing so make it clear to sellers you're a serious and qualified buyer, and it can give you a competitive edge in a bidding war.
3. Be Prepared to Move Quickly
According to the latest Realtors Confidence Index from the National Association of Realtors (NAR), the average property sold today receives 3.7 offers and is on the market for just 21 days. These are both results of today's competitive market, showing how important it is to stay agile and alert in your search. As soon as you find the right home for your needs, be prepared to submit an offer as quickly as possible.
4. Make a Fair Offer
It's only natural to want the best deal you can get on a home. However, Freddie Mac also warns that submitting an offer that's too low can lead sellers to doubt how serious you are as a buyer. Don't make an offer that will be tossed out as soon as it's received. The expertise your agent brings to this part of the process will help you stay competitive:
"Your agent will work with you to make an informed offer based on the market value of the home, the condition of the home and recent home sale prices in the area."
5. Stay Flexible in Negotiations
After submitting an offer, the seller may accept it, reject it, or counter it with their own changes. In a competitive market, it's important to stay nimble throughout the negotiation process. You can strengthen your position with an offer that includes flexible move-in dates, a higher price, or minimal contingencies (conditions you set that the seller must meet for the purchase to be finalized). Freddie Mac explains that there are, however, certain contingencies you don't want to forego:
"Resist the temptation to waive the inspection contingency, especially in a hot market or if the home is being sold 'as-is', which means the seller won't pay for repairs. Without an inspection contingency, you could be stuck with a contract on a house you can't afford to fix."
Bottom Line
Today's competitive market makes it more important than ever to make a strong offer on a home. Let's connect to make sure you rise to the top along the way.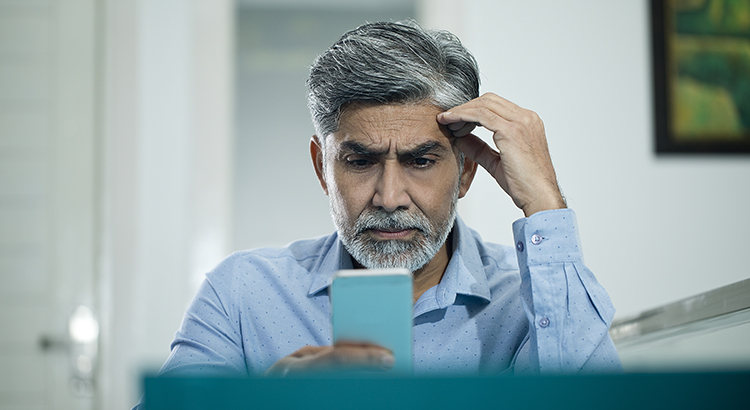 Last Thursday, Freddie Mac announced that their 30-year fixed mortgage rate was over 3% (3.02%) for the first time since last July. That news dominated real estate headlines that day and the next. Articles talked about the "negative impact" it may have on the housing market. However, we should realize two things:
1. The bump-up in rate should not have surprised anyone. Many had already projected that rates would rise slightly as we proceeded through the year.
2. Freddie Mac's comments about the rate increase were not alarming:
"The rise in mortgage rates over the next couple of months is likely to be more muted in comparison to the last few weeks, and we expect a strong spring sales season."
A "muted" rise in rates will not sink the real estate market, and most experts agree that it will be "a strong spring sales season."
What does this mean for you?
Obviously, any buyer would rather mortgage rates not rise at all, as any upward movement increases their monthly mortgage payment. However, let's put a 3.02% rate into perspective. Here are the Freddie Mac annual mortgage rates for the last five years:
2016: 3.65%
2017: 3.99%
2018: 4.54%
2019: 3.94%
2020: 3.11%
Though 3.02% is not as great as the sub-3% rates we saw over the previous seven weeks, it's still very close to the all-time low (2.66% in December 2020).
And, if we expand our look at mortgage rates to consider the last 50 years, we can see that today's rate is truly outstanding. Here are the rates over the last five decades:
1970s: 8.86%
1980s: 12.7%
1990s: 8.12%
2000s: 6.29%
2010s: 4.09%
Being upset that you missed the "best mortgage rate ever" is understandable. However, don't throw the baby out with the bathwater. Buying now still makes more sense than waiting, especially if rates continue to bump up this year.
Bottom Line
It's true that you may not get the same rate you would have five weeks ago. However, you will get a better rate than what was possible at almost any other point in history. Let's connect today so you can lock in a great rate while they stay this low.
According to recent data from realtor.com, median rental prices have reached their highest point ever recorded in many areas across the country. The report found rents rose by 8.1% from the same time last year. As it notes:
"Beyond simply recovering to pre-pandemic levels, rents across the country are surging. Typically, rents fluctuate less than 1% from month to month. In May and June, rents increased by 3.0% and 3.2% from each month to the next."
If you're a renter concerned about rising prices, now may be the time to consider purchasing a home.
Monthly Rents Are Higher Than Monthly Mortgage Payments
When you weigh your options of whether to buy a home or continue renting, how much you'll pay each month is likely top of mind. According to the National Association of Realtors (NAR), monthly mortgage payments are rising, but they're still significantly lower than the typical rental payment. NAR indicates the latest data on homes closed shows the median monthly mortgage payment is $1,204.
By contrast, the median national rent is $1,575 according to the most current data provided by realtor.com. In other words, buyers who recently purchased a home locked in a monthly payment that is, on average, $371 lower than what renters pay today (see graph below):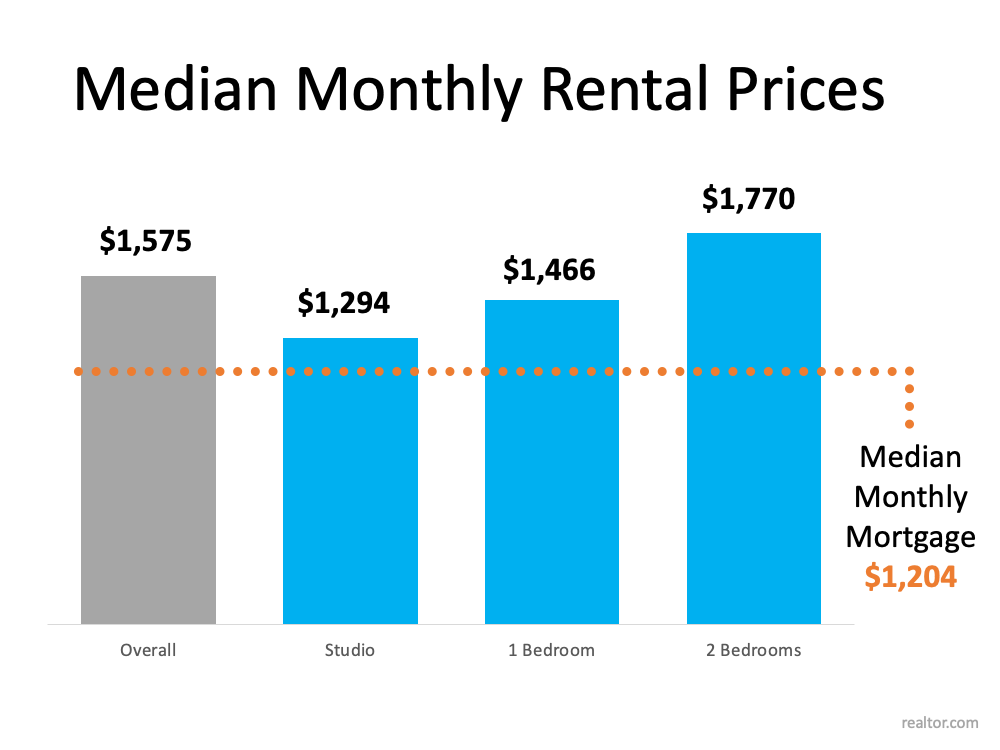 Rents Are Rising Sharply, and They Continue To Increase
The difference in monthly housing costs when comparing renting and homebuying today is significant, but many would-be homebuyers wonder about the future of rental prices. If we look to historical Census data as a reference, the median asking rent has risen consistently since 1988 (see graph below):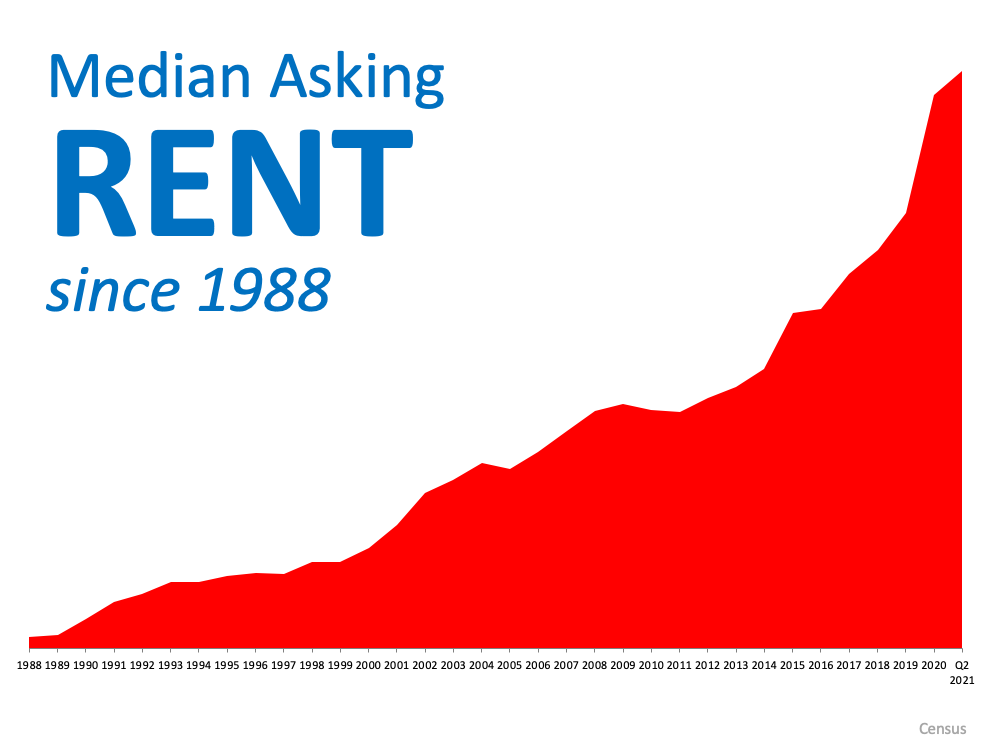 The rise in rent over time clearly shows one of the major advantages homeownership has over renting: stable housing costs. Renters face increasing costs every year. When you purchase your home, your mortgage rate is locked in for 30 years, meaning your monthly payment stays the same over time. That gives you welcome peace of mind and predictability for many years ahead.
Bottom Line
With rents continuing to rise across the country, renters should consider if now is the right time to buy. There are multiple benefits to buying sooner rather than later. Let's discuss your options so you can make your most powerful decision.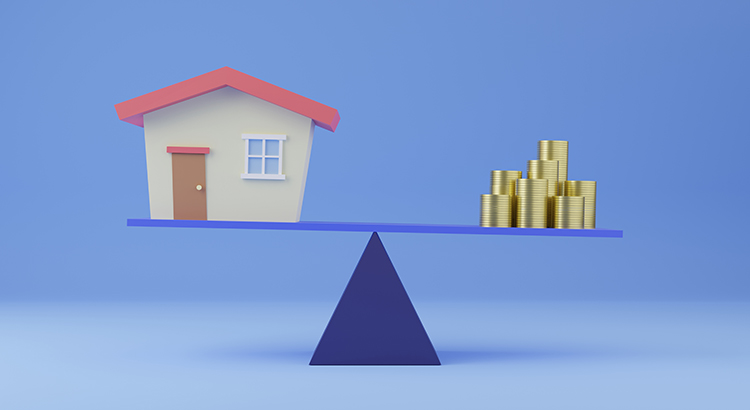 The real estate market was on fire during the second half of 2020. Buyer demand was way up, and the supply of homes available for sale hit record lows. The price of anything is determined by the supply and demand ratio, so home prices skyrocketed last year. Dr. Lynn Fisher, Deputy Director of the Federal Housing Finance Agency (FHFA) Division of Research and Statistics, explains:
"House prices nationwide recorded the largest annual and quarterly increase in the history of the FHFA Home Price Index. Low mortgage rates, pent up demand from homebuyers, and a limited housing supply propelled every region of the country to experience faster growth in 2020 compared to a year ago despite the pandemic."
Here are the year-end home price appreciation numbers from the FHFA and two other prominent pricing indexes:
The past year was truly a remarkable time for homeowners as prices appreciated substantially. Lawrence Yun, Senior Economist at the National Association of Realtors (NAR), reveals:
"A typical homeowner in 2020, just by being a homeowner, would have accumulated around $24,000 in housing wealth."
What will happen with home prices this year?
Many experts believe buyer demand will soften somewhat as mortgage rates are poised to bump up slightly. Some also believe the inventory challenge will ease as more listings come to market this year.
Based on this, most forecasters anticipate we'll see strong appreciation in 2021 – but not as strong as last year. Here are seven prominent groups and their projections: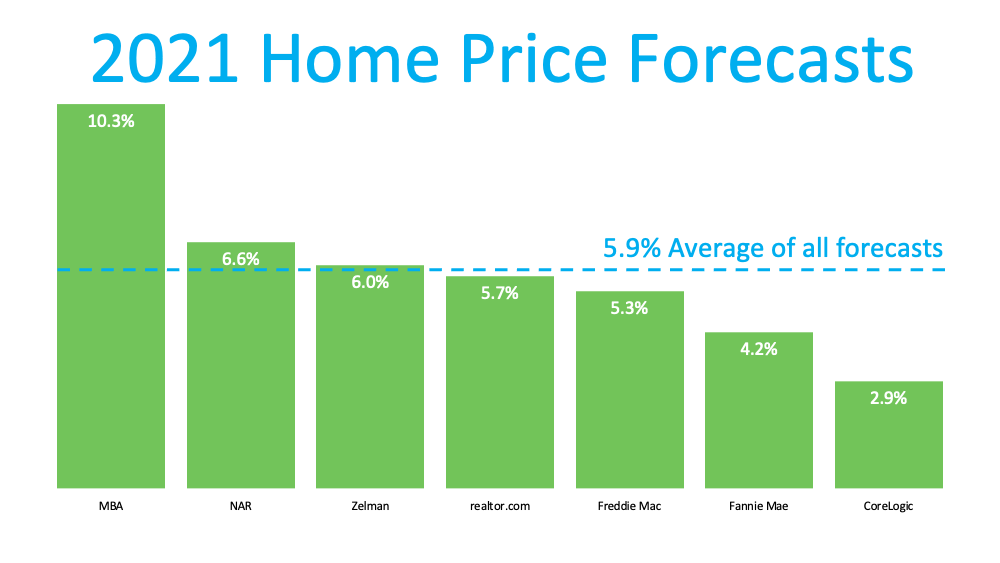 Bottom Line
Home price appreciation will be strong this year, but it won't reach the historic levels of 2020. Let's connect if you'd like to find out what your house is currently worth in our local market.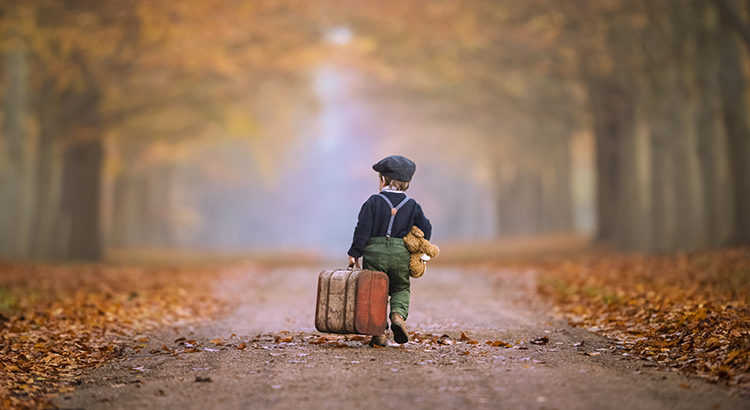 Whether you're buying your first home or selling your current house, if your needs are changing and you think you need to move, the decision can be complicated. You may have to take personal or professional considerations into account, and only you can judge what impact those factors should have on your desire to move.
However, there's one category that provides a simple answer. When deciding to buy now or wait until next year, the financial aspect of the purchase is easy to evaluate. You just need to ask yourself two questions:
Do I think home values will be higher a year from now?
Do I think mortgage rates will be higher a year from now?
From a purely financial standpoint, if the answer is 'yes' to either question, you should strongly consider buying now. If the answer to both questions is 'yes,' you should definitely buy now.
Nobody can guarantee what home values or mortgage rates will be by the end of this year. The experts, however, seem certain the answer to both questions above is a resounding 'yes.' Mortgage rates are expected to rise and home values are expected to appreciate rather nicely.
What does this mean to you?
Let's look at how waiting would impact your financial situation. Here are the assumptions made for this example:
The experts are right – mortgage rates will be 3.18% at the end of the year
The experts are right – home values will appreciate by 5.9%
You want to buy a home valued at $350,000 today
You decide on a 10% down payment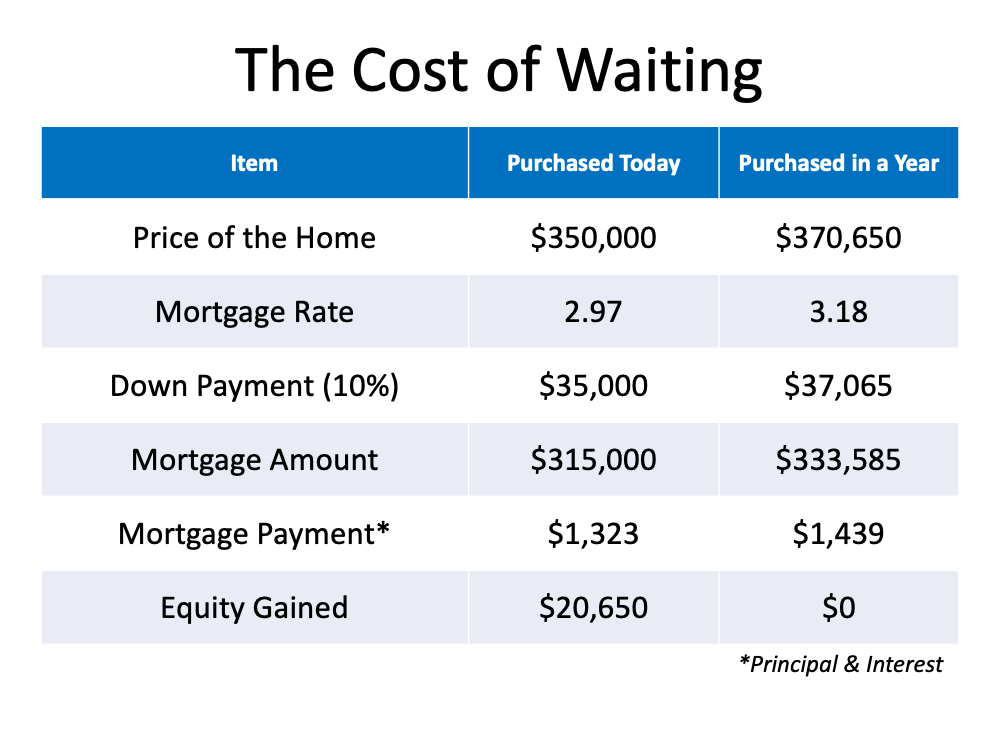 Here's the financial impact of waiting:
You pay an extra $20,650 for the house
You need an additional $2,065 for a down payment
You pay an extra $116/month in your mortgage payment ($1,392 additional per year)
You don't gain the $20,650 increase in wealth through equity build-up
Bottom Line
There are many things to consider when buying a home. However, from a purely financial aspect, if you find a home that meets your needs, buying now makes much more sense than buying next year.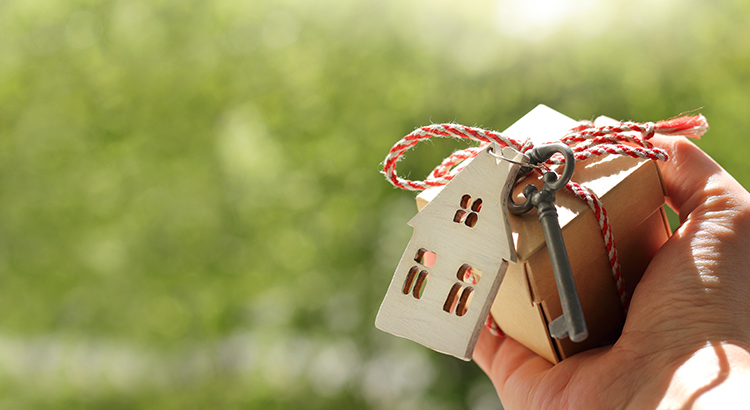 If you're thinking of buying a home this year, you may be wondering how much money you need to come up with for your down payment. Many people may think it's 20% of the loan to secure a mortgage. While there are plenty of lower down payment options available for qualified buyers who don't want to put 20% down, it's important to understand how a larger down payment can have great benefits too.
The truth is, there are many programs available that allow you to put down as little as 3.5%, which can be a huge benefit to those who want to purchase a home sooner rather than later. Those who have served our country may also qualify for a Veterans Affairs Home Loan (VA) and may not need a down payment. These programs have really cut down the savings time for many potential buyers, enabling them to start building family wealth sooner.
Here are four reasons why putting 20% down is a good plan if you can afford it.
1. Your interest rate may be lower.
A 20% down payment vs. a 3-5% down payment shows your lender you're more financially stable and not a large credit risk. The more confident your lender is in your credit score and your ability to pay your loan, the lower the mortgage interest rate they'll likely be willing to give you.
2. You'll end up paying less for your home.
The larger your down payment, the smaller your loan amount will be for your mortgage. If you're able to pay 20% of the cost of your new home at the start of the transaction, you'll only pay interest on the remaining 80%. If you put down 5%, the additional 15% will be added to your loan and will accrue interest over time. This will end up costing you more over the lifetime of your home loan.
3. Your offer will stand out in a competitive market.
In a market where many buyers are competing for the same home, sellers like to see offers come in with 20% or larger down payments. The seller gains the same confidence as the lender in this scenario. You are seen as a stronger buyer with financing that's more likely to be approved. Therefore, the deal will be more likely to go through.
4. You won't have to pay Private Mortgage Insurance (PMI)
What is PMI? According to Freddie Mac:
"PMI is an insurance policy that protects the lender if you are unable to pay your mortgage. It's a monthly fee, rolled into your mortgage payment, that is required for all conforming, conventional loans that have down payments less than 20%. Once you've built equity of 20% in your home, you can cancel your PMI and remove that expense from your mortgage payment."
As mentioned earlier, when you put down less than 20% when buying a home, your lender will see your loan as having more risk. PMI helps them recover their investment in you if you're unable to pay your loan. This insurance isn't required if you're able to put down 20% or more.
Many times, home sellers looking to move up to a larger or more expensive home are able to take the equity they earn from the sale of their house to put down 20% on their next home. With the equity homeowners have today, it creates a great opportunity to put those savings toward a 20% or greater down payment on a new home.
If you're looking to buy your first home, you'll want to consider the benefits of 20% down versus a smaller down payment option.
Bottom Line
If you're thinking of buying a home and are already saving for your down payment, let's connect to discuss what fits best with your long-term plans.
Buyer •
February 25, 2021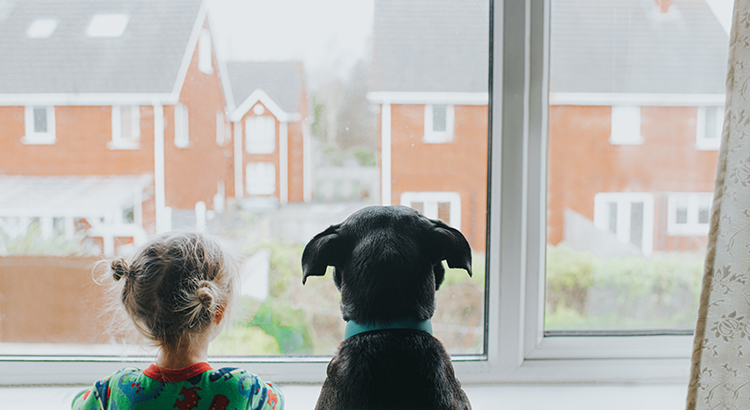 If you're looking for a home to purchase right now and having trouble finding one, you're not alone. At a time like this when there are so few houses for sale, it's normal to wonder if you'll actually find one to buy. According to the National Association of Realtors (NAR), across the country, inventory of available homes for sale is at an all-time low – the lowest point recorded since NAR began tracking this metric in 1982. There are, however, more homes expected to hit the market later this year. Let's break down the three key places they'll likely come from as 2021 continues on.
1. Homeowners Who Didn't Sell Last Year
In 2020, many sellers decided to pause their moving plans for a number of different reasons. From health concerns about the pandemic to financial uncertainty, plenty of homeowners decided not to move last year.
Now that vaccines are being distributed and there's a light at the end of the COVID-19 tunnel, it should bring some peace of mind to many potential sellers. As Danielle Hale, Chief Economist at realtor.com, notes:
"Fortunately for would-be homebuyers, we expect sellers to return to the market as we see improvement in the economy and progress against the coronavirus."
Many of the homeowners who decided not to sell in 2020 will enter the market later this year as they begin to feel more comfortable showing their house in person, understanding their financial situation, and simply having more security in life.
2. More New Homes Will Be Built
Last year was a strong year for home builders, and according to the National Association of Home Builders (NAHB), 2021 is expected to be even better:
"For 2021, NAHB expects ongoing growth for single-family construction. It will be the first year for which total single-family construction will exceed 1 million starts since the Great Recession."
With more houses being built in many markets around the country, homeowners looking for new houses that meet their changing needs will be able to move into their dream homes. When they sell their current houses, this will create opportunities for those looking to find a home that's already built to do so. It sets a simple chain reaction in motion for hopeful buyers.
3. Those Impacted Financially by the Economic Crisis
Many experts don't anticipate a large wave of foreclosures coming to the market, given the forbearance options afforded to current homeowners throughout the pandemic. Some homeowners who have been impacted economically will, however, need to move this year. There are also homeowners who didn't take advantage of the forbearance option or were already in a foreclosure situation before the pandemic began. In those cases, homeowners may decide to sell their houses instead of going into the foreclosure process, especially given the equity in homes today. Lawrence Yun, Chief Economist at NAR, explains:
"Given the huge price gains recently, I don't think many homes will have to go to foreclosure…I think homes will just be sold, and there will be cash left over for the seller, even in a distressed situation. So that's a bit of a silver lining in that we don't expect a massive sale of distressed properties."
As we can see, it looks like we're going to have an increase in the number of homes for sale in 2021. With fears of the pandemic starting to ease, new homes being built, and more listings coming to the market prior to foreclosure, there's hope if you're planning to buy this year. And if you're thinking of selling and making a move, doing so while demand for your house is high might create an outstanding move-up option for you.
Bottom Line
Housing demand is high and supply is low, so if you're thinking of moving, it's a great time to do so. There are likely many buyers who are looking for a home just like yours, and there are options coming for you to find a new house too. Let's connect today to see how you can benefit from the opportunities available in our local market.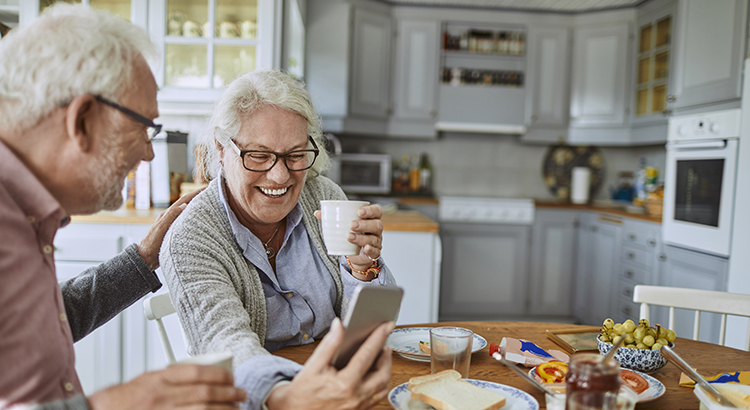 The real estate market is expected to do very well in 2021, with mortgage rates that are hovering at historic lows and forecasted by experts to remain favorable throughout the year. One challenge to the housing industry, however, is the lack of homes available for sale today. Last week, the National Association of Realtors (NAR) released their Existing Home Sales Report, which shows that the inventory of homes for sale is currently at an all-time low. The report explains:
"Total housing inventory at the end of December totaled 1.07 million units, down 16.4% from November and down 23% from one year ago (1.39 million). Unsold inventory sits at an all-time low 1.9-month supply at the current sales pace, down from 2.3 months in November and down from the 3.0-month figure recorded in December 2019. NAR first began tracking the single-family home supply in 1982."
(See graph below):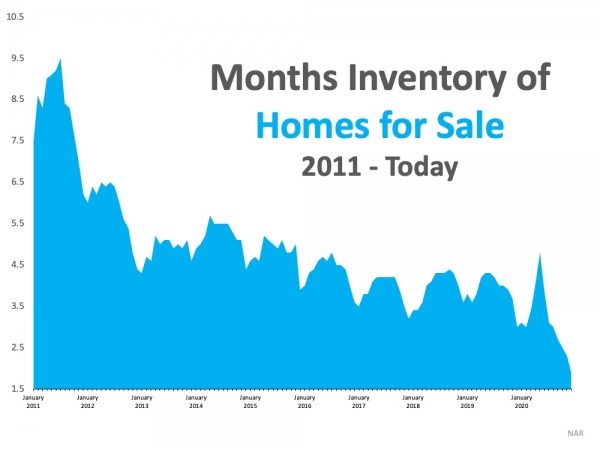 What Does This Mean for You?
If You're a Buyer:
Be patient during your home search. It may take time to find a home you love. Once you do, however, be ready to move forward quickly. Get pre-approved for a mortgage, be prepared to make a competitive offer from the start, and know that a shortage in inventory could mean you'll enter a bidding war. Calculate just how far you're willing to go to secure a home and lean on your real estate professional as an expert guide along the way. The good news is, more inventory is likely headed to the market soon, Lawrence Yun, Chief Economist at NAR, notes:
"To their credit, homebuilders and construction companies have increased efforts to build, with housing starts hitting an annual rate of near 1.7 million in December, with more focus on single-family homes…However, it will take vigorous new home construction in 2021 and in 2022 to adequately furnish the market to properly meet the demand."
If You're a Seller:
Realize that, in some ways, you're in the driver's seat. When there's a shortage of an item at the same time there's a strong demand for it, the seller is in a good position to negotiate the best possible terms. Whether it's the price, moving date, possible repairs, or anything else, you'll be able to request more from a potential purchaser at a time like this – especially if you have multiple interested buyers. Don't be unreasonable, but understand you probably have the upper hand.
Bottom Line
The housing market will remain strong throughout 2021. Know what that means for you, whether you're buying, selling, or doing both.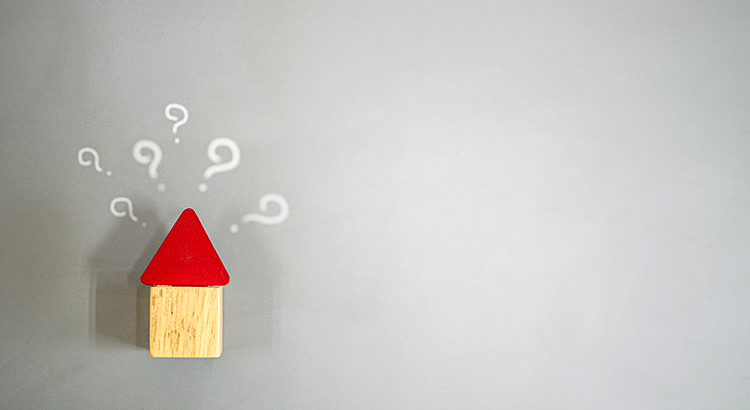 According to the latest report from Black Knight, Inc., a well-respected provider of data and analytics for mortgage companies, 6.48 million households have entered a forbearance plan as a result of financial concerns brought on by the COVID-19 pandemic. Here's where these homeowners stand right now:
2,543,000 (39%) are current on their payments and have left the program
625,000 (9%) have paid off their mortgages
434,000 (7%) have negotiated a repayment plan and have left the program
2,254,000 (35%) have extended their original forbearance plan
512,000 (8%) are still in their original forbearance plan
116,000 (2%) have left the program and are still behind on payments
This shows that of the almost 3.72 million homeowners who have left the program, only 116,000 (2%) exited while they were still behind on their payments. There are still 2.77 million borrowers in a forbearance program. No one knows for sure how many of those will become foreclosures. There are, however, three major reasons why most experts believe there will not be a tsunami of foreclosures as we saw during the housing crash over a decade ago:
Almost 30% of borrowers in forbearance are still current on their mortgage payments.
Banks likely don't want to repeat the 

mistakes

 of 2008-2012 when they put large numbers of foreclosures on their books. This time, many will instead negotiate a modification plan with the borrower, which will enable households to maintain ownership of the home.
With the significant 

equity

 homeowners have today, many will be able to sell instead of going into foreclosure.
Will there be foreclosures coming to the market? Yes. There are hundreds of thousands of foreclosures in this country each year. People experience economic hardships, and in some cases, are not able to meet their mortgage obligations.
Here's the breakdown of new foreclosures over the last three years, prior to the pandemic:
2017: 314,220
2018: 279,040
2019: 277,520
Through the first three quarters of 2020 (the latest data available), there were only 114,780 new foreclosures. If 10% of those currently in forbearance go to foreclosure, 275,000 foreclosures would be added to the market in 2021. That would be an average year as the numbers above show.
What happens if the number is more than 10%?
If we do experience a higher foreclosure rate from those in forbearance, most experts believe the current housing market will easily absorb the excess inventory. We entered 2020 with 1,210,000 single-family homes available for purchase. At the time, that was low and problematic. The market was experiencing high buyer demand, and we needed more houses to meet that demand. We're now entering 2021 with 320,000 fewer homes for sale, while buyer demand remains extremely strong. This means the housing market has the capacity to soak up a lot of inventory.
Bottom Line
There will be more foreclosures entering the market later this year, especially compared to the record-low numbers in 2020. However, the market will be able to handle the increase as buyer demand remains strong.