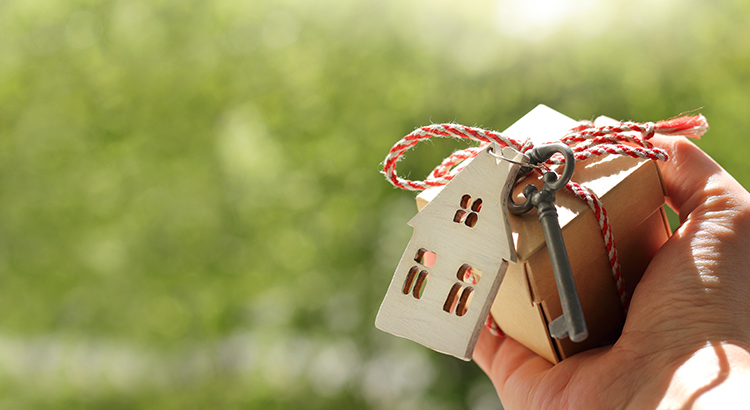 If you're thinking of buying a home this year, you may be wondering how much money you need to come up with for your down payment. Many people may think it's 20% of the loan to secure a mortgage. While there are plenty of lower down payment options available for qualified buyers who don't want to put 20% down, it's important to understand how a larger down payment can have great benefits too.
The truth is, there are many programs available that allow you to put down as little as 3.5%, which can be a huge benefit to those who want to purchase a home sooner rather than later. Those who have served our country may also qualify for a Veterans Affairs Home Loan (VA) and may not need a down payment. These programs have really cut down the savings time for many potential buyers, enabling them to start building family wealth sooner.
Here are four reasons why putting 20% down is a good plan if you can afford it.
1. Your interest rate may be lower.
A 20% down payment vs. a 3-5% down payment shows your lender you're more financially stable and not a large credit risk. The more confident your lender is in your credit score and your ability to pay your loan, the lower the mortgage interest rate they'll likely be willing to give you.
2. You'll end up paying less for your home.
The larger your down payment, the smaller your loan amount will be for your mortgage. If you're able to pay 20% of the cost of your new home at the start of the transaction, you'll only pay interest on the remaining 80%. If you put down 5%, the additional 15% will be added to your loan and will accrue interest over time. This will end up costing you more over the lifetime of your home loan.
3. Your offer will stand out in a competitive market.
In a market where many buyers are competing for the same home, sellers like to see offers come in with 20% or larger down payments. The seller gains the same confidence as the lender in this scenario. You are seen as a stronger buyer with financing that's more likely to be approved. Therefore, the deal will be more likely to go through.
4. You won't have to pay Private Mortgage Insurance (PMI)
What is PMI? According to Freddie Mac:
"PMI is an insurance policy that protects the lender if you are unable to pay your mortgage. It's a monthly fee, rolled into your mortgage payment, that is required for all conforming, conventional loans that have down payments less than 20%. Once you've built equity of 20% in your home, you can cancel your PMI and remove that expense from your mortgage payment."
As mentioned earlier, when you put down less than 20% when buying a home, your lender will see your loan as having more risk. PMI helps them recover their investment in you if you're unable to pay your loan. This insurance isn't required if you're able to put down 20% or more.
Many times, home sellers looking to move up to a larger or more expensive home are able to take the equity they earn from the sale of their house to put down 20% on their next home. With the equity homeowners have today, it creates a great opportunity to put those savings toward a 20% or greater down payment on a new home.
If you're looking to buy your first home, you'll want to consider the benefits of 20% down versus a smaller down payment option.
Bottom Line
If you're thinking of buying a home and are already saving for your down payment, let's connect to discuss what fits best with your long-term plans.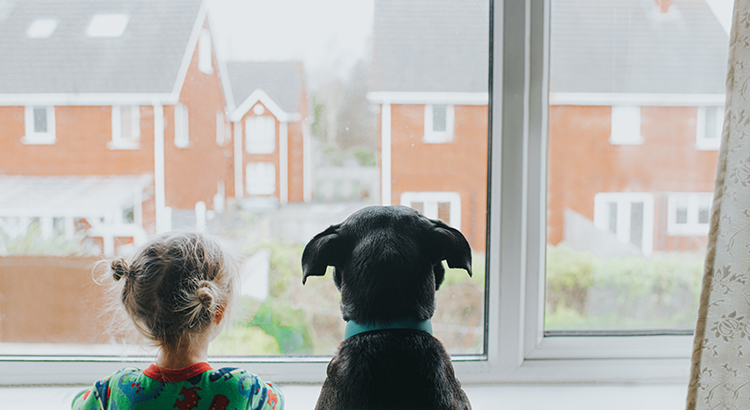 If you're looking for a home to purchase right now and having trouble finding one, you're not alone. At a time like this when there are so few houses for sale, it's normal to wonder if you'll actually find one to buy. According to the National Association of Realtors (NAR), across the country, inventory of available homes for sale is at an all-time low – the lowest point recorded since NAR began tracking this metric in 1982. There are, however, more homes expected to hit the market later this year. Let's break down the three key places they'll likely come from as 2021 continues on.
1. Homeowners Who Didn't Sell Last Year
In 2020, many sellers decided to pause their moving plans for a number of different reasons. From health concerns about the pandemic to financial uncertainty, plenty of homeowners decided not to move last year.
Now that vaccines are being distributed and there's a light at the end of the COVID-19 tunnel, it should bring some peace of mind to many potential sellers. As Danielle Hale, Chief Economist at realtor.com, notes:
"Fortunately for would-be homebuyers, we expect sellers to return to the market as we see improvement in the economy and progress against the coronavirus."
Many of the homeowners who decided not to sell in 2020 will enter the market later this year as they begin to feel more comfortable showing their house in person, understanding their financial situation, and simply having more security in life.
2. More New Homes Will Be Built
Last year was a strong year for home builders, and according to the National Association of Home Builders (NAHB), 2021 is expected to be even better:
"For 2021, NAHB expects ongoing growth for single-family construction. It will be the first year for which total single-family construction will exceed 1 million starts since the Great Recession."
With more houses being built in many markets around the country, homeowners looking for new houses that meet their changing needs will be able to move into their dream homes. When they sell their current houses, this will create opportunities for those looking to find a home that's already built to do so. It sets a simple chain reaction in motion for hopeful buyers.
3. Those Impacted Financially by the Economic Crisis
Many experts don't anticipate a large wave of foreclosures coming to the market, given the forbearance options afforded to current homeowners throughout the pandemic. Some homeowners who have been impacted economically will, however, need to move this year. There are also homeowners who didn't take advantage of the forbearance option or were already in a foreclosure situation before the pandemic began. In those cases, homeowners may decide to sell their houses instead of going into the foreclosure process, especially given the equity in homes today. Lawrence Yun, Chief Economist at NAR, explains:
"Given the huge price gains recently, I don't think many homes will have to go to foreclosure…I think homes will just be sold, and there will be cash left over for the seller, even in a distressed situation. So that's a bit of a silver lining in that we don't expect a massive sale of distressed properties."
As we can see, it looks like we're going to have an increase in the number of homes for sale in 2021. With fears of the pandemic starting to ease, new homes being built, and more listings coming to the market prior to foreclosure, there's hope if you're planning to buy this year. And if you're thinking of selling and making a move, doing so while demand for your house is high might create an outstanding move-up option for you.
Bottom Line
Housing demand is high and supply is low, so if you're thinking of moving, it's a great time to do so. There are likely many buyers who are looking for a home just like yours, and there are options coming for you to find a new house too. Let's connect today to see how you can benefit from the opportunities available in our local market.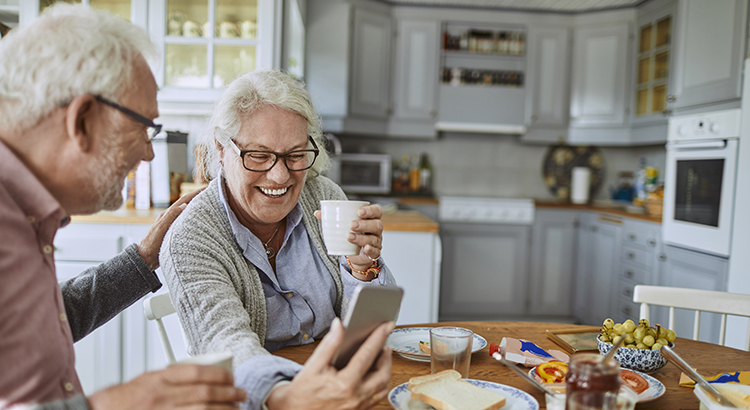 The real estate market is expected to do very well in 2021, with mortgage rates that are hovering at historic lows and forecasted by experts to remain favorable throughout the year. One challenge to the housing industry, however, is the lack of homes available for sale today. Last week, the National Association of Realtors (NAR) released their Existing Home Sales Report, which shows that the inventory of homes for sale is currently at an all-time low. The report explains:
"Total housing inventory at the end of December totaled 1.07 million units, down 16.4% from November and down 23% from one year ago (1.39 million). Unsold inventory sits at an all-time low 1.9-month supply at the current sales pace, down from 2.3 months in November and down from the 3.0-month figure recorded in December 2019. NAR first began tracking the single-family home supply in 1982."
(See graph below):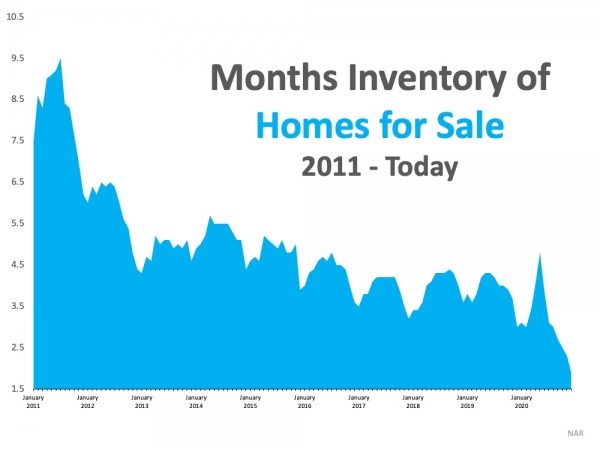 What Does This Mean for You?
If You're a Buyer:
Be patient during your home search. It may take time to find a home you love. Once you do, however, be ready to move forward quickly. Get pre-approved for a mortgage, be prepared to make a competitive offer from the start, and know that a shortage in inventory could mean you'll enter a bidding war. Calculate just how far you're willing to go to secure a home and lean on your real estate professional as an expert guide along the way. The good news is, more inventory is likely headed to the market soon, Lawrence Yun, Chief Economist at NAR, notes:
"To their credit, homebuilders and construction companies have increased efforts to build, with housing starts hitting an annual rate of near 1.7 million in December, with more focus on single-family homes…However, it will take vigorous new home construction in 2021 and in 2022 to adequately furnish the market to properly meet the demand."
If You're a Seller:
Realize that, in some ways, you're in the driver's seat. When there's a shortage of an item at the same time there's a strong demand for it, the seller is in a good position to negotiate the best possible terms. Whether it's the price, moving date, possible repairs, or anything else, you'll be able to request more from a potential purchaser at a time like this – especially if you have multiple interested buyers. Don't be unreasonable, but understand you probably have the upper hand.
Bottom Line
The housing market will remain strong throughout 2021. Know what that means for you, whether you're buying, selling, or doing both.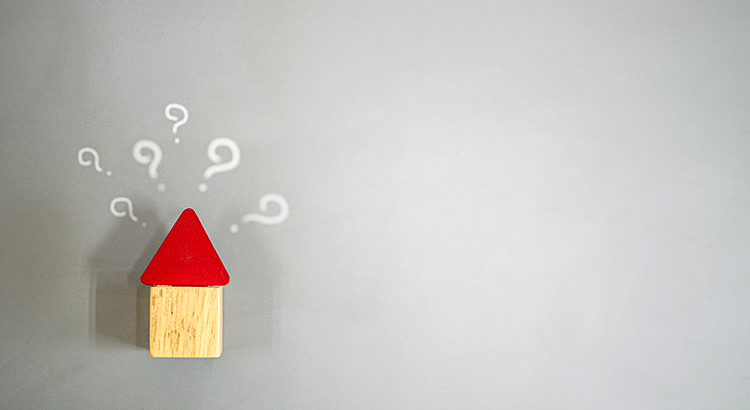 According to the latest report from Black Knight, Inc., a well-respected provider of data and analytics for mortgage companies, 6.48 million households have entered a forbearance plan as a result of financial concerns brought on by the COVID-19 pandemic. Here's where these homeowners stand right now:
2,543,000 (39%) are current on their payments and have left the program
625,000 (9%) have paid off their mortgages
434,000 (7%) have negotiated a repayment plan and have left the program
2,254,000 (35%) have extended their original forbearance plan
512,000 (8%) are still in their original forbearance plan
116,000 (2%) have left the program and are still behind on payments
This shows that of the almost 3.72 million homeowners who have left the program, only 116,000 (2%) exited while they were still behind on their payments. There are still 2.77 million borrowers in a forbearance program. No one knows for sure how many of those will become foreclosures. There are, however, three major reasons why most experts believe there will not be a tsunami of foreclosures as we saw during the housing crash over a decade ago:
Almost 30% of borrowers in forbearance are still current on their mortgage payments.
Banks likely don't want to repeat the 

mistakes

 of 2008-2012 when they put large numbers of foreclosures on their books. This time, many will instead negotiate a modification plan with the borrower, which will enable households to maintain ownership of the home.
With the significant 

equity

 homeowners have today, many will be able to sell instead of going into foreclosure.
Will there be foreclosures coming to the market? Yes. There are hundreds of thousands of foreclosures in this country each year. People experience economic hardships, and in some cases, are not able to meet their mortgage obligations.
Here's the breakdown of new foreclosures over the last three years, prior to the pandemic:
2017: 314,220
2018: 279,040
2019: 277,520
Through the first three quarters of 2020 (the latest data available), there were only 114,780 new foreclosures. If 10% of those currently in forbearance go to foreclosure, 275,000 foreclosures would be added to the market in 2021. That would be an average year as the numbers above show.
What happens if the number is more than 10%?
If we do experience a higher foreclosure rate from those in forbearance, most experts believe the current housing market will easily absorb the excess inventory. We entered 2020 with 1,210,000 single-family homes available for purchase. At the time, that was low and problematic. The market was experiencing high buyer demand, and we needed more houses to meet that demand. We're now entering 2021 with 320,000 fewer homes for sale, while buyer demand remains extremely strong. This means the housing market has the capacity to soak up a lot of inventory.
Bottom Line
There will be more foreclosures entering the market later this year, especially compared to the record-low numbers in 2020. However, the market will be able to handle the increase as buyer demand remains strong.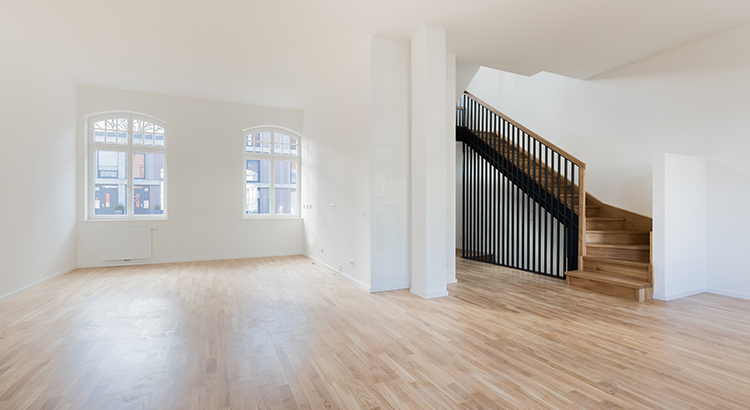 If you're planning to buy a home, an appraisal is an important step in the process. It's a professional evaluation of the market value of the home you'd like to buy. In most cases, an appraisal is ordered by the lender to confirm or verify the value of the home prior to lending a buyer money for the purchase. It's also a different step in the process from a home inspection, which assesses the condition of the home before you finalize the transaction. Here's the breakdown of each one and why they're both important when buying a home.
Home Appraisal
The National Association of Realtors (NAR) explains:
"A home purchase is typically the largest investment someone will make. Protect yourself by getting your investment appraised! An appraiser will observe the property, analyze the data, and report their findings to their client. For the typical home purchase transaction, the lender usually orders the appraisal to assist in the lender's decision to provide funds for a mortgage."
When you apply for a mortgage, an unbiased appraisal (which is required by the lender) is the best way to confirm the value of the home based on the sale price. Regardless of what you're willing to pay for a house, if you'll be using a mortgage to fund your purchase, the appraisal will help make sure the bank doesn't loan you more than what the home is worth.
This is especially critical in today's sellers' market where low inventory is driving an increase in bidding wars, which can push home prices upward. When sellers are in a strong position like this, they tend to believe they can set whatever price they want for their house under the assumption that competing buyers will be willing to pay more.
However, the lender will only allow the buyer to borrow based on the value of the home. This is what helps keep home prices in check. If there's ever any confusion or discrepancy between the appraisal and the sale price, your trusted real estate professional will help you navigate any additional negotiations in the buying process.
Home Inspection
Here's the key difference between an appraisal and an inspection. MSN explains:
"In simplest terms, a home appraisal determines the value of a home, while a home inspection determines the condition of a home."
The home inspection is a way to determine the current state, safety, and condition of the home before you finalize the sale. If anything is questionable in the inspection process – like the age of the roof, the state of the HVAC system, or just about anything else – you as a buyer have the option to discuss and negotiate any potential issues or repairs with the seller before the transaction is final. Your real estate agent is a key expert to help you through this part of the process.
Bottom Line
The appraisal and the inspection are critical steps when buying a home, and you don't need to manage them by yourself. Let's connect today so you have the expert guidance you need to navigate through the entire homebuying process.
Buyer •
December 24, 2020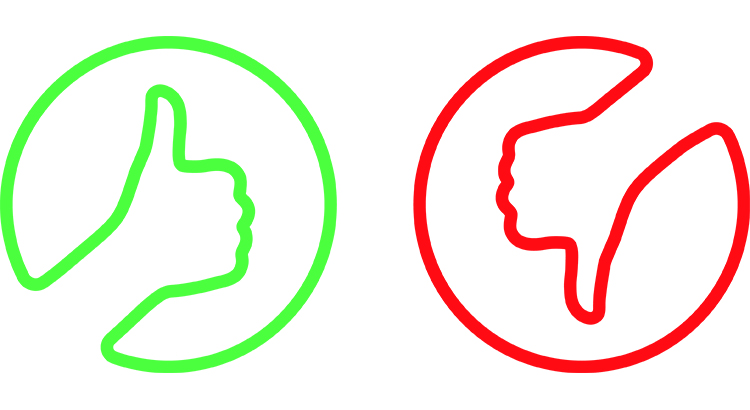 Once you've found the right home and applied for a mortgage, there are some key things to keep in mind before you close. You're undoubtedly excited about the opportunity to decorate your new place, but before you make any large purchases, move your money around, or make any major life changes, consult your lender – someone who is qualified to tell you how your financial decisions may impact your home loan.
Below is a list of things you shouldn't do after applying for a mortgage. They're all important to know – or simply just good reminders – for the process.
1. Don't Deposit Cash into Your Bank Accounts Before Speaking with Your Bank or Lender. Lenders need to source your money, and cash is not easily traceable. Before you deposit any amount of cash into your accounts, discuss the proper way to document your transactions with your loan officer.
2. Don't Make Any Large Purchases Like a New Car or Furniture for Your New Home. New debt comes with new monthly obligations. New obligations create new qualifications. People with new debt have higher debt-to-income ratios. Higher ratios make for riskier loans, and then sometimes qualified borrowers no longer qualify.
3. Don't Co-Sign Other Loans for Anyone. When you co-sign, you're obligated. With that obligation comes higher ratios as well. Even if you promise you won't be the one making the payments, your lender will have to count the payments against you.
4. Don't Change Bank Accounts. Remember, lenders need to source and track your assets. That task is significantly easier when there's consistency among your accounts. Before you transfer any money, speak with your loan officer.
5. Don't Apply for New Credit. It doesn't matter whether it's a new credit card or a new car. When you have your credit report run by organizations in multiple financial channels (mortgage, credit card, auto, etc.), your FICO® score will be impacted. Lower credit scores can determine your interest rate and maybe even your eligibility for approval.
6. Don't Close Any Credit Accounts. Many buyers believe having less available credit makes them less risky and more likely to be approved. Wrong. A major component of your score is your length and depth of credit history (as opposed to just your payment history) and your total usage of credit as a percentage of available credit. Closing accounts has a negative impact on both of those determinants of your score.
Bottom Line
Any blip in income, assets, or credit should be reviewed and executed in a way that ensures your home loan can still be approved. If your job or employment status has changed recently, share that with your lender as well. The best plan is to fully disclose and discuss your intentions with your loan officer before you do anything financial in nature.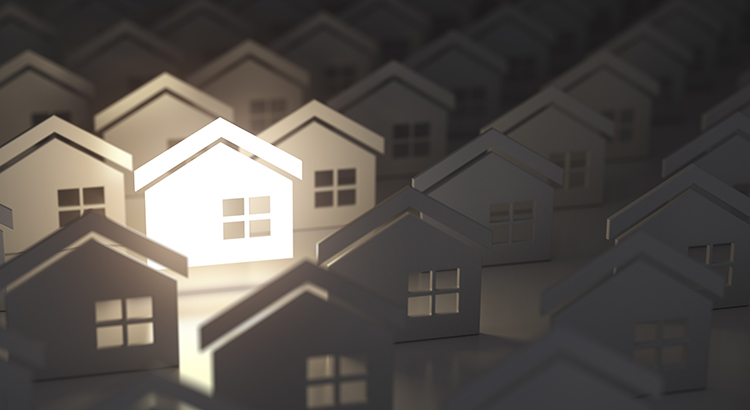 If you're one of the many homeowners thinking about taking your house off the market for the holidays, hang on. You definitely don't want to miss the great selling opportunity you have right now. Here's why this month is the optimal time to make sure your house is available for holiday buyers.
The latest Existing Home Sales Report from The National Association of Realtors (NAR) shows the inventory of houses for sale has dropped to an astonishing all-time low. It now sits at a 2.5-month supply at the current sales pace.
Historically, a 6-month supply is necessary for a 'normal' or 'neutral' market, in which there are enough homes available for active buyers (See graph below):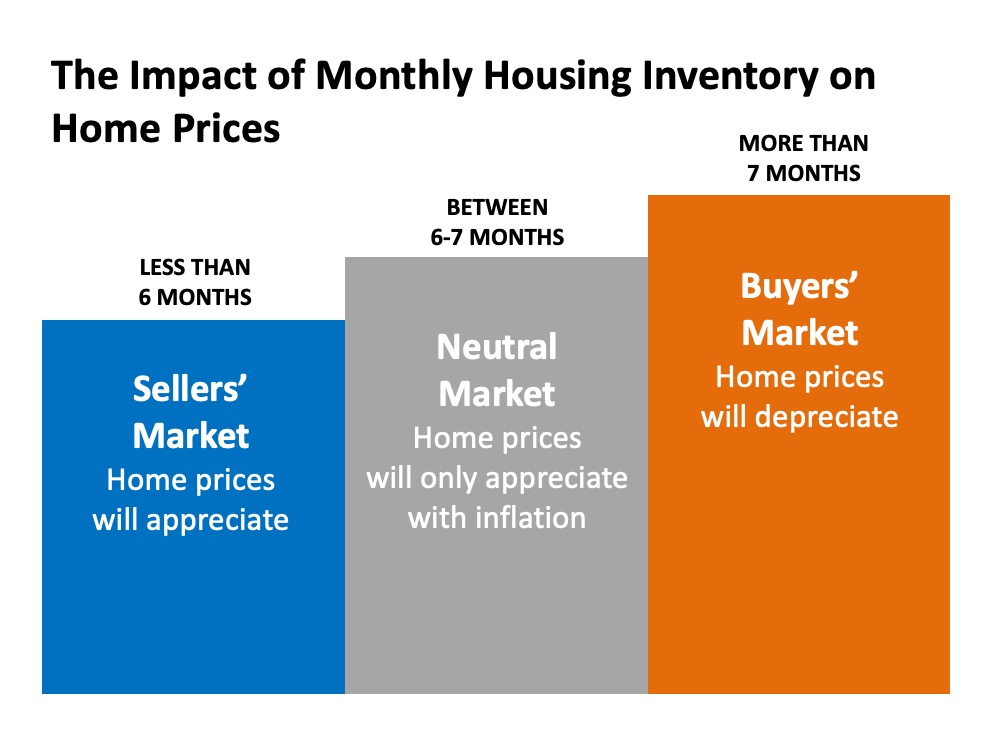 When the supply of houses for sale is as low as it is today, it's much harder for buyers to find homes to purchase. This means competition among purchasers rises and more bidding wars take place, making it essential for buyers to submit very attractive offers.
As this happens, prices rise and sellers are in the best position to negotiate deals that meet their ideal terms. So, if your neighbors decide to remove their listings this season, your house may quickly rise to the top of a holiday buyer's wish list if you stay on the market.
Today, there are many buyers who are ready, willing, and able to purchase. Record-low mortgage rates and a year filled with unique changes have prompted buyers to think differently about where they live and to take action. The supply of homes for sale is not keeping up with this high demand, making now the optimal time to sell your house.
Bottom Line
Home prices are appreciating in today's sellers' market. Making your home available over the next few weeks will give you the most exposure to buyers who will be actively competing against each other to purchase it.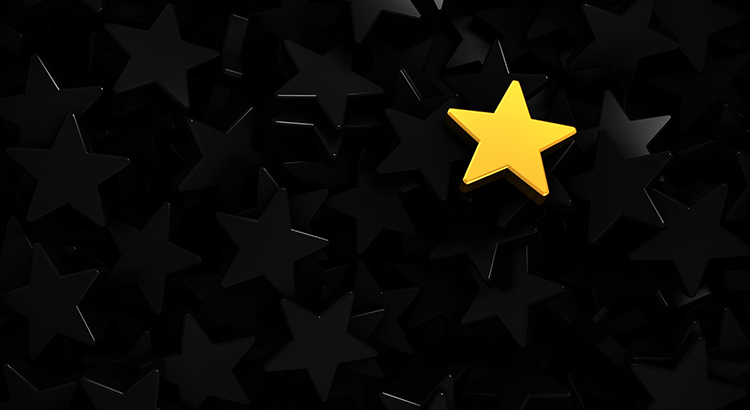 Today's real estate market has high buyer interest and low housing inventory. With so many buyers competing for a limited number of homes, it's more important than ever to know the ins and outs of making a confident and competitive offer. Here are five keys to success for this important stage in the homebuying process.
1. Listen to Your Real Estate Agent
A recent article from Freddie Mac offers guidance on making an offer on a home in today's market. Right off the bat, it points out how emotional this can be for buyers and why trusted professionals can help you stay focused on the most important things:
"Remember to let your homebuying team guide you on your journey, not your emotions. Their support and expertise will keep you from compromising on your must-haves and future financial stability."
Your real estate professional should be your primary source for answers to the questions you have when you're ready to make an offer.
2. Understand Your Finances
Having a complete understanding of your budget and how much house you can afford is essential. The best way to know this is to reach out to your lender to get pre-approved for a loan early in the homebuying process. Only 44% of today's prospective homebuyers are planning to apply for pre-approval, so be sure to take this step so you stand out from the crowd. It shows sellers you're a serious, qualified buyer and can give you a competitive edge if you enter a bidding war.
3. Be Ready to Move Quickly
According to the Realtors Confidence Index, published monthly by the National Association of Realtors (NAR), the average property being sold today is receiving more than three offers and is only on the market for a few weeks. These are both results of today's competitive market, showing how important it is to stay agile and vigilant in your search. As soon as you find the right home for your needs, be prepared to work with your agent to submit an offer as quickly as possible.
4. Make a Fair Offer
It's only natural to want the best deal you can get on a home. However, Freddie Mac also warns that submitting an offer that's too low can lead sellers to doubt how serious you are as a buyer. Don't submit an offer that will be tossed out as soon as it's received. The expertise your agent brings to this part of the process will help you stay competitive:
"Your agent will work with you to make an informed offer based on the market value of the home, the condition of the home and recent home sale prices in the area."
5. Be a Flexible Negotiator
After submitting an offer, the seller may accept it, reject it, or counter it with their own changes. In a competitive market, it's important to stay nimble throughout the negotiation process. Your position can be strengthened with an offer that includes flexible move-in dates, a higher price, or minimal contingencies (conditions you set that the seller must meet for the purchase to be finalized). There are, however, certain contingencies you don't want to forego. Freddie Mac explains:
"Resist the temptation to waive the inspection contingency, especially in a hot market or if the home is being sold 'as-is', which means the seller won't pay for repairs. Without an inspection contingency, you could be stuck with a contract on a house you can't afford to fix."
Bottom Line
Today's competitive market makes it more important than ever to make a strong offer on a home, and a trusted expert can help you rise to the top along the way.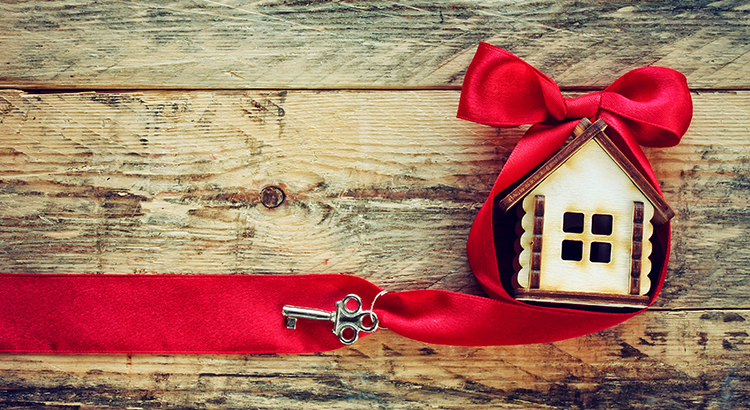 Around this time each year, many homeowners decide to wait until after the holidays to sell their houses. Similarly, others who already have their homes on the market remove their listings until the spring. Let's unpack the top reasons why selling your house now, or keeping it on the market this season, is the best choice you can make. This year, buyers want to purchase homes for the holidays, and your house might be the perfect match.
Here are seven great reasons not to wait to sell your house this holiday season:

1. Buyers are active now. Mortgage rates are historically low, providing motivation for those who are ready to get more for their money over the life of their home loan.
2. Purchasers who look for homes during the holidays are serious ones, and they're ready to buy.
3. You can restrict the showings in your house to days and times that are most convenient for you, or even select virtual options. You'll remain in control, especially in today's sellers' market.
4. Homes decorated for the holidays appeal to many buyers.
5. Today, there's minimal competition for you as a seller. There just aren't enough houses on the market to satisfy buyer demand, meaning sellers are in the driver's seat. Over the past year, inventory has declined to record lows, making it the opportune time to sell your house (See graph below):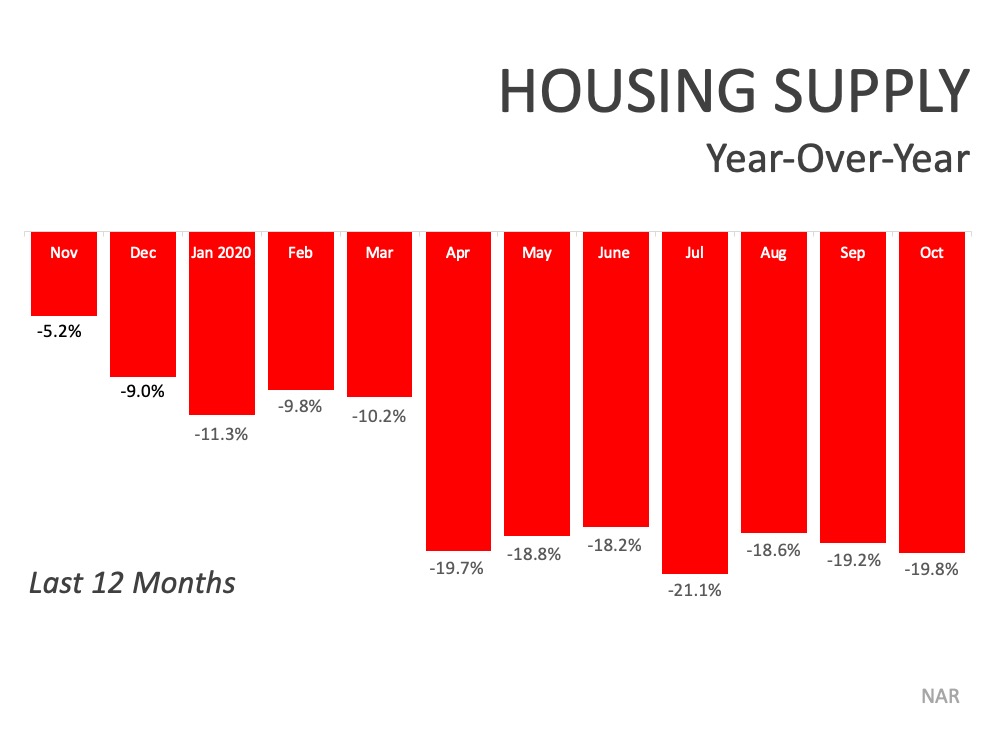 6. The desire to own a home doesn't stop during the holidays. Buyers who have been searching throughout the fall and have been running into more and more bidding wars are still on the lookout. Your home may be the answer.
7. This season is the sweet spot for sellers, and the number of listings will increase after the holidays. In many parts of the country, more new construction will also be available for sale in 2021, which will lessen the demand for your house next year.
Bottom Line 
More than ever, this may be the year it makes the most sense to list your house during the holiday season. Let's connect today to determine if selling now is your best move.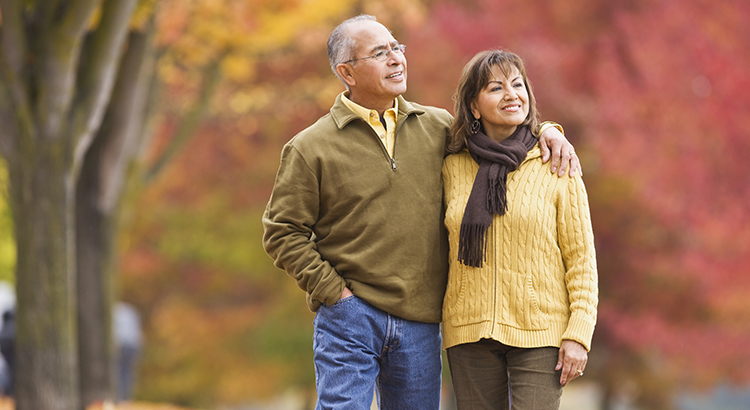 If you're thinking about moving, selling your house this fall might be the way to go. Here are four highlights in the housing market that may make your decision to sell this fall an easy one.
1. Buyers Are Actively in the Market
ShowingTime, a leading real estate showing software and market stat service provider, just reported that buyer traffic jumped 60.7% compared to this time last year. That's a huge increase.
It's clear that buyers are ready, willing, and able to purchase – and they're in the market right now. In many regions of the country, multiple buyers are entering bidding wars to compete for the home they want. Take advantage of the buyer activity currently in the market so you can sell your house in the most favorable terms.
2. There Are Not Enough Homes for Sale
In the latest Existing Home Sales Report, the National Association of Realtors (NAR) announced that there were only 1.49 million units available for sale. That number was down 18.6% from one year ago. This means in the majority of the country, there aren't enough homes for sale to satisfy the number of buyers.
Due to the health crisis, many homeowners were reluctant to list their homes earlier this year. That will change as the economy continues to recover. The choices buyers have will increase going into the new year. Don't wait until additional sellers come to market before you decide to make a move.
3. The Process Is Going Quickly
Today's ultra-competitive environment has forced buyers to do all they can to stand out from the crowd, including getting pre-approved for their mortgage financing. This makes the entire selling process much faster and simpler, as buyers know exactly what they can afford before shopping for a home. According to the latest Origination Insights Report from Ellie Mae, the time needed to close a loan is just 49 days.
4. There May Never Be a More Important Time to Move
You've likely spent much of the last six months in your current home. Perhaps you now realize how small it is, and you need more space. If you're working from home, your children are doing virtual school, or you just need more space, your current floor plan may not work for your family's changing needs.
Homebuilders are beginning to build houses again, so you can choose the exact floor plan to match what your family needs, and you can make sure the outdoor space is what you want too.
Bottom Line
The housing market is prime for sellers right now, so let's connect to get the process started this fall. If the timing is right for you and your family, the market is calling your name.