Over the past two years, the substantial imbalance of low housing supply and high buyer demand pushed home sales and buyer competition to new heights. But this year, things are shifting as supply and demand reach an inflection point.
The graph below helps tell the story of just how different things are today.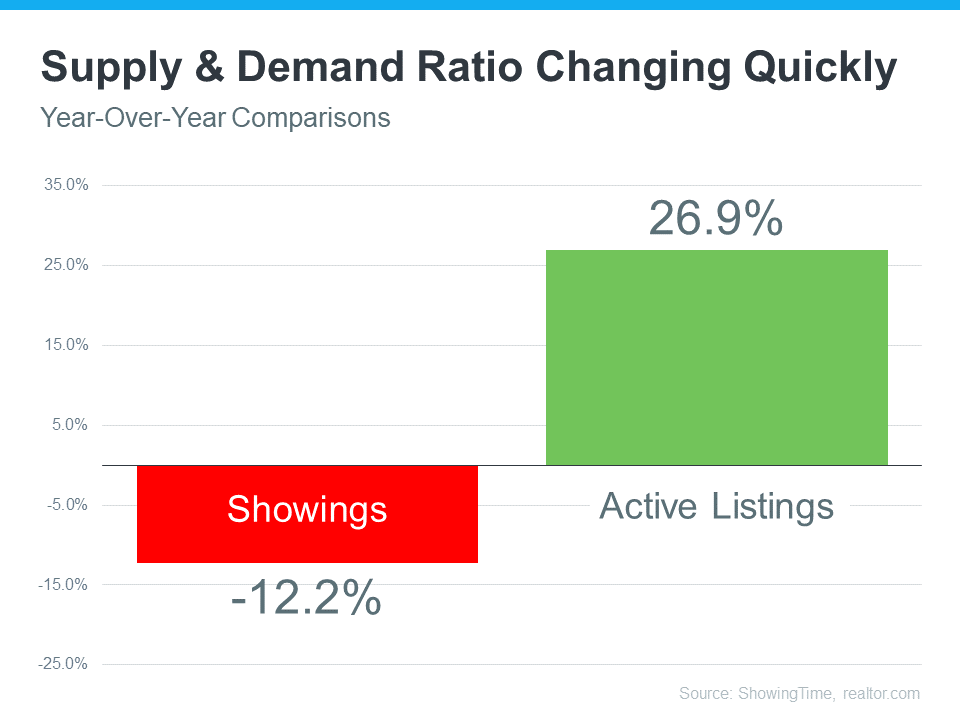 This year, buyer demand has eased as higher mortgage rates and mounting economic uncertainty moderated the market. This slowdown in demand is clear when you look at the red bar on the graph. It uses the latest data from ShowingTime to illustrate how showings (an indicator of buyer demand) have softened by just over 12% compared to the same time last year.
Now for a look at how housing supply has changed, turn to the green bar. It uses data from realtor.com to show active listings are up nearly 27% compared to last year. That's because the moderation of demand allowed housing inventory to increase in 2022.
What Does This Inflection Point Mean for Buyers?
If you're thinking of buying a home, you'll have less competition and more options than you would have had last year. Enjoy having more homes to choose from in your home search and lean on a trusted real estate professional to understand how the increase in supply has also increased your negotiation power. That professional can talk you through the opportunities and challenges buyers face in today's shifting market. You may be surprised to find they're different than they were a year ago.
What Does This Inflection Point Mean for Sellers?
If you're looking to sell your house, know that inventory is still low overall. That means, if you work with an agent to price your house based on current market value, it will still sell despite the inventory gains and moderating buyer demand this year. That's because there are still buyers out there who want to move, and your house may be exactly what they're looking for.
Bottom Line
If you're thinking of buying or selling a home, the best place to turn to for information on today's supply and demand is a trusted real estate professional. Let's connect so you know what's happening in our local market and what that means for you.
The talk of a housing bubble in the coming year seems to be at a fever pitch as rising mortgage rates continue to slow down an overheated real estate market. Over the past two years, home prices have appreciated at an unsustainable pace causing many to ask: are things just slowing down, or is a crash coming?
To answer this question, there are two things we want to understand. The first is the reality of the shift in today's housing market. And the second is what experts are saying about home prices in the coming year.
The Reality of the Shift in Today's Housing Market
The reality is we're seeing an inflection point in housing supply and demand. According to realtor.com, active listings have increased more than 26% over last year, while showings from the latest ShowingTime Showing Index have decreased almost 17% from last year (see graph below). This is an inflection point for housing because, over the past two years, we've seen a massive amount of demand (showings) and not enough homes available for sale for the number of people that wanted to buy. That caused the market frenzy.
Today, supply and demand look very different, and the market is slowing down from the pace we've seen. This offers proof of the sudden slowdown so many people are feeling.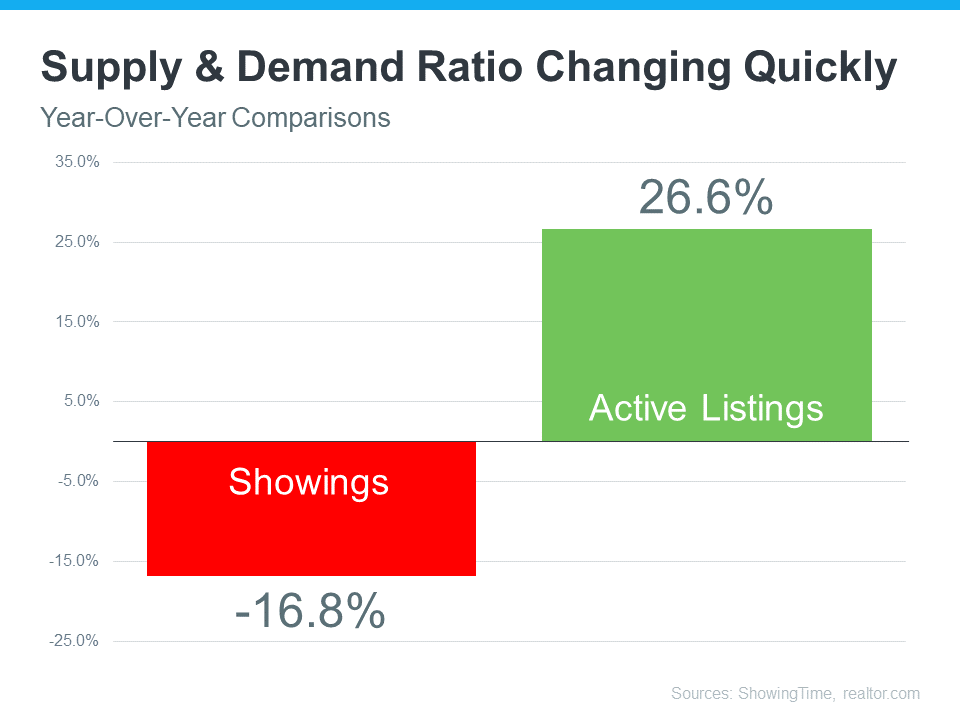 What Experts Are Saying About Home Prices in the Coming Year
Right now, most experts are forecasting home price appreciation in 2023, but at a much slower pace than the last two years. The average of the six forecasters below is for national home prices to appreciate by 2.5% in the coming year. Only one of the six is calling for home price depreciation.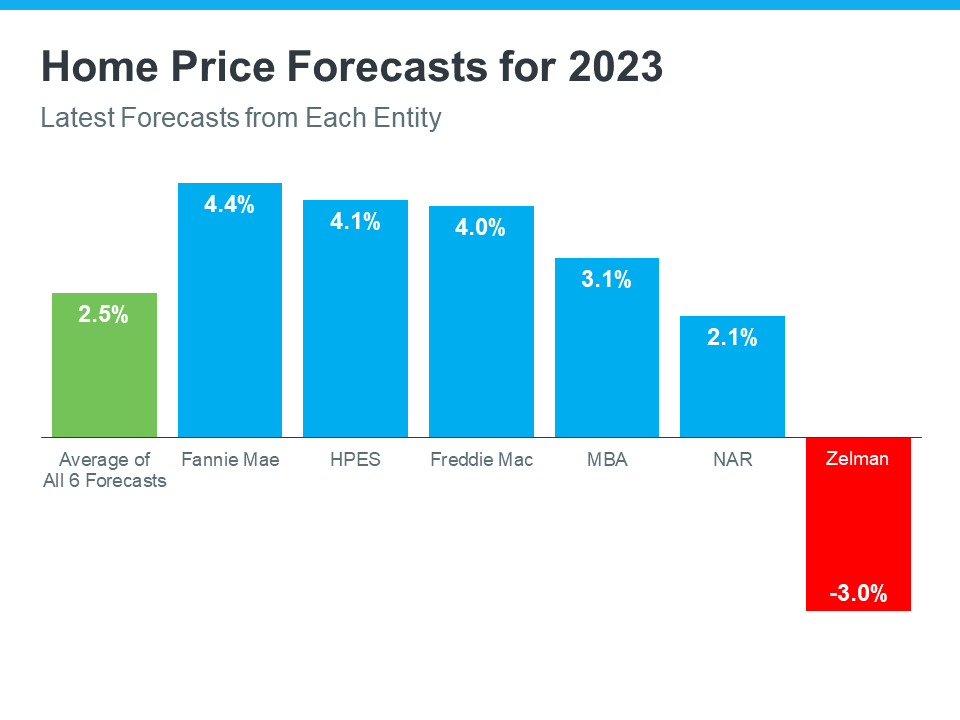 When we look at the shift taking place along with what experts are saying, we can conclude the national real estate market is slowing down but is not a bubble getting ready to burst. This isn't to say that a few overheated markets won't experience home price depreciation, but there isn't a case to be made for a national housing bubble.
Bottom Line
The real estate market is slowing down, and that's causing many to fear we're in a housing bubble. What we've experienced in the housing market over the past two years were historic levels of demand and constrained supply. That led to homes going up in value at a record pace. While some overheated markets may experience price depreciation in the short term, according to experts, the national real estate market will appreciate in the coming year.
Buyer •
September 13, 2022
It's clear the 2022 housing market has been defined by rising mortgage rates. With rates on the rise, it's also become more costly to purchase a home. According to the National Association of Realtors (NAR):
"Compared to one year ago, the monthly mortgage payment rose to $1,944 from $1,265, an increase of 53.7%."
If you're thinking of buying a home or have been trying to recently, that's a big increase in a monthly mortgage payment – and it may be causing you to press pause on your plans. This jump is making homes less affordable, especially compared to the last two years when mortgage rates were at historic lows.
The good news is you can navigate today's housing market and this rising rate environment with a few simple tips. Here are three things you may want to consider to help make your homeownership goals a reality.
1. Expand Your Search Area and Criteria
If you've been looking for a home in the city center or a specific area that's starting to feel out of your price range, you may want to try looking a little further out in a location that could be more affordable. Expanding your search location or re-prioritizing the items on your wish list can open up opportunities you haven't considered, and that could help you afford more of what you need (and want) in a home. As CNET notes:
"Area growth is likely to keep pace with the market, which means that the outskirts of town might be hopping within five years. Consider stepping out of your ideal location by searching in the nearby cities. You may find better prices and more square footage."
2. Explore Alternative Financing Options
Working with a trusted lender to learn about the different loan types and options is essential too. According to Nerd Wallet:
"A variety of mortgages are available with varying down payment and eligibility requirements."
Experts know how to point you in the right direction when it comes to exploring ways to find the best home loan for your situation. With rising mortgage rates making it more costly to finance a home today, there may be an ideal option out there your loan officer can introduce you to. This could make a home purchase more affordable and within your financial reach over the life of your loan.
3. Look for Grants, Gift Funds, and Down Payment Assistance
There are also many options available when it comes to securing the funding you need to purchase a home. One valuable resource to explore is downpaymentresource.com. Searching for specific down payment assistance options available in your local community could be a game changer when it comes to taking your first step toward homeownership. As NAR indicates:
"Many local governments and non-profit organizations offer down-payment assistance grants and loans, targeted to area borrowers and often with specific borrower requirements."
Plus, there are programs and special benefits for individuals working in certain professions or with unique statuses, including teachers, doctors and nurses, and veterans.
Ultimately, that means there are many federal, state, and local programs available for you to explore. The best way to do that is to connect with a local real estate professional and your lender to learn more about what's available in your area.
Bottom Line
If you've been searching for a home and have found yourself stepping out of the process because you're worried about rising costs, let's connect. Having a team of local advisors on your side may be just what you need to guide your search in a new and more affordable direction.
There's no denying the housing market is undergoing a shift this season as buyer demand slows and the number of homes for sale grows. But that shift actually gives you some unique benefits when you sell. Here's a look at the key opportunities you have if you list your house this fall.
Opportunity #1: You Have More Options for Your Move
One of the biggest stories today is the growing supply of homes for sale. Housing inventory has been increasing since the start of the year, primarily because higher mortgage rates helped cool off the peak frenzy of buyer demand. But what you may not realize is, that actually could benefit you.
If you're selling your house to make a move, it means you'll have more options for your own home search. That gives you an even better chance to find a home that checks all of your boxes. So, if you've put off selling because you were worried about being able to find somewhere to go, know your options have improved.
Opportunity #2: The Number of Homes on the Market Is Still Low
Just remember, while data shows the number of homes for sale has increased this year, housing supply is still firmly in sellers' market territory. To be in a balanced market where there are enough homes available to meet the pace of buyer demand, there would need to be a six months' supply of homes. According to the latest report from the National Association of Realtors (NAR), in July, there was only a 3.3 months' supply.
While you'll have more options for your own home search, inventory is still low, and that means your home will still be in demand if you price it right. That's why the most recent data from NAR also shows the average home sold in July still saw multiple offers and sold in as little as 14 days.
Opportunity #3: Your Equity Has Grown by Record Amounts
The home price appreciation the market saw over the past few years has likely given your equity (and your net worth) a considerable boost. Danielle Hale, Chief Economist at realtor.com, explains:
"Home owners trying to decide if now is the time to list their home for sale are still in a good position in many markets across the country as a decade of rising home prices gives them a substantial equity cushion . . ." 
If you've been holding off on selling because you're worried about how rising prices will impact your next home search, rest assured your equity can help. It may be just what you need to cover a large portion (if not all) of the down payment on your next home.
Bottom Line
If you're thinking about selling your house this season, let's connect so you have the expert insights you need to make the best possible move today.
It can be tempting, especially with how hot the housing market has been over the past two years, to consider selling your home on your own. But today's market is at a turning point, making it more essential than ever to work with a real estate professional.
Not only will a trusted real estate advisor keep you updated and help you make the best decisions based on current market trends, but they're also experts in managing the many aspects of selling your house.
Here are five key reasons why working with a real estate professional makes sense today.
1. A Professional Follows the Latest Market Trends
With higher mortgage rates, rising home prices, and a growing number of homes for sale, today's housing market is showing signs of a shift back toward more pre-pandemic levels. When conditions change, following the trends and staying on top of new information is crucial when you sell.
That makes working with an expert real estate advisor critical today. They know your local area and follow national trends too. More importantly, they'll know what this data means for you, and as the market shifts, they'll be able to help you navigate it and make your best decision.
2. A Professional Helps Maximize Your Pool of Buyers
Your agent's role in bringing in buyers is important. Real estate professionals have a large variety of tools at their disposal, such as social media followers, agency resources, and the Multiple Listing Service (MLS) to ensure your house is viewed by the most buyers. Investopedia explains why it's risky to sell on your own without the network an agent provides:
"You don't have relationships with clients, other agents, or a real estate agency to bring the largest pool of potential buyers to your home. A smaller pool of potential buyers means less demand for your property, which can translate into waiting longer to sell your home and possibly not getting as much money as your house is worth."
3. A Professional Understands the Fine Print
Today, more disclosures and regulations are mandatory when selling a house. That means the number of legal documents you'll need to juggle is growing. The National Association of Realtors (NAR) explains it best, saying:
"Selling a home typically requires a variety of forms, reports, disclosures, and other legal and financial documents. . . . Also, there's a lot of jargon involved in a real estate transaction; you want to work with a professional who can speak the language."
A real estate professional knows exactly what needs to happen, what all the paperwork means, and how to work through it efficiently. They'll help you review the documents and avoid any costly missteps that could occur if you try to handle them on your own.
4. A Professional Is a Trained Negotiator
If you sell without a professional, you'll also be solely responsible for all the negotiations. That means you'll have to coordinate with:
The buyer, who wants the best deal possible
The buyer's agent, who will use their expertise to advocate for the buyer
The inspection company, which works for the buyer and will almost always find concerns with the house
The appraiser, who assesses the property's value to protect the lender
Instead of going toe-to-toe with all these parties alone, lean on an expert. They'll know what levers to pull, how to address everyone's concerns, and when you may want to get a second opinion.
5. A Professional Knows How To Set the Right Price for Your House
If you sell your house on your own, you may over or undershoot your asking price. That could mean you'll leave money on the table because you priced it too low or your house will sit on the market because you priced it too high. Pricing a house requires expertise. NAR explains it like this:
"A great real estate agent will look at your home with an unbiased eye, providing you with the information you need to enhance marketability and maximize price."
Real estate professionals know the ins and outs of how to price your house accurately and competitively. To do so, they compare your house to recently sold homes in your area and factor in the current condition of your home. These steps are key to making sure it's set to move quickly while still getting you the highest possible final sale price.
Bottom Line
Whether it's following local and national trends and guiding you through a shifting market or pricing your house right, a real estate agent has essential insights you'll want to rely on throughout the transaction. Don't go at it alone. If you plan to sell, let's connect so you have an expert on your side.
There's no denying the housing market has delivered a fair share of challenges to homebuyers over the past two years. Two of the biggest hurdles homebuyers faced during the pandemic were the limited number of homes for sale and the intensity and frequency of bidding wars. But those two things have reached a turning point.
As you may have already heard, the number of homes for sale has increased this year, and even more so this spring. As Danielle Hale, Chief Economist for realtor.com, explains:
"New listings–a measure of sellers putting homes up for sale–were up 6% above one year ago. Home sellers in many markets across the country continue to benefit from rising home prices and fast-selling homes. That's prompted a growing number of homeowners to sell homes this year compared to last, giving home shoppers much needed options."
This is encouraging news. More homes coming onto the market give you a greater chance of finding one that checks all your boxes.
Buyer Competition Moderating Helps Inventory Grow Even More
Mark Fleming, Chief Economist at First American, says inventory growth is happening not just because there's an increase in the number of listings coming onto the market, but also because buyer demand has moderated some in light of higher mortgage rates and other economic factors:
"There has been a pickup in the inventory that we've seen recently, but it's not from a big increase in new listings . . . but rather a slowdown in the pace of sales. And remember that months' supply measures the inventory of sale relative to the pace of sales. Same inventory, fewer sales, means more months' supply."
Basically, the market is shifting away from the frenzy of buyer competition seen during the pandemic, and that's helping available inventory grow. In their latest forecast, realtor.com also mentions the moderation of demand as a key factor and projects the inventory growth should continue:
"As rising inflation and mortgage rates bring U.S. housing demand back from the 2021 frenzy, . . . inventory will grow double-digits over 2021 and offer buyers a better-than-expected chance to find a home."
How This Impacts You
The combination of more homes coming onto the market and a slower pace of home sales means you'll have more options to choose from as you search for your next home. That's great news if you've been searching for a while with little to no luck. Just remember, there isn't a sudden surplus of inventory, just more homes to choose from than even a few months ago. So, you'll still want to be decisive and move fast when you find the right home for you.
And when you do, you may be faced with less competition from other buyers too. If you've been waiting to jump into the market because the intensity of the bidding wars was intimidating or if you've been outbid on several homes, this moderation could help make the homebuying process a bit smoother. It's not that it'll be easy or that bidding wars are a thing of the past – that's not the case. But it won't feel nearly as impossible.
Bottom Line
As the housing market begins its shift back toward pre-pandemic levels, you could have a unique opportunity in front of you. With moderating levels of buyer competition and more homes actively for sale, your home search may have gotten a bit less challenging. Let's connect to begin the process today.
You may be reading headlines and hearing talk about a potential housing bubble or a crash, but it's important to understand that the data and expert opinions tell a different story. A recent survey from Pulsenomics asked over one hundred housing market experts and real estate economists if they believe the housing market is in a bubble. The results indicate most experts don't think that's the case (see graph below):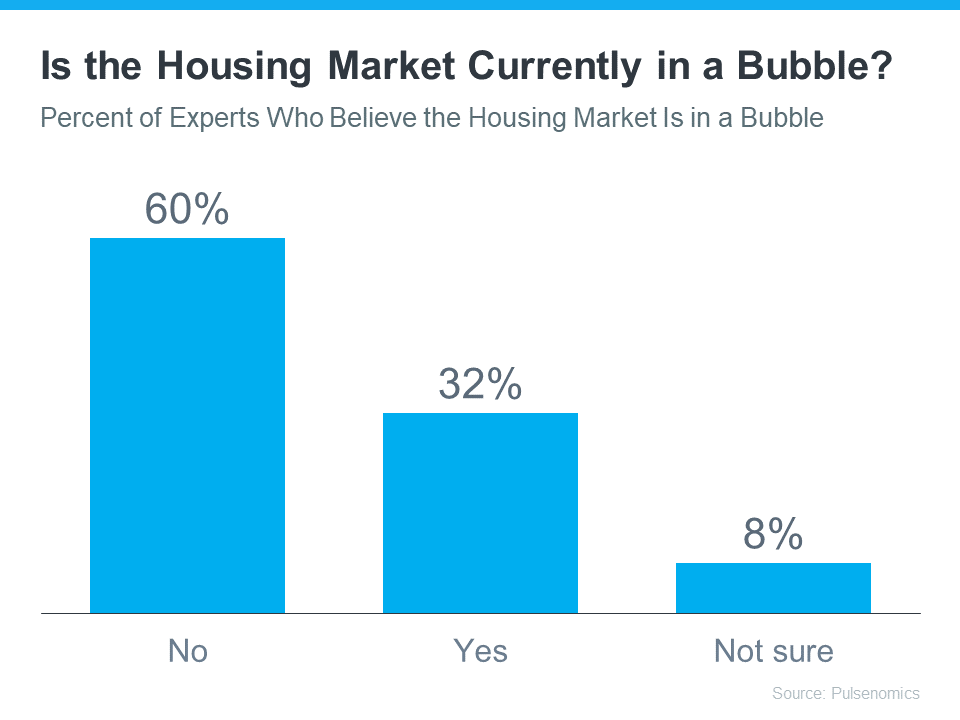 As the graph shows, a strong majority (60%) said the real estate market is not currently in a bubble. In the same survey, experts give the following reasons why this isn't like 2008:
The recent growth in home prices is because of demographics and low inventory
Credit risks are low because underwriting and lending standards are sound
If you're concerned a crash may be coming, here's a deep dive into those two key factors that should help ease your concerns.
1. Low Housing Inventory Is Causing Home Prices To Rise
The supply of homes available for sale needed to sustain a normal real estate market is approximately six months. Anything more than that is an overabundance and will causes prices to depreciate. Anything less than that is a shortage and will lead to continued price appreciation.
As the graph below shows, there were too many homes for sale from 2007 to 2010 (many of which were short sales and foreclosures), and that caused prices to tumble. Today, there's still a shortage of inventory, which is causing ongoing home price appreciation (see graph below):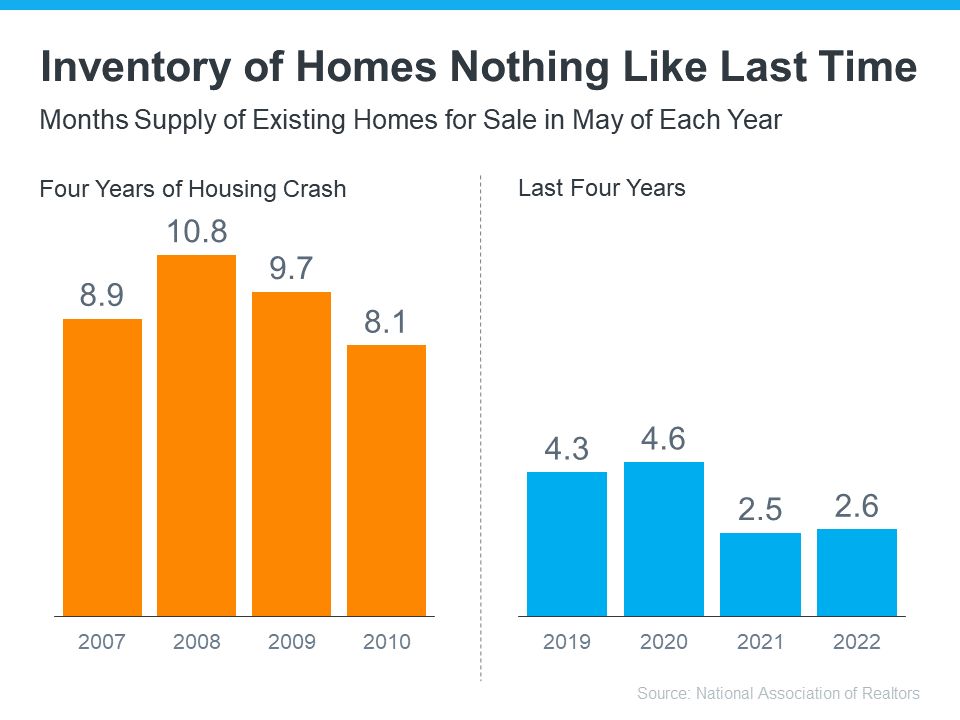 Inventory is nothing like the last time. Prices are rising because there's a healthy demand for homeownership at the same time there's a limited supply of homes for sale. Odeta Kushi, Deputy Chief Economist at First American, explains:
"The fundamentals driving house price growth in the U.S. remain intact. . . . The demand for homes continues to exceed the supply of homes for sale, which is keeping house price growth high."
2. Mortgage Lending Standards Today Are Nothing Like the Last Time
During the housing bubble, it was much easier to get a mortgage than it is today. Here's a graph showing the mortgage volume issued to purchasers with a credit score less than 620 during the housing boom, and the subsequent volume in the years after: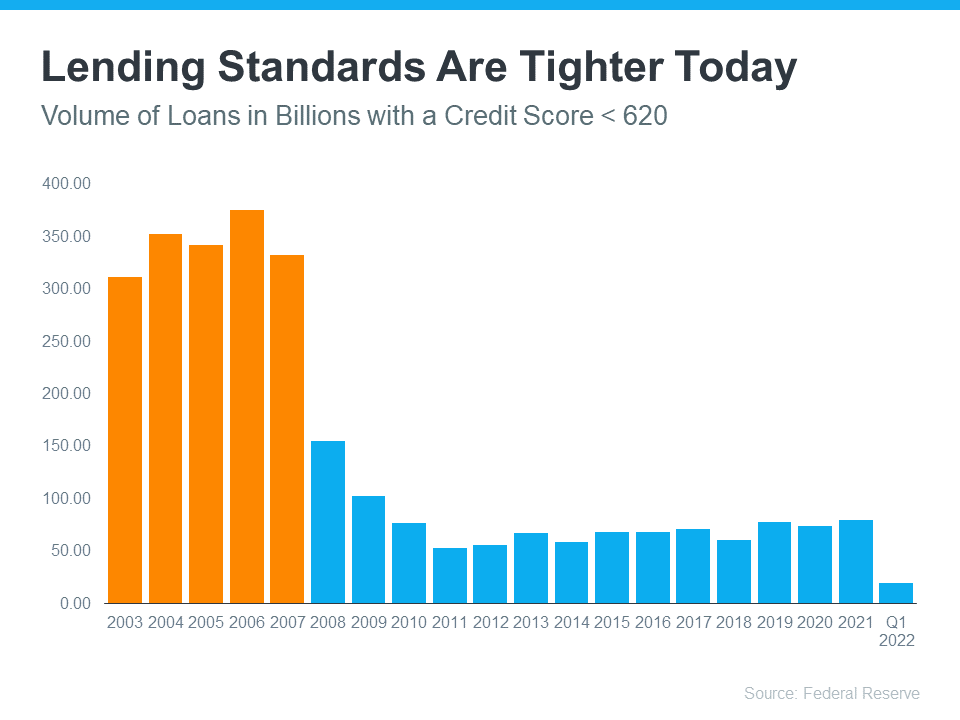 This graph helps show one element of why mortgage standards are nothing like they were the last time. Purchasers who acquired a mortgage over the last decade are much more qualified than they were in the years leading up to the crash. Realtor.com notes:
". . . Lenders are giving mortgages only to the most qualified borrowers. These buyers are less likely to wind up in foreclosure."
Bottom Line
A majority of experts agree we're not in a housing bubble. That's because home price growth is backed by strong housing market fundamentals and lending standards are much tighter today. If you have questions, let's connect to discuss why today's housing market is nothing like 2008.
Experts in the real estate industry use a number of terms when they talk about what's happening with home prices. And some of those words sound a bit similar but mean very different things. To help clarify what's happening with home prices and where experts say they're going, here's a look at a few terms you may hear:
Appreciation is when home prices increase.
Depreciation is when home prices decrease.
Deceleration is when home prices continue to appreciate, but at a slower pace.
Where Home Prices Have Been in Recent Years
For starters, you've probably heard home prices have skyrocketed over the past two years, but homes were actually appreciating long before that. You might be surprised to learn that home prices have climbed for 122 consecutive months (see graph below):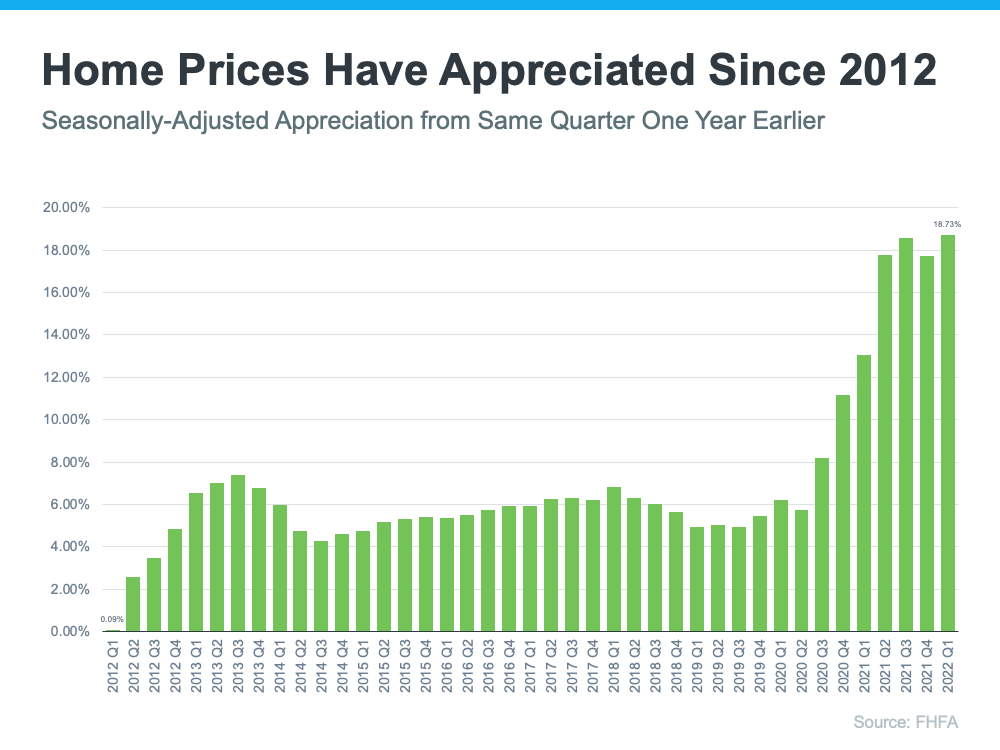 As the graph shows, houses have gained value consistently over the past 10 consecutive years. But since 2020, the increase has been more dramatic as home price growth accelerated.
So why did home prices climb so much? It's because there were more buyers than there were homes for sale. That imbalance put upward pressure on home prices because demand was high and supply was low.
Where Experts Say Home Prices Are Going
While this is helpful context, if you're a buyer or seller in today's market, you probably want to know what's going to happen with home prices moving forward. Will they continue that same growth path or will home prices fall?
Experts are forecasting ongoing appreciation, just at a decelerated pace. In other words, prices will keep climbing, just not as fast as they have been. The graph below shows home price forecasts from seven industry leaders. None are calling for prices to fall (see graph below):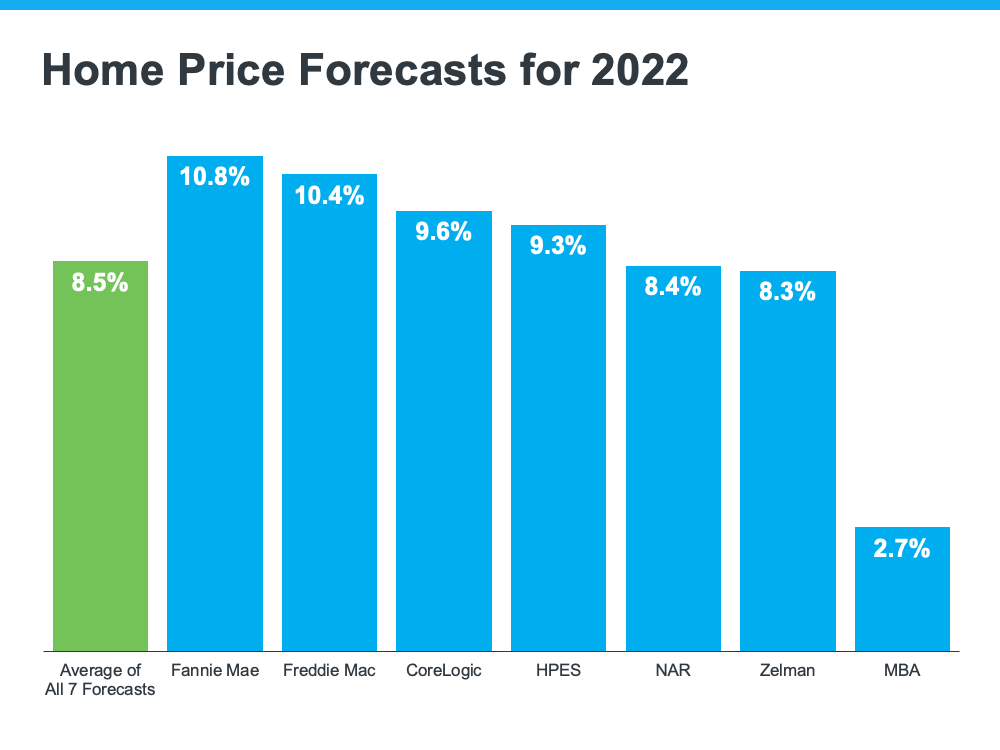 Mark Fleming, Chief Economist at First American, identifies a key reason why home prices won't depreciate or drop:
"In today's housing market, demand for homes continues to outpace supply, which is keeping the pressure on house prices, so don't expect house prices to decline."
And although housing supply is starting to tick up, it's not enough to make home prices decline because there's still a gap between the number of homes available for sale and the volume of buyers looking to make a purchase.
Terry Loebs, Founder of the research firm Pulsenomics, notes that most real estate experts and economists anticipate home prices will continue rising. As he puts it:
"With home values at record-high levels and a vast majority of experts projecting additional price increases this year and beyond, home prices and expectations remain buoyant."
Bottom Line
Experts forecast price deceleration, not depreciation. That means home prices will continue to rise, just at a slower pace. Let's connect so you can get the full picture of what's happening with home prices in our local market and to discuss your buying and selling goals.
If you're following the news, all of the headlines about conditions in the current housing market may leave you with more questions than answers. Is the boom over? Is the market crashing or correcting? Here's what you need to know.
The housing market is moderating compared to the last two years, but what everyone needs to remember is that the past two years were record-breaking in nearly every way. Record-low mortgage rates and millennials reaching peak homebuying years led to an influx of buyer demand. At the same time, there weren't enough homes available to purchase thanks to many years of underbuilding and sellers who held off on listing their homes due to the health crisis.
This combination led to record-high demand and record-low supply, and that wasn't going to be sustainable for the long term. The latest data shows early signs of a shift back to the market pace seen in the years leading up to the pandemic – not a crash nor a correction. As realtor.com says:
"The housing market is at a turning point. . . . We're starting to see signs of a new direction, . . ."
Home Showings Then and Now
The ShowingTime Showing Index tracks the traffic of home showings according to agents and brokers. It's a good indication of buyer demand. Here's a look at that data going back to 2019 (see graph below):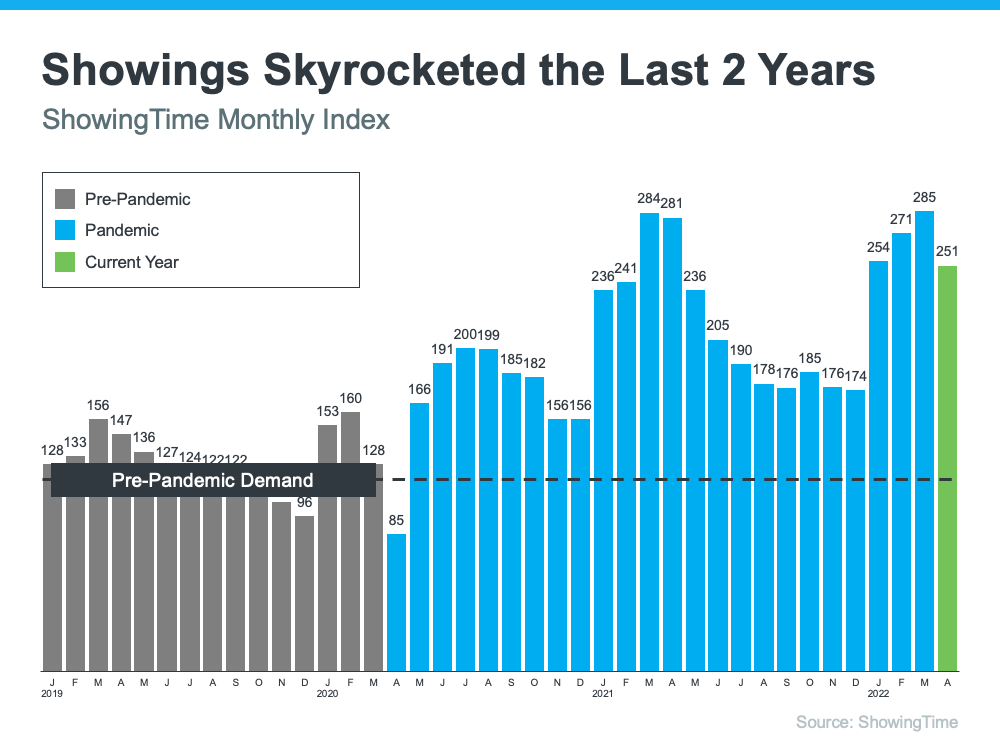 The 2019 numbers give a good baseline of pre-pandemic demand (shown in gray). As the graph indicates, home showings skyrocketed during the pandemic (shown in blue). And while current buyer demand has begun to moderate slightly based on the latest data (shown in green), showings are still above 2019 levels.
And since 2019 was such a strong year for the housing market, this helps show that the market isn't crashing – it's just at a turning point that's moving back toward more pre-pandemic levels.
Existing Home Sales Then and Now
Headlines are also talking about how existing home sales are declining, but perspective matters. Here's a look at existing home sales going all the way back to 2019 using data from the National Association of Realtors (NAR) (see graph below):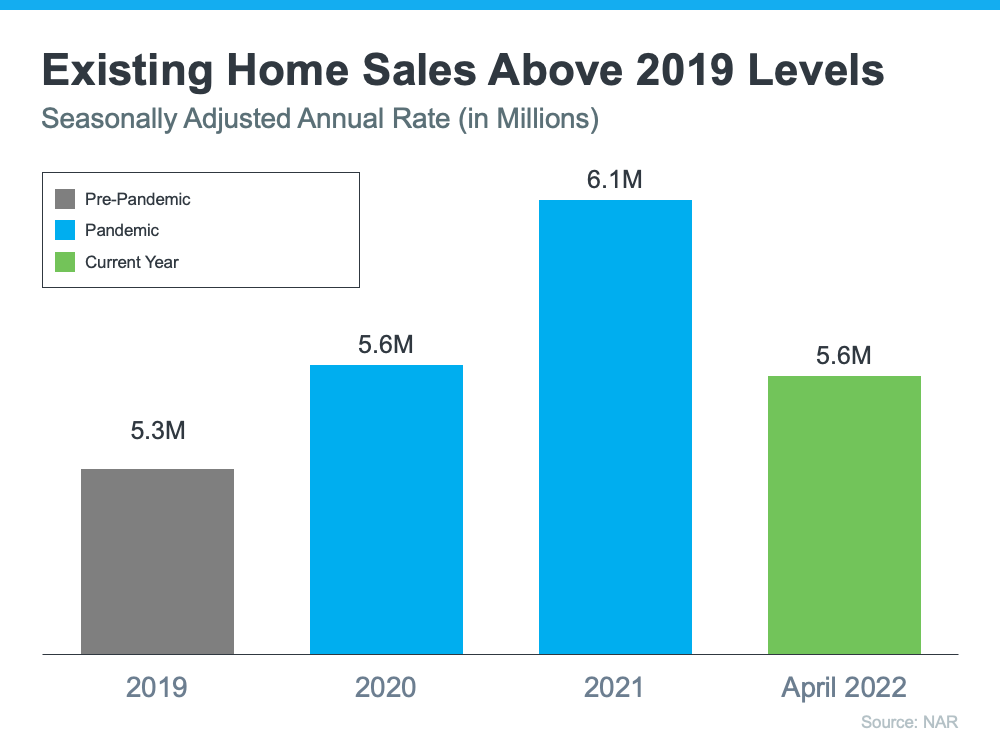 Again, a similar story emerges. The pandemic numbers (shown in blue) beat the more typical year of 2019 home sales (shown in gray). And according to the latest projections for 2022 (shown in green), the market is on pace to close this year with more home sales than 2019 as well.
It's important to compare today not to the abnormal pandemic years, but to the most recent normal year to show the current housing market is still strong. First American sums it up like this:
". . . today's housing market looks a lot like the 2019 housing market, which was the strongest housing market in a decade at the time."
Bottom Line
If recent headlines are generating any concerns, look at a more typical year for perspective. The current market is not a crash or correction. It's just a turning point toward more typical, pre-pandemic levels. Let's connect if you have any questions about our local market and what it means for you when you buy or sell this year.
If your lifestyle has changed recently and you're ready to make a move, taking advantage of today's sellers' market might be just the answer for your summer plans. With homes continuing to get multiple offers, this could be your moment to get the contract you're looking for on your house if you're ready to sell.
And here's the thing – you need an expert on your side to ensure you make all the right moves when you do, especially when it comes to pricing your house. Even in this competitive market, you can't stick just any price tag on your home and get the deal you want. A key piece of the puzzle is setting the right asking price so you can help buyers notice your home (and get excited about it) from the very first time they view the listing. That's where a real estate professional comes in.
Why Pricing Your House Right Is Important
The price you set for your house sends a message to potential buyers. Price it too low and you might raise questions about your home's condition or lead buyers to assume something is wrong with the property. Not to mention, if you undervalue your house, you could leave money on the table which decreases your future buying power.
On the other hand, price it too high, and you run the risk of deterring buyers. When that happens, you may have to do a price drop to try to re-ignite interest in your house when it sits on the market for a while. But be aware that a price drop can be seen as a red flag for some buyers who will wonder why the price was reduced and what that means about the home.
In other words, think of pricing your home as a target. Your goal is to aim directly for the center – not too high, not too low, but right at market value. Pricing your house fairly based on market conditions increases the chance you'll have more buyers who are interested in purchasing it. That makes it more likely you'll see multiple offers, too. And if a bidding war happens, you'll likely get an even higher final sale price. Plus, when homes are priced right, they tend to sell quickly.
To get a look into the potential downsides of over or underpricing your house and the perks that come with pricing it at market value, see the chart below: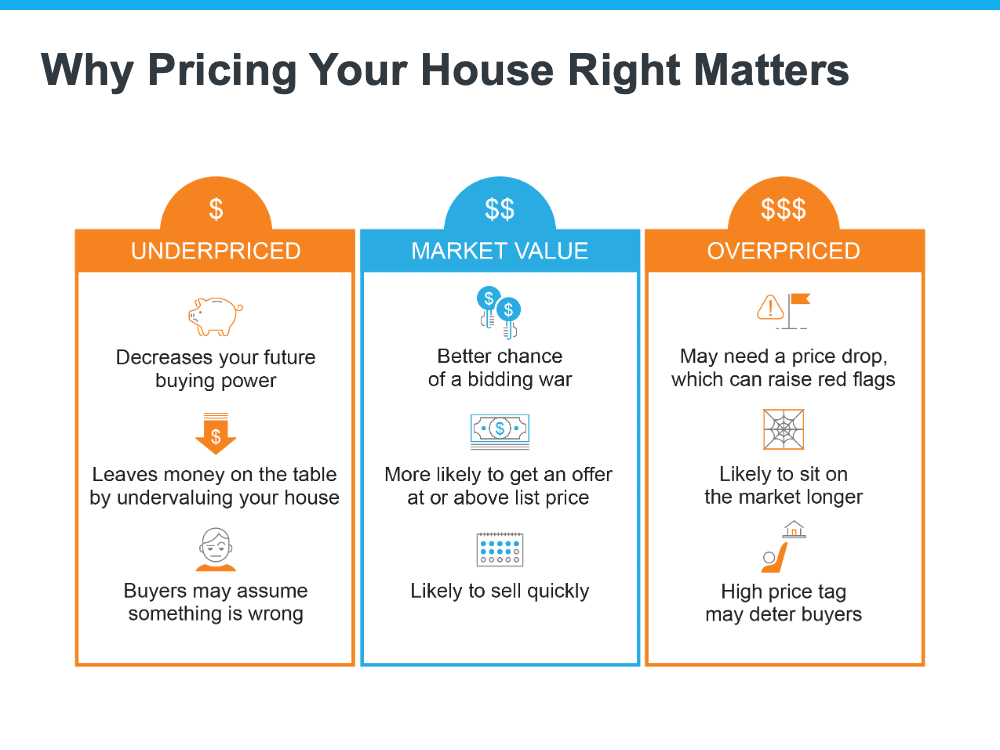 Lean on a Professional's Expertise
There are several factors that go into pricing your house, and balancing them is the key. That's why it's important to lean on an expert real estate advisor when you're ready to move. A local real estate advisor is knowledgeable about:
The value of homes in your neighborhood
The current demand for houses in today's market
The condition of your house and how it affects the value
A real estate professional will balance these factors to make sure the price of your house makes the best first impression and gives you the greatest return on your investment in the end.
Bottom Line
If you're thinking about selling, pricing your house appropriately is key. Let's connect to make sure your house is priced right for the local market, for your home's condition, and to stand out from the competition.