If you're thinking about selling your house, you should know the number of homes for sale right now is low. That's because, this season, there are fewer sellers listing their houses for sale than the norm.
Looking back at every April since 2017, the only year when fewer sellers listed their homes was in April 2020, when the pandemic hit and stalled the housing market (shown in red in the graph below). In more typical years, roughly 500,000 sellers add their homes to the market in April. This year, we saw fewer than 400,000 sellers entering the market in April (see graph below):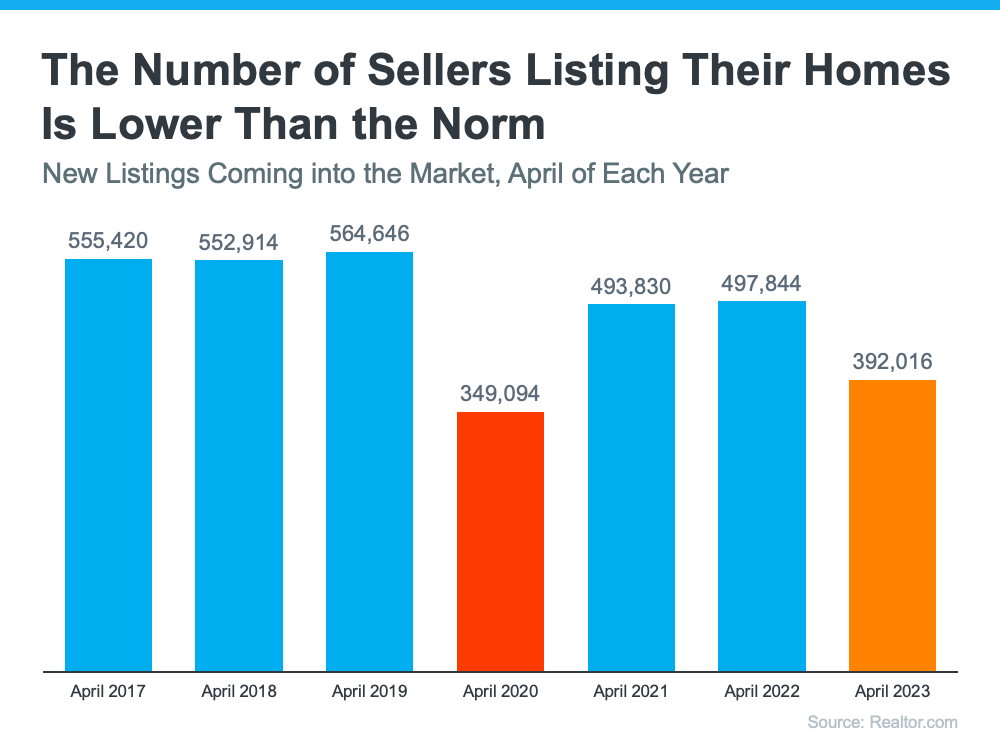 While there are a number of factors contributing to this trend, one thing keeping inventory low right now is that some homeowners are reluctant to move when the mortgage rate they have on their current house is lower than the one they could get today on their next house. It's called rate lock.
As a recent survey from Realtor.com explains, 56% of people who are planning to sell in the next 12 months say they're waiting for rates to come down.
While this wait-and-see approach is right for some sellers, it also creates an opening for more eager sellers to jump in now.
If your current house truly doesn't fit your needs anymore and you're ready to move, don't miss this chance to stand out. When fewer sellers are putting their homes up for sale, buyers will have fewer options, so you set yourself up to get the most eyes possible on your house. That's why your house could see multiple offers as buyers compete over the limited supply of homes for sale – especially if you price it right.
As Lawrence Yun, Chief Economist at the National Association of Realtors (NAR), says:
"Inventory levels are still at historic lows . . . Consequently, multiple offers are returning on a good number of properties."
Bottom Line
If you're ready to sell now, beat the competition before it comes onto the market. If you do, your house should stand out and could get multiple offers. Let's connect to get you market ready.
If you're reading headlines about inflation or mortgage rates, you may see something about the recent decision from the Federal Reserve (the Fed). But what does it mean for you, the housing market, and your plans to buy a home? Here's what you need to know.
Inflation and the Housing Market
While the Fed's working hard to lower inflation, the latest data shows that, while the number has improved some, the inflation rate is still higher than the target (2%). That played a role in the Fed's decision to raise the Federal Funds Rate last week. As Bankrate explains:
"Keeping its inflation-fighting streak alive, the Federal Reserve has raised interest rates for the 10th time in 10 meetings . . . The hikes aimed to cool an economy that was on fire after rebounding from the coronavirus recession of 2020."
While the Fed's actions don't directly dictate what happens with mortgage rates, their decisions do have an impact and contributed to the intentional cooldown in the housing market last year.
How This Impacts You
During times of high inflation, your everyday expenses go up. That means you've likely felt the pinch at the gas pump and in the grocery store. By raising the Federal Funds Rate, the Fed is actively trying to lower inflation. If the Fed is successful, it could also ultimately lead to lower mortgage rates and better homebuying affordability for you. That's because when inflation is high, mortgage rates tend to be high. But, as inflation cools, experts say mortgage rates will likely fall.
Where Experts Think Mortgage Rates and Inflation Will Go from Here
Moving forward, both inflation and mortgage rates will continue to impact the housing market. And as Lawrence Yun, Chief Economist at the National Association of Realtors (NAR), says:
"Mortgage rates are likely to descend lower later in the year as the consumer price inflation calms down . . ." 
Mike Fratantoni, Chief Economist at the Mortgage Bankers Association (MBA), explains:
"We continue to expect that mortgage rates will drift down over the course of the year as the economy slows . . ."
While there's no way to say with certainty where mortgage rates will go from here, the experts think mortgage rates will trend down this year if inflation comes down too. To stay informed on the latest insights, connect with a trusted real estate advisor. They keep their pulse on what's happening today and help you understand what the experts are projecting and how it could impact your homeownership plans.
Bottom Line
Don't let headlines about the latest decision from the Fed confuse you. Where mortgage rates go from here depends on what happens with inflation. If inflation cools, mortgage rates should tick down as a result. Let's connect so you have expert insights on housing market changes and what they mean for you.
In the United States, there are over 72 million millennials. If you're part of that generation and have thought about buying a home, you aren't alone. According to Zonda, 98% of millennials want to become a homeowner at some point if they aren't already. But why? There are plenty of reasons you may choose to become a homeowner. Here's why other millennials have made that decision (see graph below):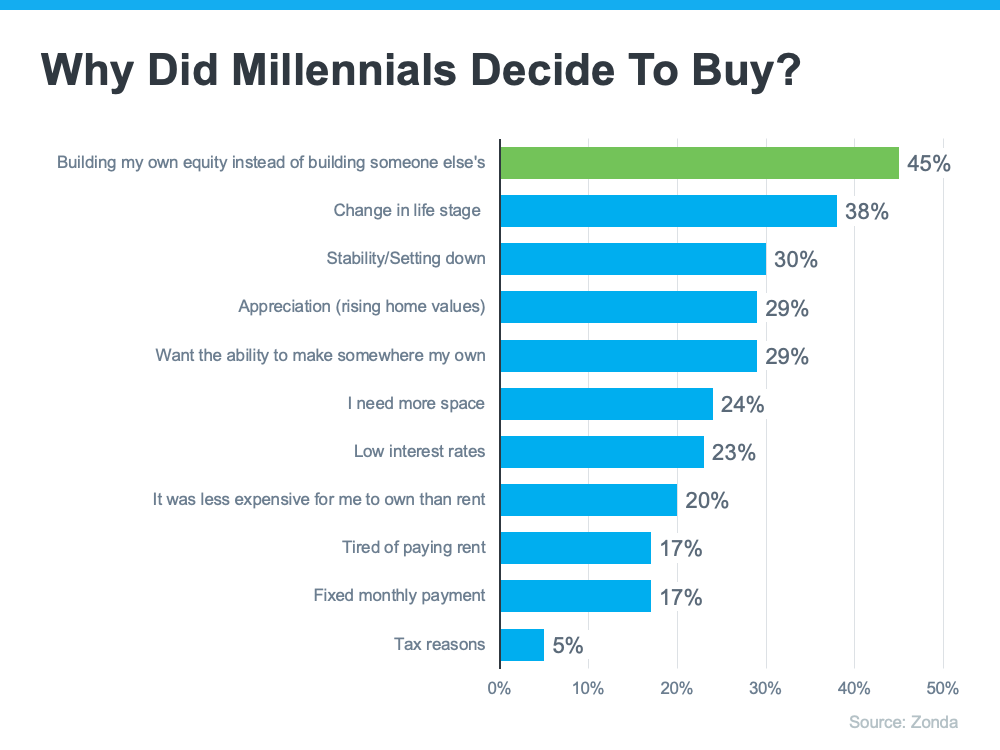 This graph shows why millennials are buying homes according to Zonda's 6th annual millennial survey. The top reasons include building equity, a change in life stage, wanting stability, rising home values, and wanting to make somewhere truly their own. Here's a look at each in more detail.
Building equity – Homeownership is a long-term investment that allows you to build wealth, increase your net worth, and become more financially stable. Beyond that, the alternative to owning a home is typically renting. With the way rents have risen so dramatically over time, it may make sense to build your own equity instead of the equity of the person you're renting from.
A change in life stage – As a millennial, you're reaching your prime homebuying years. That means you may be at the point where you need more space or a different location.
Stability or settling down – This could mean establishing your career or just generally deciding more concretely what you want your life to look and feel like. As that idea becomes clearer, you may want to establish that lifestyle in a particular place and put down roots.
Rising home values – By purchasing a home, you own an asset that traditionally increases in value over time. That can mean your home will have a higher resale value if you decide to move again.
Wanting to make somewhere "mine" – Owning a home gives a sense of freedom because you can customize it however you want, make updates as you see fit, and be yourself in a place that's solely your own.
Bottom Line
There are plenty of great reasons why millennials are buying homes today. If you've thought about becoming a homeowner and any of these reasons resonate with you too, let's connect to explore your options.
Thinking about selling your house? If you've been waiting for the right time, it could be now while the supply of homes for sale is so low. HousingWire shares:
". . . the big question is whether we are finally starting to see the seasonal spring increase in inventory. The answer is no, because active listings fell to a new low last week for 2023 . . ."
The National Association of Realtors (NAR) confirms today's housing inventory is low by looking at the months' supply of homes on the market. In a balanced market, about a six-month supply is needed. Anything lower is a sellers' market. And today, the number is much lower:
"Total housing inventory registered at the end of February was 980,000 units, identical to January and up 15.3% from one year ago (850,000). Unsold inventory sits at a 2.6-month supply at the current sales pace, down 10.3% from January but up from 1.7 months in February 2022."
Why Does Low Inventory Make It a Good Time To Sell?
The less inventory there is on the market when you sell, the less competition you're likely to face from other sellers. That means your house will get more attention from the buyers looking for a home this spring. And since there are significantly more buyers in the market than there are homes for sale, you could even receive more than one offer on your house. Multiple offers are on the rise again (see graph below):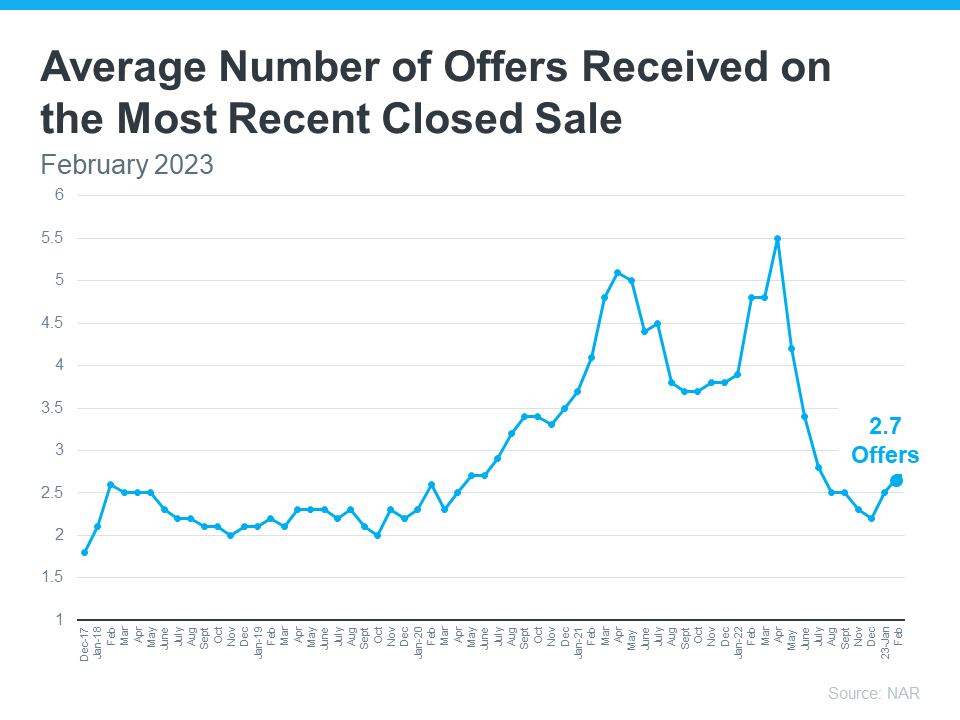 If you get more than one offer on your house, it becomes a bidding war between buyers – and that means you have greater leverage to sell on your terms. But if you want to maximize the opportunity for a bidding war to spark, be sure to lean on your expert real estate advisor. While we're still in a strong sellers' market, it isn't the frenzy we saw a couple of years ago, and today's buyers are focused on the houses with the greatest appeal. Clare Trapasso, Executive News Editor at Realtor.com, explains:
"Well-priced, move-in ready homes with curb appeal in desirable areas are still receiving multiple offers and selling for over the asking price in many parts of the country. So, this spring, it's especially important for sellers to make their homes as attractive as possible to appeal to as many buyers as possible."
Bottom Line
If you've been waiting for the right time to sell your house, low inventory this spring sets you up with a big advantage. Let's connect today to make sure your house is ready to sell.
We're still in a sellers' market. And if you're looking to buy a home, that means you're likely facing some unique challenges, like difficulty finding a home and volatile mortgage rates. But keep in mind, there are some benefits to being a buyer in today's market that give you good reason to stick with your search. Here are a few of them.
Long-Term Benefits Outweigh Short-Term Challenges
Owning a home grows your net worth – and since building that wealth takes time, it makes sense to start as soon as you can. If you wait to buy and keep renting, you'll miss out on those monthly housing payments going toward your home equity. Freddie Mac puts it this way:
"Homeownership not only builds a sense of pride and accomplishment, but it's also an important step toward achieving long-term financial stability."
The key there is long-term because the financial benefits homeownership provides, like home value appreciation and equity, grow over time. Those benefits are worth the short-term challenges today's sellers' market presents.
Mortgage Rates Are Constantly Changing
Mortgage rates have been hovering around 6.5% over the last several months. However, as Sam Khater, Chief Economist at Freddie Mac, notes, they've been coming down some recently:
"Economic uncertainty continues to bring mortgage rates down. Over the last several weeks, declining rates have brought borrowers back to the market . . ."
Lower mortgage rates improve your purchasing power when you buy, and that can help make homeownership more affordable. Hannah Jones, Economic Data Analyst at realtor.com, explains:
"As we move into the spring buying season, mortgage rates have ticked lower, a welcomed sign of progress towards affordability."
The recent drop in mortgage rates is good news if you couldn't afford to buy a home when they peaked.
Home Prices Will Increase
According to the Home Price Expectation Survey, which polls over 100 real estate experts, home values will go up steadily over the next few years after a slight decline this year (see graph below):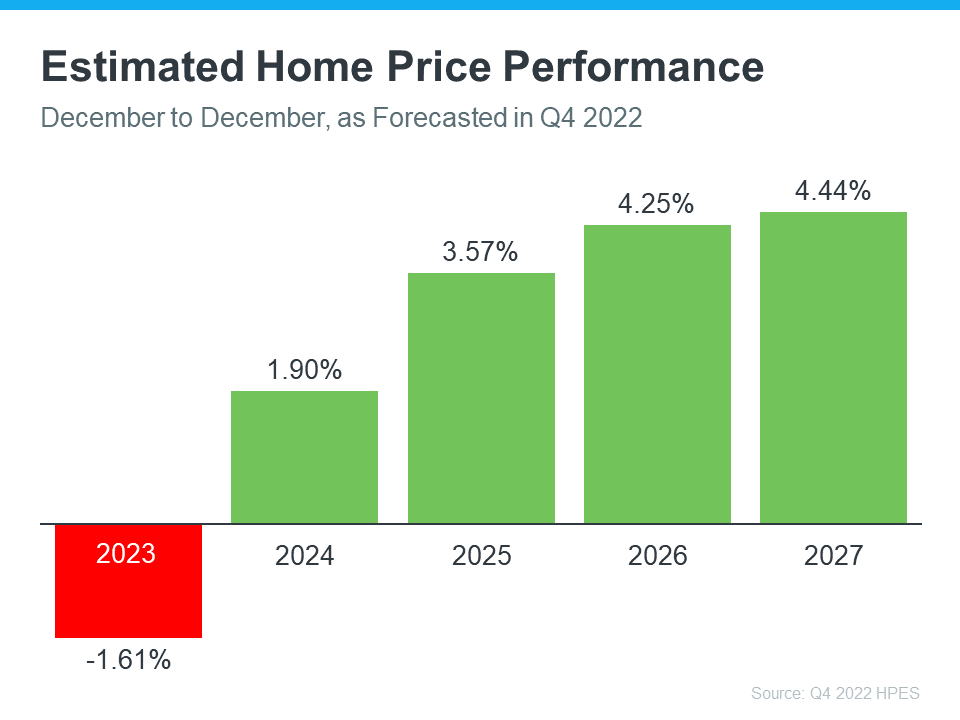 Rising home prices in the coming years means two things for you as a buyer:
Waiting to buy a home could mean it'll become more expensive to do so.
Buying now means the value of your home, and your net worth, will likely grow over time.
Bottom Line
If you've been trying to buy a home, hang in there. Mortgage rates have ticked down some recently, home prices are forecast to increase in the coming years, and the long-term benefits of homeownership outweigh many of the short-term challenges.
Wondering if you should sell your house this year? As you make your decision, think about what's motivating you to consider moving. A recent survey from realtor.com asked why homeowners are thinking about selling their houses this year. Here are the top two reasons (see graphic below):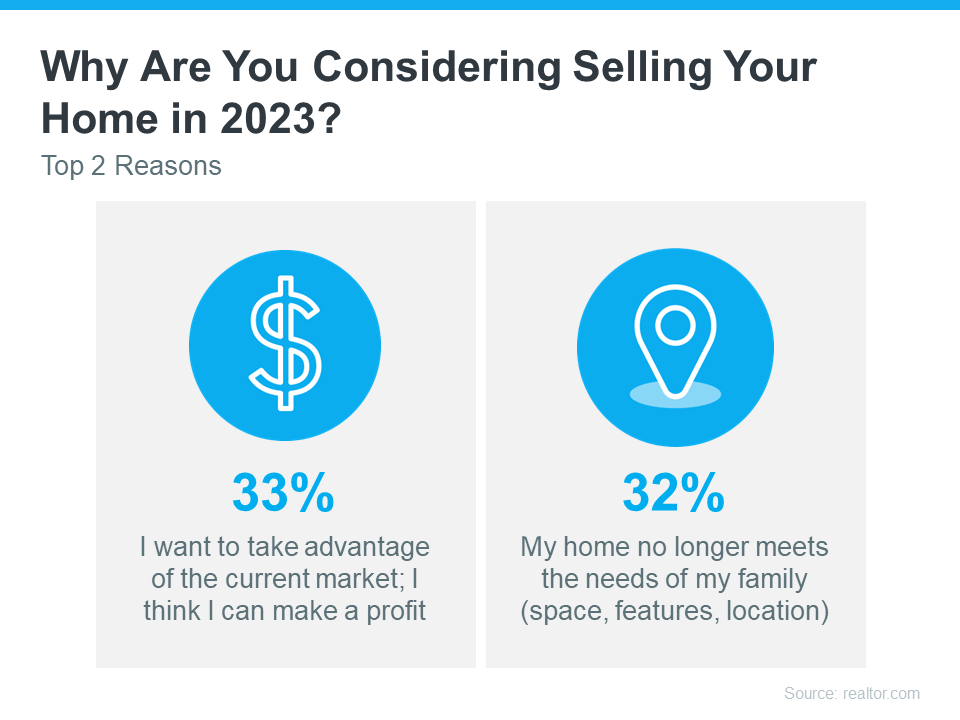 Let's break those reasons down and explore how they might resonate with you.
1. I Want To Take Advantage of the Current Market and Make a Profit
When you decide to sell your house, how much you'll make from the sale will likely be top of mind. So, here's some good news: according to the latest data, the average seller can expect a strong return on their investment when they make a move. ATTOM explains:
"The $112,000 profit on median-priced home sales in 2022 represented a 51.4% return on investment compared to the original purchase price, up from 44.6% last year and from 32.8% in 2020."
Even though home prices have declined slightly in some markets, they're still much higher overall than they were just a few years ago. To understand what's happening with home prices in your area and the current value of your house, work with a local real estate professional. They can give you the best advice on how much you could gain if you sell this year.
2. My Home No Longer Meets My Needs
The average person has been in their house for ten years. That's a long time when you think about how much may have changed in your life since you moved in. And typically, those changes have a direct impact on what you need in a home. Whether it's more (or less) space, different features, or a location closer to your work or loved ones, your current house may no longer check all the boxes of what feels like home to you. If that's the case, it could be time to work with a real estate agent to find a better fit.
Bottom Line
If you're thinking about selling your house, there's probably a good reason for it. Let's connect so you can make a move that'll help you accomplish your goals this year.
The 30-year fixed mortgage rate has been bouncing between 6% and 7% this year. If you've been on the fence about whether to buy a home or not, it's helpful to know exactly how a 1%, or even a 0.5%, mortgage rate shift affects your purchasing power.
The chart below helps show the general relationship between mortgage rates and a typical monthly mortgage payment: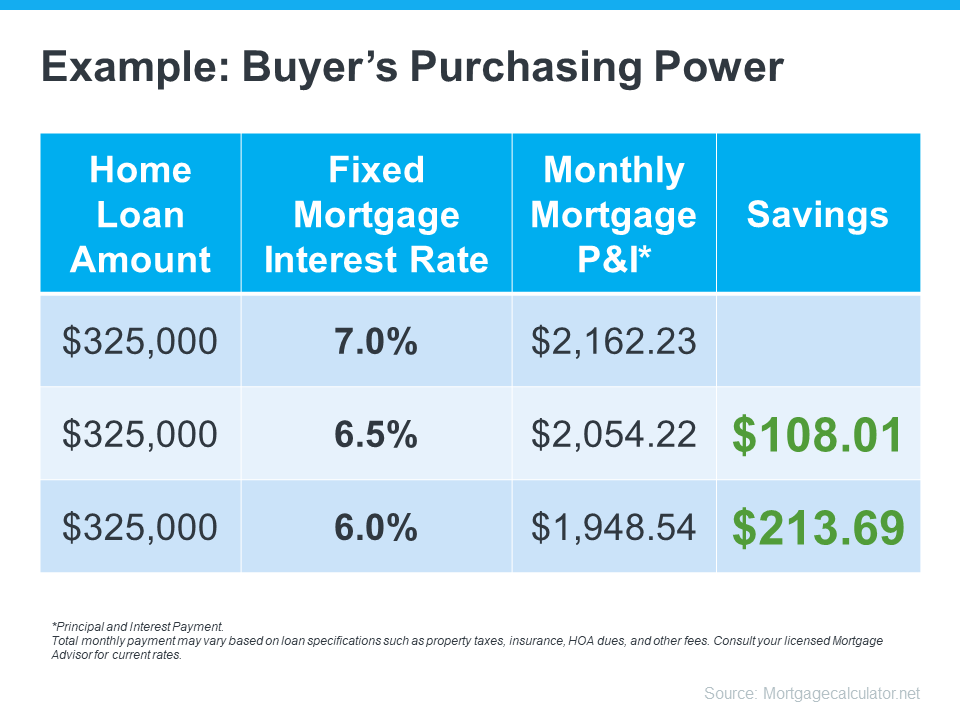 Even a 0.5% change can have a big impact on your monthly payment. And since rates have been moving between 6% and 7% for a while now, you can see how it impacts your purchasing power as rates go down.
What This Means for You
You may be tempted to put your homebuying plans on hold in hopes that rates will fall. But that can be risky. No one knows for sure where rates will go from here, and trying to time them for your benefit is tough. Lisa Sturtevant, Housing Economist at Bright MLS, explains:
"It is typically a fool's errand for a homebuyer to try to time rates in this market . . . But volatility in mortgage rates right now can have a real impact on buyers' monthly payments."
That's why it's critical to lean on your expert real estate advisors to explore your mortgage options, understand what impacts mortgage rates, and plan your homebuying budget around today's volatility. They'll also be able to offer advice tailored to your specific situation and goals, so you have what you need to make an informed decision.
Bottom Line
Your ability to buy a home could be impacted by changing mortgage rates. If you're thinking about making a move, let's connect so you have a strong plan in place.
A lot has changed over the past year, and you might be wondering what's in store for the spring housing market. If you're planning to sell your house this season, here's what real estate experts are saying you should keep in mind.
1. Houses That Are Priced Right Are Still Selling
Houses that are updated and priced at their current market value are still selling. Jeff Tucker, Senior Economist at Zillow, says:
". . . sellers who price and market their home competitively shouldn't have a problem finding a buyer."
The need to price your house right is so important today because the market has changed so much over the past year. Danielle Hale, Chief Economist at realtor.com, explains:
"With a smaller pool of buyers today and more competition from other homes on the market, homesellers will likely need to adjust their price expectations in the market this spring."
While this spring housing market is different than last year's, sellers with proper expectations who lean on a real estate expert for the best advice on pricing their house well are still finding success. And that's great news if you're thinking about selling.
2. Buyers Are Still Out There
As mortgage rates have risen and remain volatile, some buyers have pressed pause on their plans. But there are still plenty of reasons people are buying homes today. Lisa Sturtevant, Chief Economist at Bright MLS, spells out the mindset of today's buyers:
"For some buyers, higher mortgage rates simply means buying a home is out of the question unless home prices fall. For others, higher mortgage rates will be a hurdle but ultimately will not keep them from getting back into the market after sitting on the sidelines for months."
That's why, if you're interested in selling your house this spring, it's helpful to work with a real estate agent who can help connect you with those buyers who are ready to purchase a home.
Bottom Line
There are still clear opportunities for sellers this spring. If you're wondering if it's the right time to make a move, let's connect today.
Are you planning to buy a home this spring? Though things are more balanced than they were at the height of the pandemic, it's still a sellers' market. So, when you find the home you want to buy, remember these four tips to make your best offer.
1.Lean on a Real Estate Professional
Rely on an agent who can support your goals. As Bankrate notes:
". . . select the best real estate agent for your needs. They will be a critical part of your home buying process."
Agents are local market experts. They know what's worked for other buyers in your area and what sellers may be looking for in an offer. It may seem simple, but catering to what a seller needs can help your offer stand out.
2.Know Your Budget
Understanding your budget is especially important right now. As Sandy Higgins, Senior Wealth Advisor at Capstone Financial Advisors, puts it:
"Understand your current budget … what are your expenses, how's your spending, would you need to make changes?"
The best way to understand your numbers is to work with a lender so you can get pre-approved for a loan. It helps you be more financially confident, and it shows sellers you're serious. That can give you a competitive edge.
3.Think Through Everything Before Making an Offer
Today's market isn't moving at the record pace it did during the pandemic. That means you may have a bit more time to think before you need to make an offer. According to Danielle Hale, Chief Economist at realtor.com:
"In general, you likely have more time to make an offer, although that's certainly not a guarantee. If you're on the fence about a home or its asking price doesn't quite fit your budget, you might want to keep an eye on it, and if it doesn't sell right away, you may have some room to negotiate with the seller."
While it's still important to stay on top of the market and be prepared to move quickly, there can be more flexibility today. Lean on the advice of your agent as you explore the options in your market.
4. Work with Your Advisor To Negotiate
During the pandemic, some buyers skipped home inspections or didn't ask for concessions from the seller in order to submit the winning bid on a home. Fortunately, today's market is different, and you may have more negotiating power than before. When putting together an offer, your trusted real estate advisor will help you think through what levers to pull.
Bottom Line
When you buy a home this spring, let's connect so you have the guidance to make your best offer.
After steadily falling over the winter, mortgage rates have started to rise in recent weeks. This is concerning to some potential homebuyers as the combination of higher mortgage rates and higher prices have made homes less affordable. So, if you're planning to purchase a home this year, you too may be wondering if now's the right time to buy or if you should hold off on your search until rates come back down.
The recent uptick in rates has been driven by what's happening with inflation. Joel Kan, Vice President and Deputy Chief Economist at the Mortgage Bankers Association (MBA), explains:
"Mortgage rates increased across the board last week, pushed higher by market expectations that inflation will persist, thus requiring the Federal Reserve to keep monetary policy restrictive for a longer time."
The most recent weekly average 30-year fixed mortgage rate reported by Freddie Mac is 6.5%. It's the third week in a row that rates have increased and puts them at the highest point they've been this year (see graph below):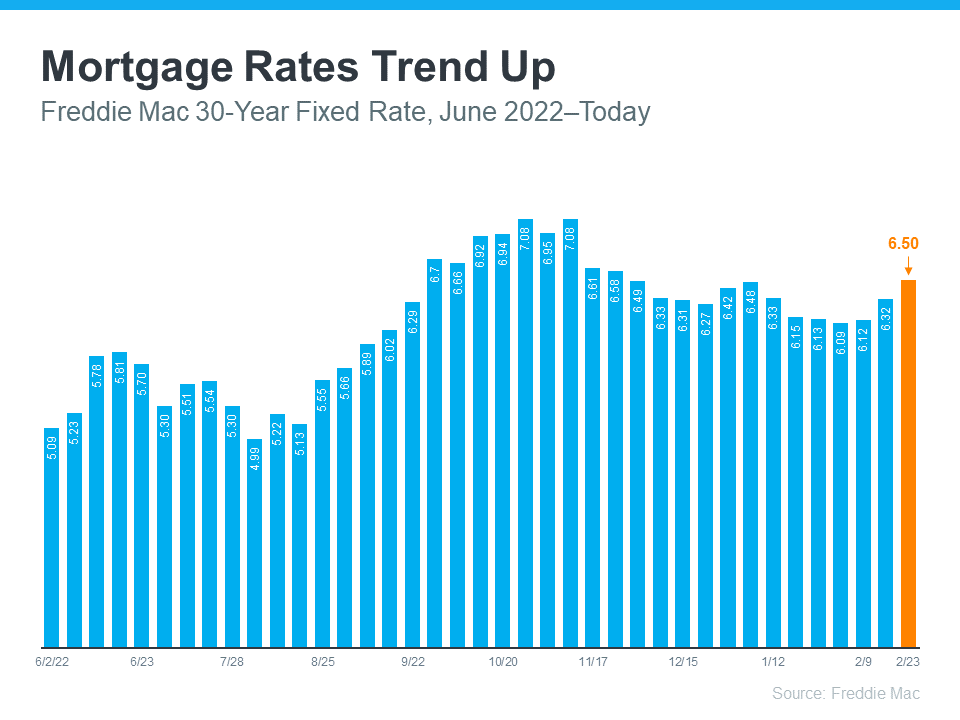 Advice for Home Shoppers
If you're thinking about pausing your home search because rates have started to go up again, you may want to reconsider. This could actually be an opportunity to buy the home you've been searching for. According to the MBA, mortgage applications declined by 13.3% in just one week, so it appears the rise in mortgage rates is leading some potential homebuyers to pull back on their search for a new home.
So, what does that mean for you? If you stay the course, you'll likely face less competition among other buyers when you're looking for a home. This is welcome relief in a market that has so few homes for sale.
Bottom Line
Over the last few weeks, mortgage rates have risen. But that doesn't mean you should delay your plans to buy a home. In fact, it could mean the opposite if you want to take advantage of less buyer competition. Let's connect today to explore the options in our local market.