One of the biggest concerns for a homeowner looking to sell is the time they'll have to put in before listing their house. If that's the case for you, you should know – your home might be closer to list-ready than you think in today's housing market. A survey of recent sellers from realtor.com finds that many were able to get their house ready in less than a month. It says:
"With many homeowners expecting a quick sale, and in many cases a lack of contingencies, the preparation process took less than a month for over 50% of home sellers this past year, with 20% completing it in less than two weeks."
Those sellers expecting to sell quickly are following recent buyer trends. With mortgage rates and home prices rising, buyers in today's market are serious about finding a home quickly. But with the limited number of homes for sale, there are very few options for those buyers to choose from. That means many may be willing to take on projects after they purchase.
Because of this, you may be able to focus on less time-consuming tasks before putting your house on the market. According to the survey mentioned above, some of the top things recent sellers completed before listing over the past year include landscaping, making minor cosmetic updates, and touching-up paint (see image below):
A Real Estate Advisor Will Help Streamline the Process and Keep You Focused
Of course, each situation is different, and knowing what repairs or updates your house needs to stand out in your local area is critical. That's where a trusted real estate professional comes in. In a recent article, NextAdvisor explains:
". . . Real estate can be hyper-local, and demand can vary from one neighborhood to the next. It's a good idea to work with a local real estate professional to determine an ideal listing price and if any improvements or repairs need to be completed before putting your home on the market."
Your trusted real estate advisor knows the ins and outs of the market in your specific area. They'll help you identify the places where you should and shouldn't spend your time and money – and that can enable you to list quickly.
Bottom Line
If you're ready to take advantage of the incredible conditions for sellers in today's real estate market but are worried about the time it'll take to get your home ready, you might be closer than you think. Let's connect so you can see what you need to do before listing your house today.
With a limited number of homes for sale today and so many buyers looking to make a purchase before mortgage rates rise further, bidding wars are common. According to the latest report from the National Association of Realtors (NAR), nationwide, homes are getting an average of 4.8 offers per sale. Here's a look at how that breaks down state-by-state (see map below):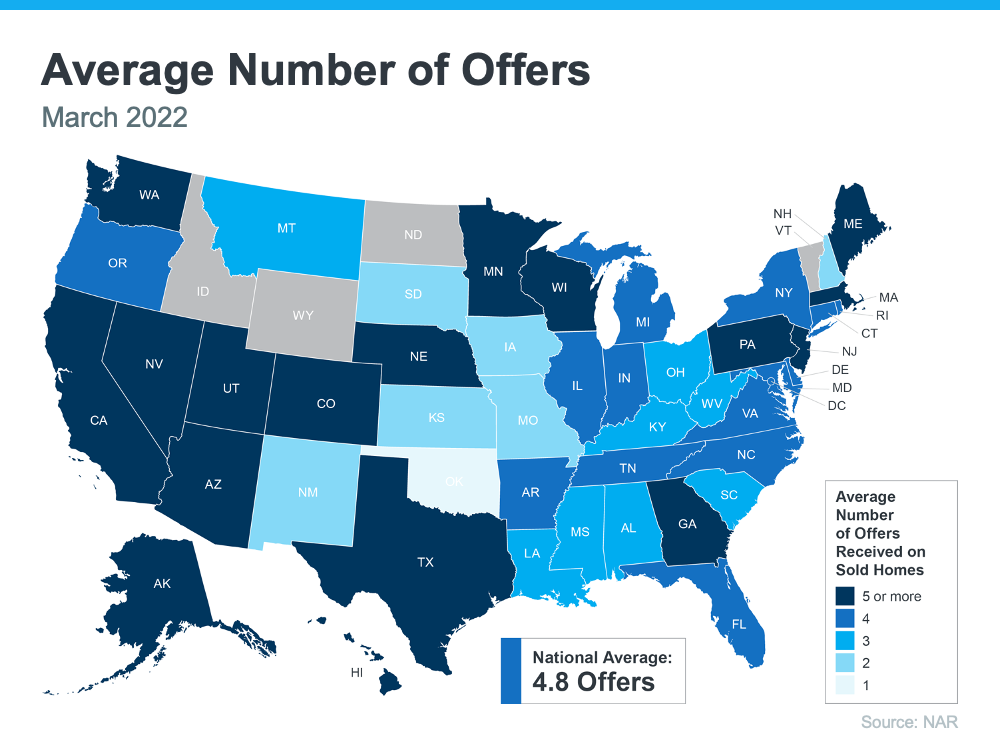 The same report from NAR shows the average buyer made two offers before getting their third offer accepted. In this type of competitive housing market, it's important to know what levers you can pull to help you beat the competition. While a real estate professional is your ultimate guide to presenting a strong offer, here are a few things you could consider.
Offering over Asking Price
When you think of sweetening the deal for sellers, the first thought you likely have is around the price of the home. In today's housing market, it's true more homes are selling for over asking price because there are more buyers than there are homes for sale. You just want to make sure your offer is still within your budget and realistic for the market value in your area – that's where a local real estate professional can help you through the process. Bankrate says:
"Simply put, being willing to pay more money than other buyers is one of the best ways to get your offer accepted. You may not have to increase it by a lot — it'll depend on the area and other factors — so look to your real estate agent for guidance."
Putting Down a Bigger Earnest Money Deposit
You could also consider putting down a larger deposit up front. An earnest money deposit is a check you write to go along with your offer. If your offer is accepted, this deposit is credited toward your home purchase. NerdWallet explains how it works:
"A typical earnest money deposit is 1% to 2% of the home's purchase price, but the amount varies by location. A higher earnest money deposit may catch a seller's attention in a hot housing market."
That's because it shows the seller you're seriously interested in their house and have already set aside money that you're ready to put toward the purchase. Talk to a professional to see if this is something you can do in your area. 
Making a Higher Down Payment 
Another option is increasing how much of a down payment you're going to make. The benefit of a higher down payment is you won't have to finance as much. This helps the seller feel like there's less risk of the deal or the financing falling through. And if other buyers put less down, it could be what helps your offer stand out from the crowd.
Non-Financial Options To Make a Strong Offer
Realtor.com points out that while increasing these financial portions of the deal can help, they're not your only options:
". . . Price is not the only factor sellers weigh when they look at offers. The buyer's terms and contingencies are also taken into account, as well as pre-approval letters, appraisal requirements, and the closing time the buyer is asking for."
When it's time to make an offer, partner with a trusted professional. They have insight into what sellers are looking for in your local market and can give you expert advice on what levers you may or may not want to pull when it's time to write an offer.
From a non-financial perspective, this can include things like flexible move-in dates or minimal contingencies (conditions you set that the seller must meet for the purchase to be finalized). For example, you could make an offer that's not contingent on the sale of your current home. Just remember, there are certain contingencies you don't want to forego, like your home inspection. Ultimately, the options you have can vary state-to-state, so it's best to lean on an expert real estate professional for guidance.
Bottom Line
In today's hot housing market, you need a partner who can serve as your guide, especially when it comes to making a strong offer. Let's connect so you have a trusted resource and coach on how to make the strongest offer possible for your specific situation.
Many consumers are wondering what will happen with home values over the next few years. Some are concerned that the recent run-up in home prices will lead to a situation similar to the housing crash 15 years ago.
However, experts say the market is totally different today. For example, Odeta Kushi, Deputy Chief Economist at First American, tweeted just last week on this issue:
". . . We do need price appreciation to slow today (it's not sustainable over the long run) but high price growth today is supported by fundamentals- short supply, lower rates & demographic demand. And we are in a much different & safer space: better credit quality, low DTI [Debt-To-Income] & tons of equity. Hence, a crash in prices is very unlikely."
Price appreciation will slow from the double-digit levels the market has seen over the last two years. However, experts believe home values will not depreciate (where a home would lose value).
To this point, Pulsenomics just released the latest Home Price Expectation Survey – a survey of a national panel of over 100 economists, real estate experts, and investment and market strategists. It forecasts home prices will continue appreciating over the next five years. Below are the expected year-over-year rates of home price appreciation based on the average of all 100+ projections:
2022: 9%
2023: 4.74%
2024: 3.67%
2025: 3.41%
2026: 3.57%
Those responding to the survey believe home price appreciation will still be relatively high this year (though half of what it was last year), and then return to more normal levels over the next four years.
What Does This Mean for You as a Buyer?
With a limited supply of homes available for sale and both prices and mortgage rates increasing, it can be a challenging market to navigate as a buyer. But buying a home sooner rather than later does have its benefits. If you wait to buy, you'll pay more in the future. However, if you buy now, you'll actually be in the position to make future price increases work for you. Once you buy, those rising home prices will help you build your home's value, and by extension, your own household wealth through home equity.
As an example, let's assume you purchased a $360,000 home in January of this year (the median price according to the National Association of Realtors rounded up to the nearest $10K). If you factor in the forecast for appreciation from the Home Price Expectation Survey, you could accumulate over $96,000 in household wealth over the next five years (see graph below):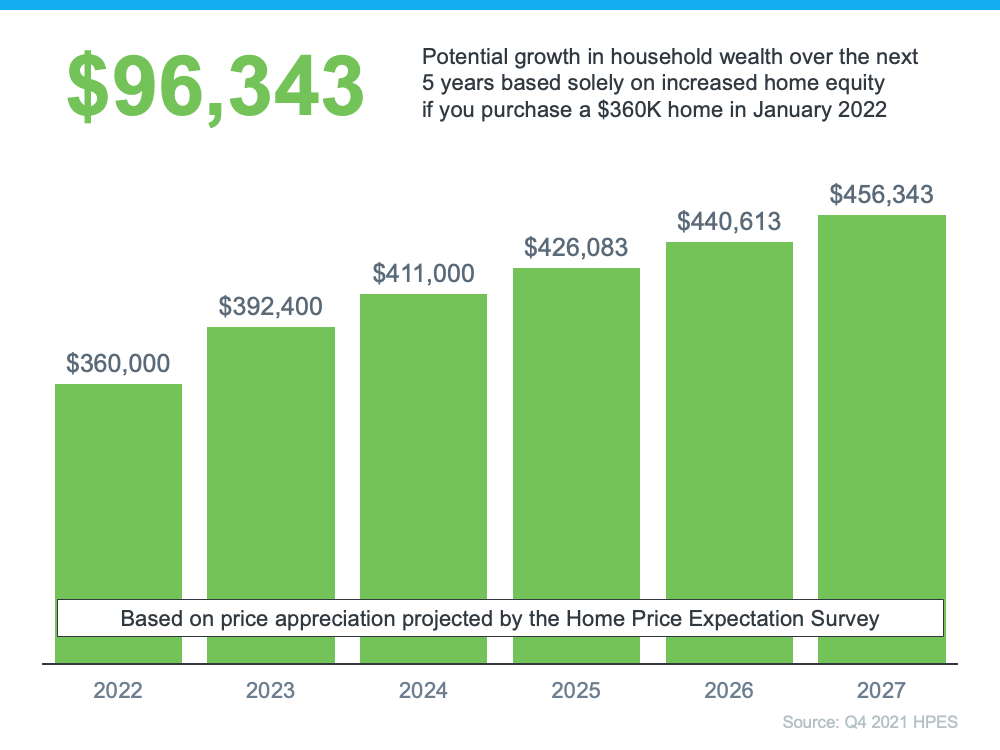 Bottom Line
If you're trying to decide whether to buy now or wait, the key is knowing what's expected to happen with home prices. Experts say prices will continue to climb in the years ahead, just at a slower pace. So, if you're ready to buy, doing so now may be your best bet for your wallet. It'll also give you the chance to use the future home price appreciation to build your own net worth through rising equity. If you want to get started, let's connect today.
When it comes to buying a home, it can feel a bit intimidating to know how much you need to save and where to find that information. But you should know, you're not expected to have all the answers yourself. There are many trusted professionals who can help you understand your finances and what you'll need to budget for throughout the process.
To get you started, here are a few things experts say you should plan for along the way.
1. Down Payment
As you set your savings goal for your purchase, your down payment is likely already top of mind. And, like many other people, you may believe you need to set aside 20% of the home's purchase price for that down payment – but that's not always the case. The National Association of Realtors (NAR) says:
"One of the biggest misconceptions among housing consumers is what the typical down payment is and what amount is needed to enter homeownership. Having this knowledge is critical to know what to save . . ."
The good news is, you may be able to put as little as 3.5% (or even 0%) down in some situations. To understand your options, partner with a trusted professional who can go over the various loan types, down payment assistance programs, and what each one requires.
2. Earnest Money Deposit
Another item you may want to plan for is an earnest money deposit. While it isn't required, it's common in today's highly competitive market because it can help your offer stand out in a bidding war.
So, what is it? It's money you pay as a show of good faith when you make an offer on a house. This deposit works like a credit. You're using some of the money you already saved for your purchase to show the seller you're committed and serious about their house. It's not an added expense, it's just paying some of that up front. First American explains what it is and how it works:
"The deposit made from the buyer to the seller when submitting an offer. This deposit is typically held in trust by a third party and is intended to show the seller you are serious about purchasing their home. Upon closing the money will generally be applied to your down payment or closing costs."
In other words, an earnest money deposit could be the very first check you'll write toward your purchase. The amount varies by state and situation. Realtor.com elaborates:
"The amount you'll deposit as earnest money will depend on factors such as policies and limitations in your state, the current market, what your real estate agent recommends, and what the seller requires. On average, however, you can expect to hand over 1% to 2% of the total home purchase price."
Work with a real estate advisor to understand any requirements in your local area and what they've recommended for other buyers in your market. They'll help you determine if it's something that could be a useful option for you.
3. Closing Costs
The next thing to plan for is your closing costs. The Federal Trade Commission (FTC) defines closing costs as:
"The upfront fees charged in connection with a mortgage loan transaction. …generally including, but not limited to a loan origination fee, title examination and insurance, survey, attorney's fee, and prepaid items, such as escrow deposits for taxes and insurance."
Basically, your closing costs cover the fees for various people and services involved in your transaction. NAR has this to say about how much to budget for:
"A home costs more than just the sale price. For example, closing costs—which make up about 2% to 5% of the home's purchase price—are a major added expense…Lenders provide a Closing Disclosure at least three business days prior to closing on a mortgage. But buyers will need to budget for these added costs ahead of time to avoid sticker shock days before closing."
The key takeaway is savvy buyers plan ahead for these expenses so they can come into the process prepared. Freddie Mac sums it up like this:
"If you're in the market to buy a home, your down payment is probably top of mind. And rightly so – it's likely the biggest cost of homebuying. However, it is not the only cost and it's critical you understand all your expenses before diving in. The more prepared you are for your down payment, closing and other costs, the smoother your homebuying journey will be."
Bottom Line
Knowing what to budget for in the homebuying process is essential. To make sure you understand these and any other expenses that may come up, let's connect so you have reliable expertise on what to expect when you buy a home.
If you're thinking of buying a home today, you already know that the number of homes available for sale is low. But what does that really mean for you? As a buyer, low housing supply coupled with high buyer demand means you should be prepared to navigate a highly competitive market where homes sell fast and get multiple offers. Realtor.com has this to say:
"Homes also flew off the market at record pace as buyers put offers in the moment properties came up for sale…."
In a bidding war situation like this, doing everything you can to get ahead of the competition is a wise move. That's because when you find a house and submit an offer, it'll likely be up against strong offers from other buyers. According to the latest Realtors Confidence Index from the National Association of Realtors (NAR), homes today are receiving an average of 3.9 offers. That's the most offers we've seen in January for the last 5 years (see graph below):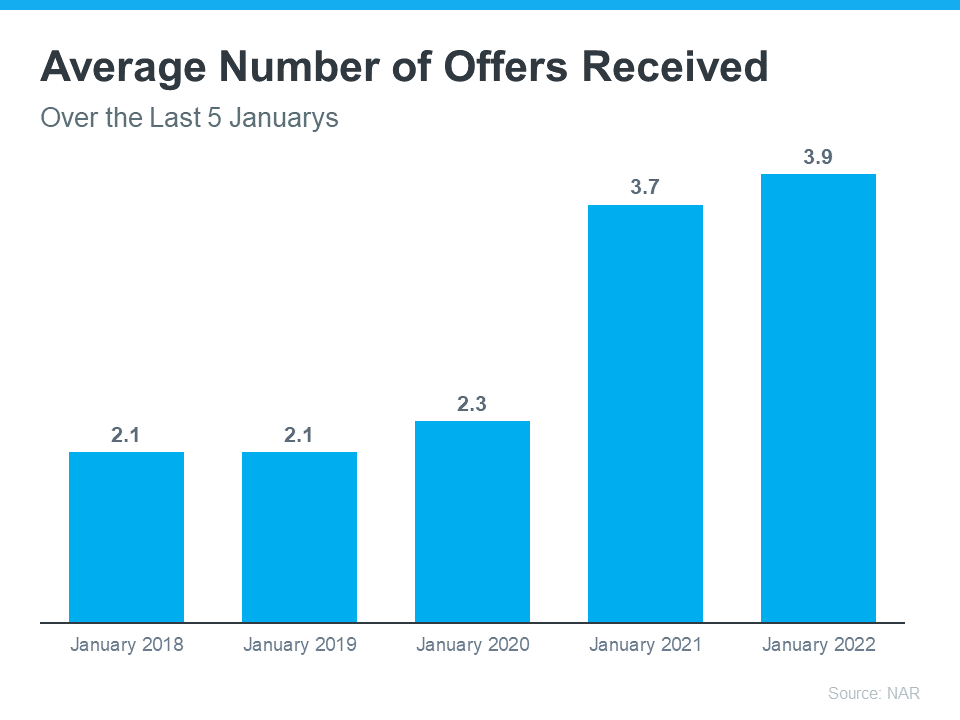 To help you navigate bidding wars with multiple offers, an expert real estate advisor is key. They know what's worked for other buyers, what sellers are looking for, and how to help you prepare when it comes time to make an offer. Here are three tips to keep in mind that will help you make the best offer possible.
1. Know Your Numbers​
Knowing your budget and what you can afford is critical to your success as a homebuyer. The best way to understand your numbers is to work with a lender so you can get pre-approved for a loan. Pre-approval shows sellers you're serious, which can give you a competitive edge. You should also know making an offer at the home's asking price may not be enough. Homes today often sell for more than their listing price. An agent can help you understand the market value of the home and what other homes are selling for in your area.
2. Be Ready To Move Fast​
Speed and the pace of sales are contributing factors to today's competitive housing market. When homes are selling fast, it's important to stay on top of the market and be ready to move quickly. Your agent will help you stay up to date on the latest listings and help you put together your best offer as soon as you find the home you want to buy.​
3. Make a Strong but Fair Offer​
​When you're up against other offers, putting your best offer forward from the start is key. Lean on your agent to write a strong offer and use their expertise on which levers you can pull to make your offer as enticing as possible. One option is to wave some of your contract contingencies (conditions you set that the seller must meet for the purchase to be finalized). Just remember there are certain contingencies you don't want to give up, like the home inspection.
​Bottom Line
No matter what, your agent is your best resource for making an offer that stands out in a competitive market. Let's connect to talk through what you can expect as a buyer and how to kick off a successful home search.
If you're thinking about buying or selling a home, you'll want to keep a pulse on what's happening with mortgage rates. Rates have been climbing in recent months, especially since January of this year. And just a few weeks ago, the 30-year fixed mortgage rate from Freddie Mac approached 4% for the first time since May of 2019. But that climb has dropped slightly over the past few weeks (see graph below):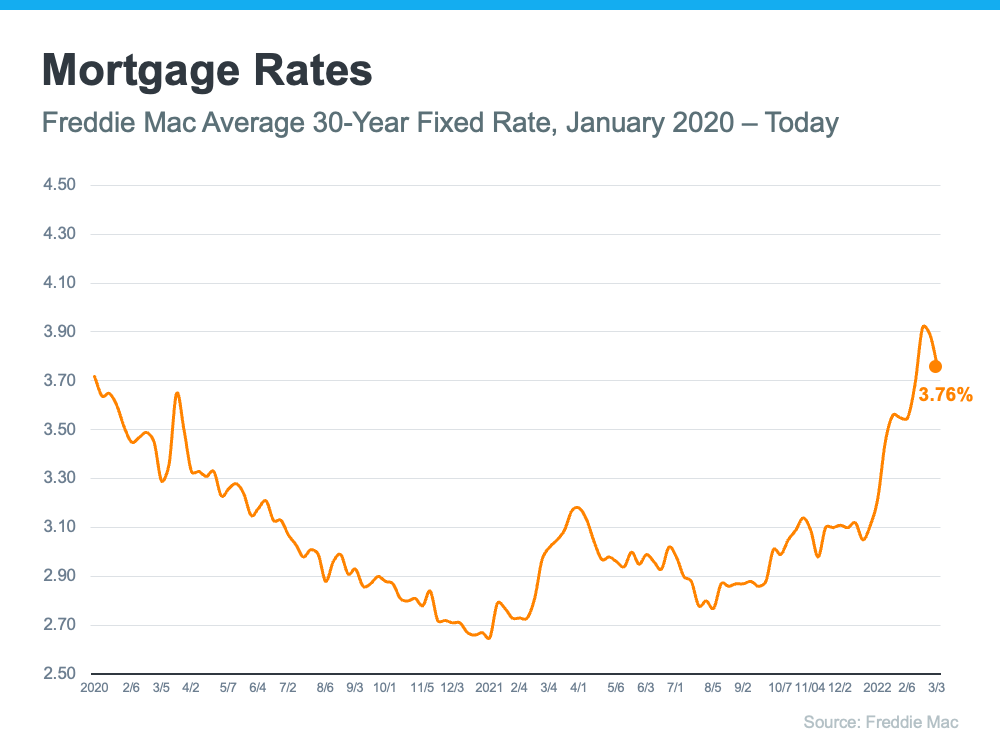 The recent decline in mortgage rates is primarily due to growing uncertainty around geopolitical tensions surrounding Russia and Ukraine. But experts say it's to be expected.
Here's a look at how industry leaders are explaining the impact global uncertainty has on mortgage rates:
Odeta Kushi, Deputy Chief Economist at First American, says:
"While mortgage rates trended upward in 2022, one unintended side effect of global uncertainty is that it often results in downward pressure on mortgage rates."
In another interview, Kushi adds:
"Geopolitical events play an important role in impacting the long end of the yield curve and mortgage rates. For example, in the weeks following the 'Brexit' vote in 2016, the U.S. Treasury bond yield declined and led to a corresponding decline in mortgage rates."
Kushi's insights are a reminder that, historically, economic uncertainty can impact the 10-year treasury yield – which has a long-standing relationship with mortgage rates and is often considered a leading indicator of where rates are headed. Basically, events overseas can have an impact on mortgage rates here, and that's what we're seeing today.
Will Mortgage Rates Stay Down?
While no one has a crystal ball to predict exactly what will happen with rates in the future, experts agree this slight decline is temporary. Sam Khater, Chief Economist at Freddie Mac, echoes Kushi's sentiment, but adds that the decline in rates won't last:
"Geopolitical tensions caused U.S. Treasury yields to recede this week . . . leading to a drop in mortgage rates. While inflationary pressures remain, the cascading impacts of the war in Ukraine have created market uncertainty. Consequently, rates are expected to stay low in the short-term but will likely increase in the coming months." 
Rates will likely fluctuate in the short-term based on what's happening globally. But before long, experts project rates will renew their climb. If you're in the market to buy a home, doing so before rates start to rise again may be your most affordable option.
Bottom Line
Mortgage rates are an important piece of the puzzle because they help determine how much you'll owe on your monthly mortgage payment in your next home. Let's connect so you have up-to-date information on rates and trusted advice on how to time your next move.
When you make a move, you want to sell your house for the highest price possible. That might be why many homeowners are eager to list in today's sellers' market. After all, with record-low inventory and high buyer demand, many homes are selling for more than asking price. Data from the National Association of Realtors (NAR) shows 46% of homes are selling above list price today.
But even in a market like we have now, working with an agent to set the right asking price is critical, as pricing it too high or too low could have a negative impact on your final sale. Here's why.
Pricing Your House Right Is Crucial Even in a Sellers' Market
The price you set for your house sends a message to potential buyers. Price it too low and you might raise questions about your home's condition or lead buyers to assume something is wrong with the property. Not to mention, you could leave money on the table, which decreases your future buying power if you undervalue your house.
On the other hand, price it too high and you run the risk of deterring buyers. When that happens, you may have to do a price drop to try to re-ignite interest in your house when it sits on the market for a while. But be aware that a price drop can be seen as a red flag for some buyers who will wonder why the price was reduced and what that means about the home.
In other words, think of pricing your home as a target. Your goal is to aim directly for the center – not too high, not too low, but right at market value. Pricing your house fairly based on market conditions increases the chance you'll have more buyers who are interested in purchasing it. That makes it more likely you'll see a bidding war, too. And when a bidding war happens, you'll likely get an even higher final sale price. Plus, when homes are priced right, they tend to sell quickly.
To get a look into the potential downsides of over or underpricing your house and the perks that come with pricing it at market value, see the chart below: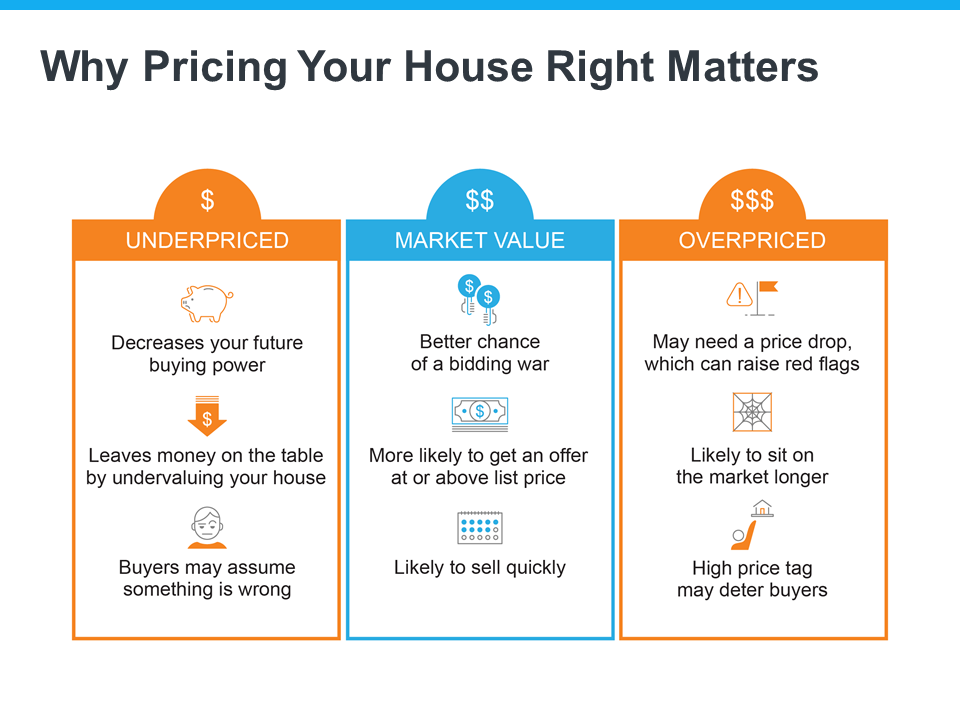 Lean on a Professional's Expertise To Price Your House Right
There are several factors that go into pricing your house and balancing them is the key. That's why it's important to lean on an expert real estate advisor when you're ready to move. A local real estate advisor is knowledgeable about:
The value of homes in your neighborhood
The current demand for houses in today's market
The condition of your house and how it affects the value
A real estate professional will balance these factors to make sure the price of your house makes the best first impression and gives you the greatest return on your investment in the end.
Bottom Line
Even in a sellers' market, pricing your house right is critical. Don't rely on guesswork. Let's connect to make sure your house is perfectly priced.
If you're thinking about selling your house in 2022, you truly have a once-in-a-lifetime opportunity at your fingertips. When selling anything, you always hope for strong demand for the item coupled with a limited supply. That maximizes your leverage when you're negotiating the sale. Home sellers are in that exact situation right now. Here's why.
Demand Is Very Strong
According to the latest Existing Home Sales Report from the National Association of Realtors (NAR), 6.18 million homes were sold in 2021. This was the largest number of home sales in 15 years. Lawrence Yun, Chief Economist for NAR, explains:
"Sales for the entire year finished strong, reaching the highest annual level since 2006. . . . With mortgage rates expected to rise in 2022, it's likely that a portion of December buyers were intent on avoiding the inevitable rate increases."
Demand isn't expected to weaken this year, either. In addition, the Mortgage Finance Forecast, published last week by the Mortgage Bankers' Association (MBA), calls for existing-home sales to reach 6.4 million homes this year.
Supply Is Very Limited
The same sales report from NAR also reveals the months' supply of inventory just hit the lowest number of the century. It notes:
"Total housing inventory at the end of December amounted to 910,000 units, down 18% from November and down 14.2% from one year ago (1.06 million). Unsold inventory sits at a 1.8-month supply at the present sales pace, down from 2.1 months in November and from 1.9 months in December 2020."
The reality is, inventory decreases every year in December. That's just how the typical seasonal trend goes in real estate. However, the following graph emphasizes how this December was lower than any other December going all the way back to 1999.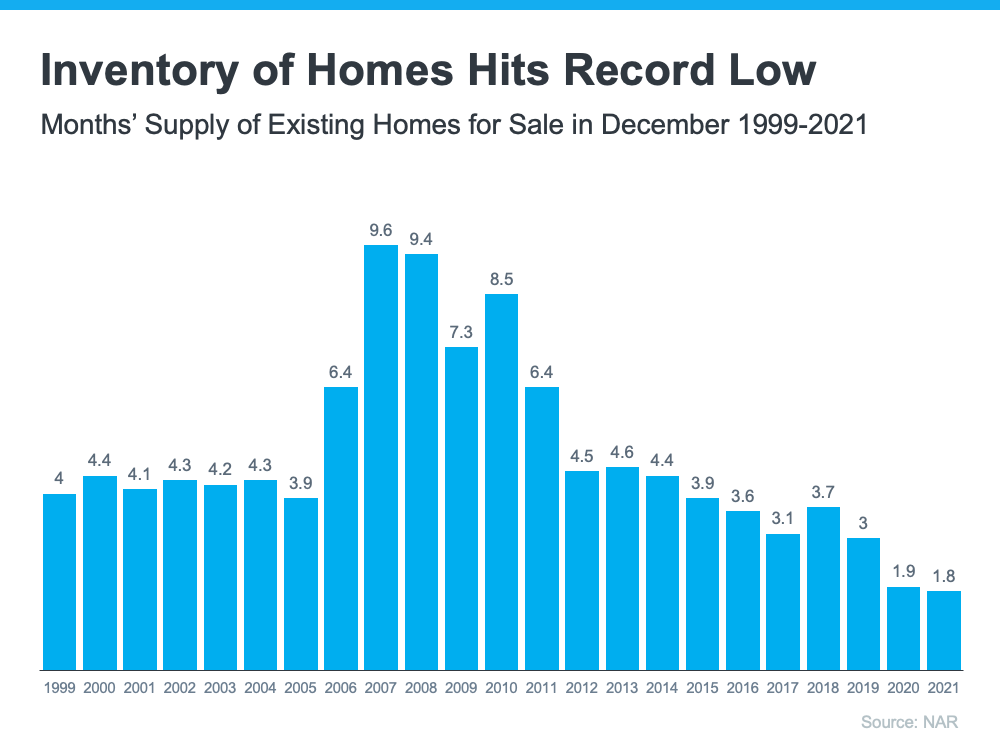 Right Now, Sellers Have Maximum Leverage
As mentioned above, when there's strong demand for an item and a limited supply of it available, the seller has maximum leverage in the negotiation. In the case of homeowners who are thinking about selling, there may never be a better time than right now. While demand is this high and inventory is this low, you'll have leverage in all aspects of the sale of your house.
Today's buyers know they need to be flexible negotiators that make very competitive offers, so here are a few areas that could tip in your favor when your house goes on the market:
Competitive sales price
Flexible closing date
Potential for a leaseback to allow you more time to find a home
Minimal offer contingencies
Bottom Line
If you're thinking of selling your house this year, now is the optimal time to list it. Let's connect to discuss how you can put your house on the market today.
Many members of Generation Z (Gen Z) are aging into adulthood and deciding whether to rent or buy a home. If you find yourself in this group, it's important to understand you're never too young to start thinking about homeownership. The sooner you start planning, the sooner you can move on from renting.
As you set off on your journey and plan your next move, here are a few reasons to think about homebuying this year.
The Reasons Gen Z Want To Become Homeowners
While the majority of Gen Z haven't entered the housing market yet, a large portion plan to according to a realtor.com report. The report found that 72% of Gen Z would rather purchase a home than rent long-term. As George Ratiu, Manager of Economic Research for realtor.com, says:
"With nearly three-quarters of those surveyed preferring to buy versus renting long-term, the housing industry should be prepared for millions of Gen Z buyers to bring a new wave of demand along a similar stage-of-life timeline as the millennial generation before them."
But why do so many members of Gen Z value homeownership? According to the latest Home Buyers and Sellers Generational Trends Report from the National Association of Realtors (NAR), young homebuyers – more than any other age group – want to become homeowners because they want to have a place of their very own.
That may be because one of the biggest benefits of homeownership is having a place that you can truly make your own by customizing it to your style and personality. Whether that's the décor, painting, or renovations, when you own your home, you don't have to limit yourself to what your lease and landlord will allow.
Not to mention, owning a home provides much greater long-term stability and security than renting. When you own a home, there's also protection from steadily rising rental costs because your monthly mortgage payment is locked in for the length of your loan (typically 15 to 30 years).
Work with a Real Estate Professional To Achieve Your Goals
Whether you're just getting started on your homebuying journey, you want to learn more about the process, or you're fully committed to buying your first home this year, it's especially important to connect with a trusted real estate advisor soon, as you won't be the only first-time buyer in the market. According to a recent survey from realtor.com, a majority of first-time buyers surveyed are looking to purchase a home in 2022. As the survey notes:
"First-time home buyers retain their optimism despite a challenging housing market in the past year. Hoping to achieve their goal of homeownership and provide a comfortable space for their families, young buyers are setting out to learn what they can about the market and setting their list of priorities for their home purchase."
That means you'll likely face strong competition from other first-time buyers. One way to get a leg-up on that competition is to work with a real estate professional to make sure you have the support you need to make an informed and confident decision.
Bottom Line
If you're planning your next move, you're not alone. Just know it's never too early to consider the benefits of homeownership over renting. To learn more, let's connect today so you have a trusted professional on your side to help you explore your options.
You may have heard that it's important to get pre-approved for a mortgage at the beginning of the homebuying process, but what does that really mean, and why is it so important? Especially in today's market, with rising home prices and high buyer competition, it's crucial to have a pre-approval letter prior to making an offer. Here's why.
Being intentional and competitive are musts when buying a home this year. Pre-approval from a lender is the only way to know your true price range and how much money you can borrow for your loan. Just as important, being able to present a pre-approval letter shows sellers you're a qualified buyer, something that can really help you land your dream home in an ultra-competitive market.
With limited housing inventory, there are many more buyers active in the market than there are sellers, and that's creating some serious competition. According to the National Association of Realtors (NAR), homes today are receiving an average of 3.8 offers for sellers to consider. As a result, bidding wars are still common. Pre-approval gives you an advantage if you get into a multiple-offer scenario, and these days, it's likely you will. When a seller knows you're qualified to buy the home, you're in a better position to potentially win the bidding war.
Freddie Mac explains:
"By having a pre-approval letter from your lender, you're telling the seller that you're a serious buyer, and you've been pre-approved for a mortgage by your lender for a specific dollar amount. In a true bidding war, your offer will likely get dropped if you don't already have one."

Every step you can take to gain an advantage as a buyer is crucial when today's market is constantly changing. Interest rates are rising, prices are going up, and lending institutions are regularly updating their standards. You're going to need guidance to navigate these waters, so it's important to have a team of professionals such as a loan officer and a trusted real estate advisor making sure you take the right steps and can show your qualifications as a buyer when you find a home to purchase.
Bottom Line
In a competitive market with low inventory, a pre-approval letter is a game-changing piece of the homebuying process. Not only does being pre-approved bring clarity to your homebuying budget, but it shows sellers how serious you are about purchasing a home.