The 2022 housing market has been defined by two key things: inflation and rapidly rising mortgage rates. And in many ways, it's put the market into a reset position.
As the Federal Reserve (the Fed) made moves this year to try to lower inflation, mortgage rates more than doubled – something that's never happened before in a calendar year. This had a cascading impact on buyer activity, the balance between supply and demand, and ultimately home prices. And as all those things changed, some buyers and sellers put their plans on hold and decided to wait until the market felt a bit more predictable.
But what does that mean for next year? What everyone really wants is more stability in the market in 2023. For that to happen we'll need to see the Fed bring inflation down even more and keep it there. Here's what housing market experts say we can expect next year.
What's Ahead for Mortgage Rates in 2023?
Moving forward, experts agree it's still going to be all about inflation. If inflation is high, mortgage rates will be as well. But if inflation continues to fall, mortgage rates will likely respond. While there may be early signs inflation is easing as we round out this year, we're not out of the woods just yet. Inflation is still something to watch in 2023.
Right now, experts are factoring all of this into their mortgage rate forecasts for next year. And if we average those forecasts together, experts say we can expect rates to stabilize a bit more in 2023. Whether that's between 5.5% and 6.5%, it's hard for experts to say exactly where they'll land. But based on the average of their projections, a more predictable rate is likely ahead (see chart below):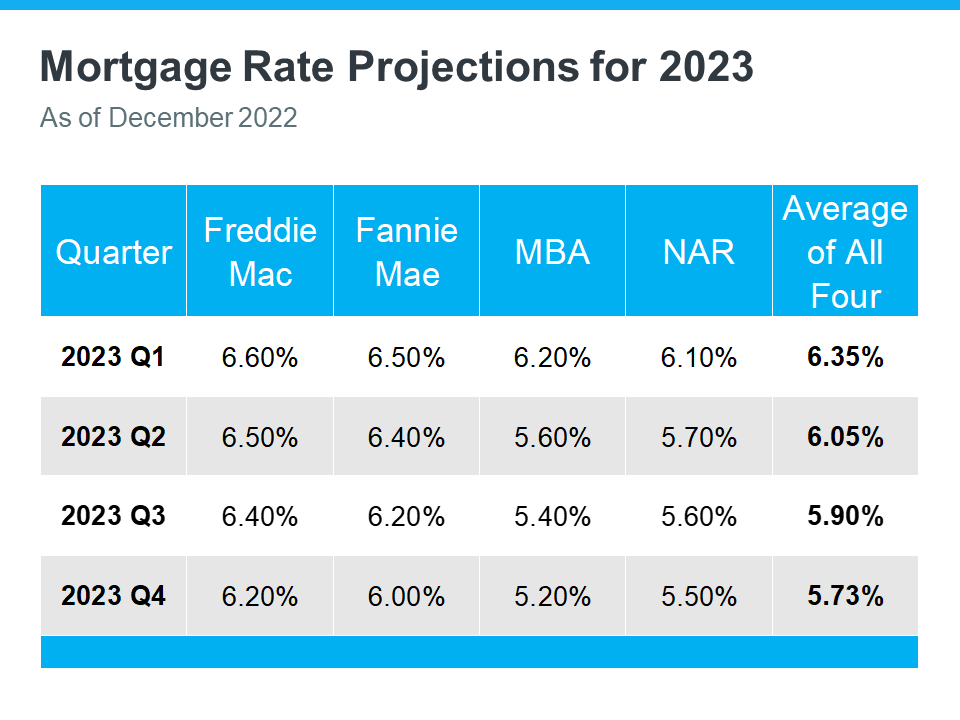 That means, we'll start the year out about where we are right now. But we could see rates tick down if inflation continues to drop. As Greg McBride, Chief Financial Analyst at Bankrate, explains:
". . . mortgage rates could pull back meaningfully next year if inflation pressures ease."
In the meantime, expect some volatility as rates will likely fluctuate in the weeks ahead. If we see inflation come back under control, that would be good news for the housing market.
What Will Happen to Home Prices Next Year?
Homes prices will always be defined by supply and demand. The more buyers and fewer homes there are on the market, the more home prices will rise. And that's exactly what we saw during the pandemic.
But this year, things changed. We've seen home prices moderate and housing supply grow as buyer demand pulled back due to higher mortgage rates. The level of moderation has varied by local area – with the biggest changes happening in overheated markets. But do experts think that will continue?
The graph below shows the latest home price forecasts for 2023. As the different colored bars indicate, some experts are saying home prices will appreciate next year, and others are saying home prices will come down. But again, if we take the average of all the forecasts (shown in green), we can get a feel for what 2023 may hold.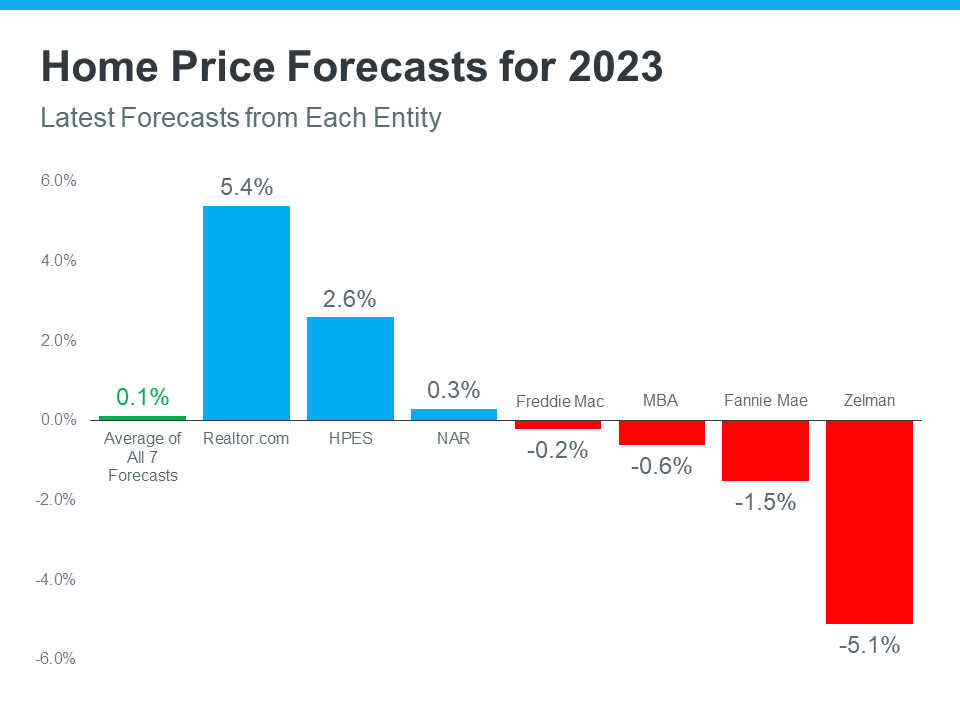 The truth is probably somewhere in the middle. That means nationally, we'll likely see relatively flat or neutral appreciation in 2023. As Lawrence Yun, Chief Economist at the National Association of Realtors (NAR), says:
"After a big boom over the past two years, there will essentially be no change nationally . . . Half of the country may experience small price gains, while the other half may see slight price declines."
Bottom Line
The 2023 housing market is going to be defined by mortgage rates, and rates will be determined by what happens with inflation. The best way to keep a pulse on what experts are projecting for next year is to lean on a trusted real estate advisor. Let's connect.
If you're a homeowner, your net worth got a big boost over the past few years thanks to rapidly rising home prices. Here's how it happened and what it means for you, even as the market moderates.
Equity is the current value of your home minus what you owe on the loan.
Because there was a significant imbalance between the number of homes available for sale and the number of buyers looking to make a purchase over the past few years, home prices appreciated substantially.
And while home price appreciation has moderated this year, and even depreciated slightly in some overheated markets, that doesn't mean you've lost all the equity you gained during the pandemic frenzy.
To prove you still have equity you can use, the latest Homeowner Equity Insights from CoreLogic finds the average homeowner equity has actually grown by $34,300 over the past 12 months.
That's right, despite the headlines, the average homeowner still gained positive equity over the last year in just about every market. While the gains aren't as dramatic as they were in the previous quarter due to home price moderation, they're still significant. And if you've been in your home for longer than a year, chances are you have even more equity than you realize.
While that's the national number, if you want to know what happened over the past year in your area, look at the map below from CoreLogic: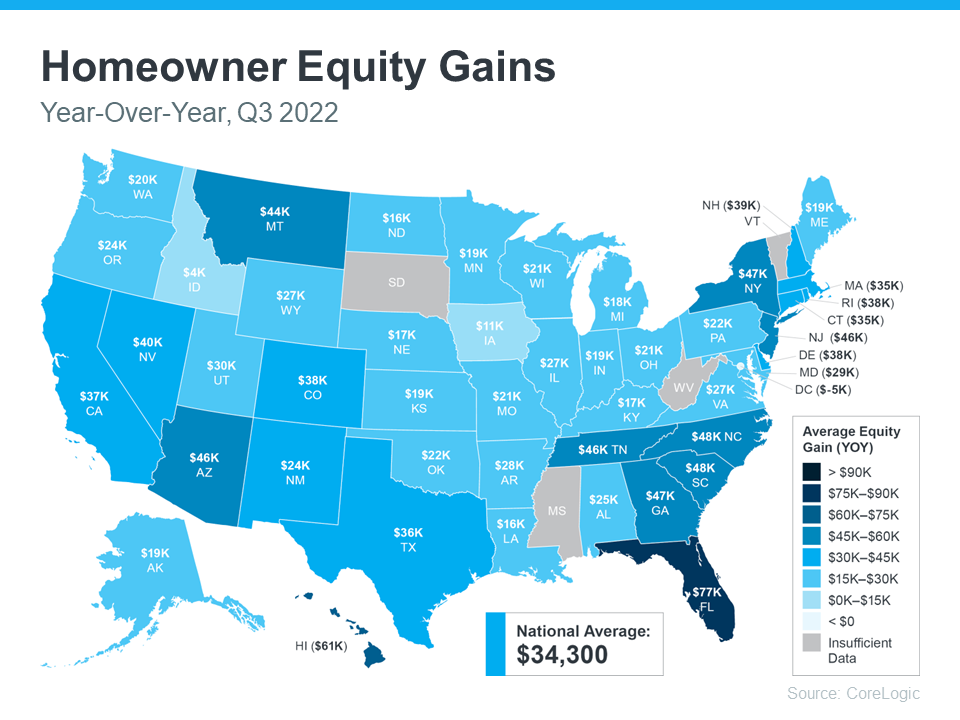 Why This Is So Important Right Now
While equity helps increase your overall net worth, it can also help you achieve other goals, like buying your next home. When you sell your current house, the equity you've built up comes back to you in the sale, and it may be just what you need to cover a large portion – if not all – of the down payment on your next home.
So, if you've been holding off on selling because you weren't sure what the headlines meant for your bottom line, rest assured you've still gained equity in recent years, and it can help fuel your move.
Bottom Line
If you're planning to make a move, the equity you've gained over time can make a big impact. To find out just how much equity you have in your current home and how you can use it to fuel your next purchase, let's connect.
If you're thinking about selling your house, you're likely hearing about the cooling housing market and wondering what that means for you. While it's not the peak intensity we saw during the pandemic, we're still in a sellers' market. That means you haven't missed your window. Realtor.com explains:
". . . while prospective home sellers may lament that they missed their prime window, in reality, this is still a terrific time to sell. In fact, according to a recent Realtor.com® home seller survey, 95% of sellers who sold their home in the past year got more than they paid for it.

Nonetheless, some of the more prominent pandemic trends have changed, so sellers might wish to adjust accordingly to get the best deal possible."
The key to success today is being realistic and working with a trusted real estate advisor who can help you set your expectations based on where the market is now, not where it was over the past few years.
Here are a few things experts say today's sellers need to consider.
Be Willing To Negotiate
At the peak of the pandemic frenzy, sellers held all the leverage because inventory was at record lows and buyers were willing to enter bidding wars over homes that were available. This year, the supply of homes for sale has increased as the market cooled. Even though inventory is still low overall, buyers today have more options, and with that comes more negotiation power.
As a seller, that means you may see more buyers getting an inspection, requesting repairs, or asking for help with closing costs today. You need to be prepared to have those conversations. As Ali Wolf, Chief Economist at Zonda, says:
"Today's market is different than it was just six months ago. . . Sellers that want the contract to move forward should be willing to work with the buyer. . . Consider helping with the closing costs or addressing many of the items on the home inspection list."
Price Your Home at Market Value
It's not just that the number of homes for sale has grown this year. Buyer demand has also pulled back in light of higher mortgage rates. As a result, pricing your house appropriately so you can catch the eyes of serious buyers is important. Greg McBride, Chief Financial Analyst at Bankrate, explains:
"Price your home realistically. This isn't the housing market of April or May, so buyer traffic will be substantially slower, but appropriately priced homes are still selling quickly."
You don't want to overreach with your price and deter buyers. At the same time, you don't want to undervalue your home and leave money on the table. This is another area where an agent's expertise comes in handy.
Think About Your First Impression on Buyers
Buyers have more options and are more particular about their investment since it costs more to buy a home given today's mortgage rates. As a result, you need to make sure your house shows well. As an article from realtor.com says:
"To stand out in the market, sellers should make their home attractive to buyers, which usually means some selective updates."
This could include everything from staging the home, to making small cosmetic updates, tackling repairs, or undergoing renovations. A trusted real estate professional will help you assess what may be worthwhile to do compared to other recently sold homes in your area.
Bottom Line
To sum it all up, your house should still sell today and move quickly if you're realistic about today's market. As a press release from Zillow puts it:
". . . sellers need to do things right to attract the attention of these buyers — pricing their home competitively and making their listing attractive to online home shoppers."
For expert advice on how to quickly sell your house in a shifting market, let's connect.
Buyer •
November 21, 2022
If you're thinking of buying a home and living with siblings, parents, or grandparents, then multigenerational living may be for you. The Pew Research Center defines a multigenerational household as a home with two or more adult generations. And the number of individuals choosing multigenerational living has increased over the past 50 years.
As you consider this option for your own home search, know it could help you on your homeownership journey and provide you with other incredible benefits along the way.
Living with Loved Ones Could Help You Achieve Your Homeownership Goals
There are several reasons people choose to live in a multigenerational household, and for many, the arrangement is a personal one. But according to the Pew Research Center, the top reason people choose to live together today is financial.
A recent study from Freddie Mac also finds more people are choosing to buy a home together so they can save money in the homebuying process. As the study says:
". . . an increasing percentage of young adult first-time homebuyers are relying on support from older generations, including their parents, to buy a home together."
For these individuals, combining their resources can help them achieve their dream of buying and owning a home. By pooling their incomes together to make that purchase, they may be able to afford a home they couldn't on their own.
Other Key Benefits of Multigenerational Living
Not to mention, living in a home with loved ones can have other benefits too, like giving you more quality time to spend together. Darla Mercado, Certified Financial Planner and Markets Editor for CNBC.com, explains how this living arrangement can help on a personal and financial level:
"Residing with relatives can offer advantages . . . you can pool multiple streams of income, for instance. And in households with young children, grandparents can pitch in with child care."
If this sounds like a great option for you, it's important to work with a trusted real estate professional to discuss your needs. They can help you navigate the process to find the right home for you and your loved ones.
Bottom Line
More people are discovering the benefits of multigenerational living. For the best information and help deciding what's right for your personal situation, let's connect and start the conversation today.
Now that the end of 2022 is within sight, you may be wondering what's going to happen in the housing market next year and what that may mean if you're thinking about buying a home. Here's a look at the latest expert insights on both mortgage rates and home prices so you can make your best move possible.
Mortgage Rates Will Continue To Respond to Inflation
There's no doubt mortgage rates have skyrocketed this year as the market responded to high inflation. The increases we've seen were fast and dramatic, and the average 30-year fixed mortgage rate even surpassed 7% at the end of last month. In fact, it's the first time they've risen this high in over 20 years (see graph below):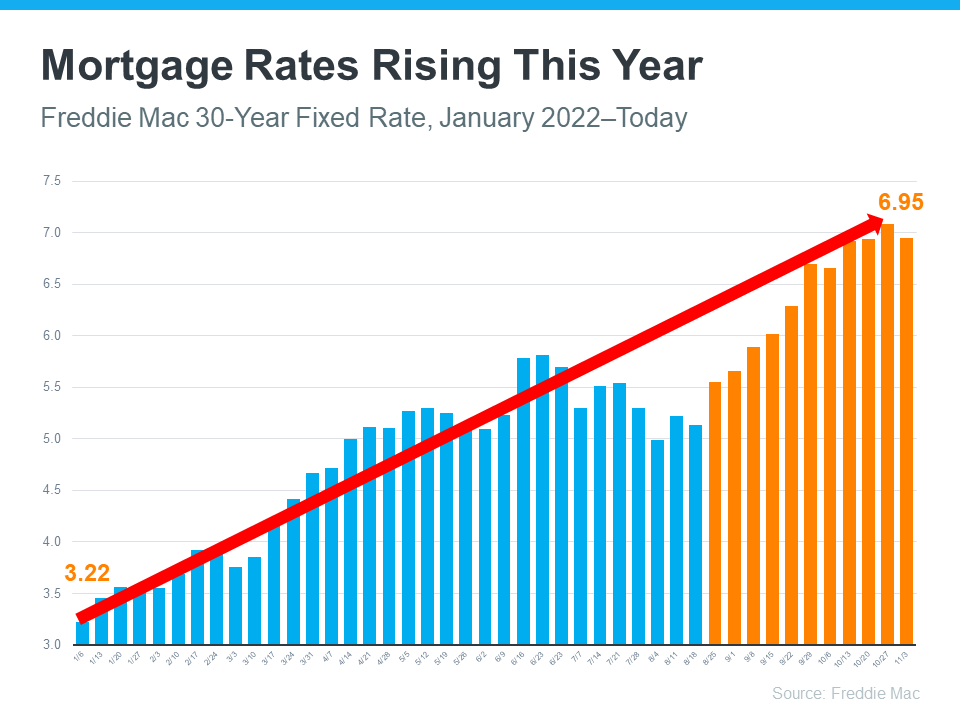 In their latest quarterly report, Freddie Mac explains just how fast the climb in rates has been:
"Just one year ago, rates were under 3%. This means that while mortgage rates are not as high as they were in the 80's, they have more than doubled in the past year. Mortgage rates have never doubled in a year before."
Because we're in unprecedented territory, it's hard to say with certainty where mortgage rates will go from here. Projecting the future of mortgage rates is far from an exact science, but experts do agree that, moving forward, mortgage rates will continue to respond to inflation. If inflation stays high, mortgage rates likely will too.
Home Price Changes Will Vary by Market
As buyer demand has eased this year in response to those higher mortgage rates, home prices have moderated in many markets too. In terms of the forecast for next year, expert projections are mixed. The general consensus is home price appreciation will vary by local market, with more significant changes happening in overheated areas. As Mark Fleming, Chief Economist at First American, says:
"House price appreciation has slowed in all 50 markets we track, but the deceleration is generally more dramatic in areas that experienced the strongest peak appreciation rates."
Basically, some areas may still see slight price growth while others may see slight price declines. It all depends on other factors at play in that local market, like the balance between supply and demand. This may be why experts are divided on their latest national forecasts (see graph below):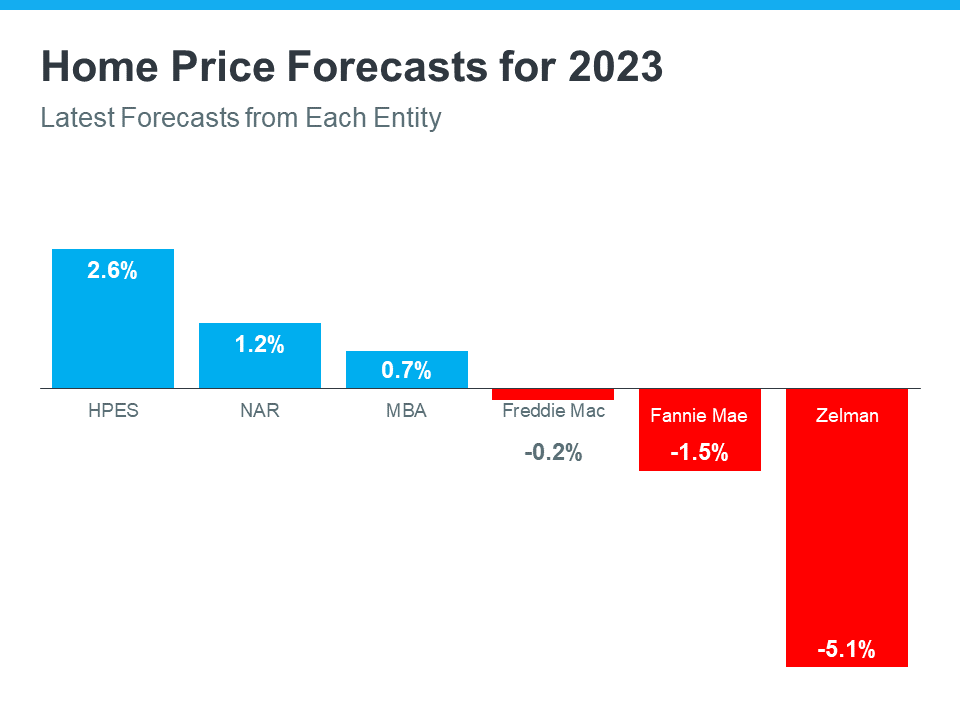 Bottom Line
If you want to know what's happening with home prices or mortgage rates, let's connect so you have the latest on what experts are saying and what that means for our area.
As you look ahead to the winter season, you're likely making plans and thinking about what you want to achieve before the year ends. One of those key decision points could be whether or not you want to move this year. If the location or size of your current home no longer meets your needs, finding a house that better suits your lifestyle may be a top priority for you. But with today's cooling housing market, is it really a good time to sell your house, or should you wait?
If you're ready to make your decision, here are three reasons you may want to consider selling before the holidays.
1. Get One Step Ahead of Other Sellers
Typically, in the residential real estate market, homeowners are less likely to list their houses toward the end of the year. That's because people get busy around the holidays and deprioritize selling their house until the start of the new year when their schedules and social calendars calm down.
Selling now, while other homeowners may hold off until after the holidays, can help your house stand out. Start the process with a real estate professional today so you can get your house on the market and get ahead of your competition.
2. Get in Front of Serious Buyers This Season
Even though housing supply has increased this year as buyer demand has moderated, it's still low overall. That means there aren't enough homes on the market today, especially as the millennial generation reaches their peak homebuying years. As Mark Fleming, Chief Economist at First American, says:
"While not the frenzy of 2021, the largest living generation, the Millennials, will continue to age into their prime home-buying years, creating a demographic tailwind for the housing market."
Serious buyers will still be looking this winter and your house may be exactly what they're searching for. If you work with an agent to list your house now, you'll be able to get in front of the eager buyers who are hoping to make a move before the year ends.
3. Seize a Great Chance To Move Up
Don't forget, today's homeowners have record amounts of equity. According to CoreLogic, the average amount of equity per mortgage holder has climbed to almost $300,000. That's an all-time high. That means the equity you have in your house right now could cover some, if not all, of a down payment on the home of your dreams.
And as you weigh the reasons to sell before winter, don't lose sight of why you're thinking about moving in the first place. Maybe it's time to buy a house that's in a better location for you, has the space you and your loved ones have been craving, or simply gives you that sense of home. A trusted real estate advisor can help you determine how much home equity you have and how you can use it to achieve your goal of making a move.
Bottom Line
If you're thinking about selling your house so you can find a home that better suits your needs, don't delay your plans. Let's connect so you can accomplish your goals before winter.
While higher mortgage rates are creating affordability challenges for homebuyers this year, there is some good news for those people still looking to buy a home.
As the market has cooled this year, some of the intensity buyers faced during the peak frenzy of the pandemic has cooled too. Here are just a few trends that may benefit you when you go to buy a home today.
1. More Homes To Choose from
During the pandemic, housing supply hit a record low at the same time buyer demand skyrocketed. This combination made it difficult to find a home because there just weren't enough to meet buyer demand. According to Calculated Risk, the supply of homes for sale increased by 39.5% for the week ending October 28 compared to the same week last year.
Even though it's still a sellers' market and supply is still lower than more normal levels, you have more to choose from in your home search. That makes finding your dream home a bit less difficult.
2. Bidding Wars Have Eased
One of the top stories in real estate over the past two years was the intensity and frequency of bidding wars. But today, things are different. With more options, you'll likely see less competition from other buyers looking for homes. According to the National Association of Realtors (NAR), the average number of offers on recently sold homes has declined. This September, the average was 2.5 offers per sale. In contrast, last September, the average was 3.7 offers per sale.
If you tried to buy a house over the past two years, you probably experienced the bidding war frenzy firsthand and may have been outbid on several homes along the way. Now you have a chance to jump back into the market and enjoy searching for a home with less competition.
3. More Negotiation Power
And when you have less competition, you also have more negotiating power as a buyer. Over the last two years, more buyers were willing to skip important steps in the homebuying process, like the appraisal or inspection, to try to win a bidding war. But the latest data from the National Association of Realtors (NAR) shows the percentage of buyers waiving those contingencies is going down.
As a buyer, this is good news. The appraisal and the inspection give you important information about the value and condition of the home you're buying. And if something turns up in the inspection, you have more power today to renegotiate with the seller.
A survey from realtor.com confirms more sellers are accepting offers that include contingencies today. According to that report, 95% of sellers said buyers requested a home inspection, and 67% negotiated with buyers on repairs as a result of the inspection findings.
Bottom Line
While buyers still face challenges today, they're not necessarily the same ones you may have been up against just a year or so ago. If you were outbid or had trouble finding a home in the past, now may be the moment you've been waiting for. Let's connect to start the homebuying process today.
With all the headlines and talk in the media about the shift in the housing market, you might be thinking this is a housing bubble. It's only natural for those thoughts to creep in that make you think it could be a repeat of what took place in 2008. But the good news is, there's concrete data to show why this is nothing like the last time.
There's Still a Shortage of Homes on the Market Today, Not a Surplus
For historical context, there were too many homes for sale during the housing crisis (many of which were short sales and foreclosures), and that caused prices to fall dramatically. Supply has increased since the start of this year, but there's still a shortage of inventory available overall, primarily due to almost 15 years of underbuilding homes.
The graph below uses data from the National Association of Realtors (NAR) to show how the months' supply of homes available now compares to the crash. Today, unsold inventory sits at just a 3.2-months' supply at the current sales pace, which is significantly lower than the last time. There just isn't enough inventory on the market for home prices to come crashing down like they did last time, even though some overheated markets may experience slight declines.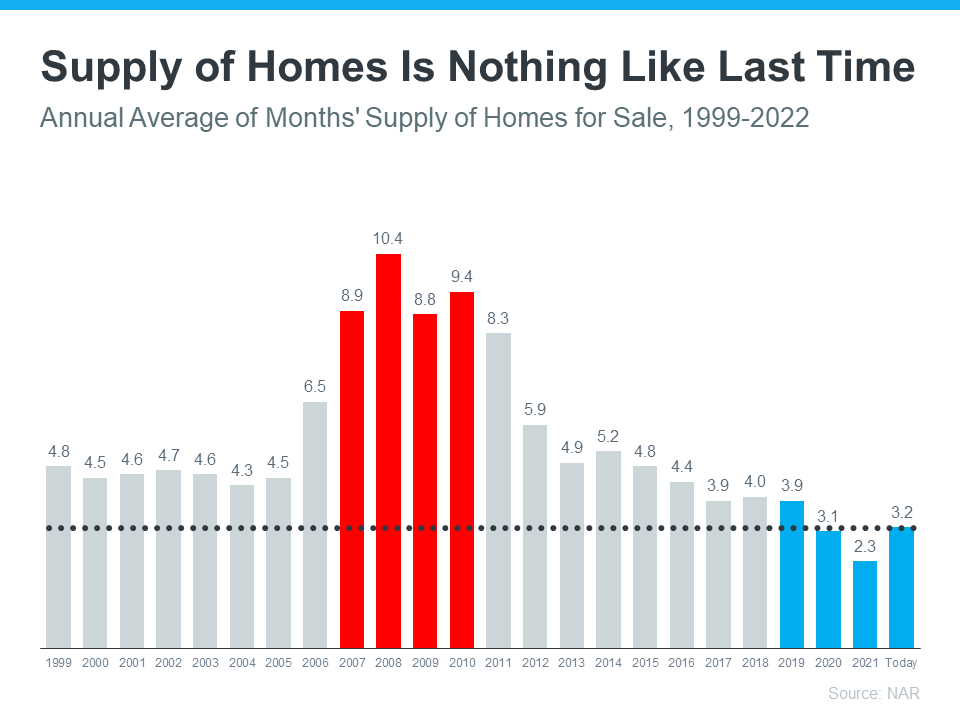 Mortgage Standards Were Much More Relaxed Back Then
During the lead-up to the housing crisis, it was much easier to get a home loan than it is today. Running up to 2006, banks were creating artificial demand by lowering lending standards and making it easy for just about anyone to qualify for a home loan or refinance their current home.
Back then, lending institutions took on much greater risk in both the person and the mortgage products offered. That led to mass defaults, foreclosures, and falling prices. Today, things are different, and purchasers face much higher standards from mortgage companies.
The graph below uses Mortgage Credit Availability Index (MCAI) data from the Mortgage Bankers Association (MBA) to help tell this story. In that index, the higher the number, the easier it is to get a mortgage. The lower the number, the harder it is. In the latest report, the index fell by 5.4%, indicating standards are tightening.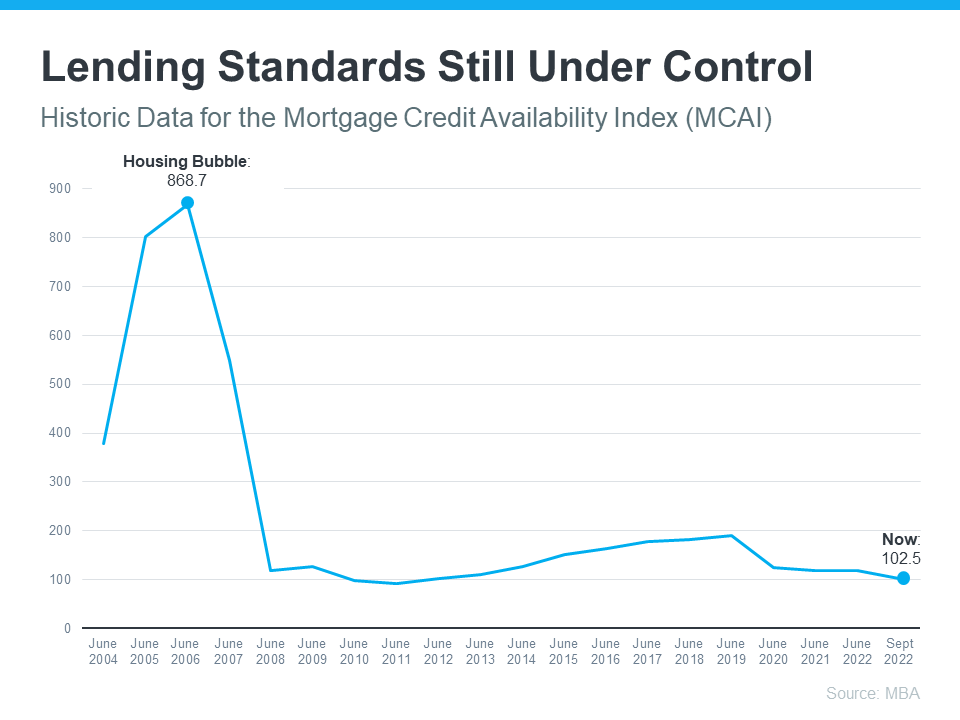 This graph also shows just how different things are today compared to the spike in credit availability leading up to the crash. Tighter lending standards over the past 14 years have helped prevent a scenario that would lead to a wave of foreclosures like the last time.
The Foreclosure Volume Is Nothing Like It Was During the Crash
Another difference is the number of homeowners that were facing foreclosure after the housing bubble burst. Foreclosure activity has been lower since the crash, largely because buyers today are more qualified and less likely to default on their loans. The graph below uses data from ATTOM Data Solutions to help paint the picture of how different things are this time: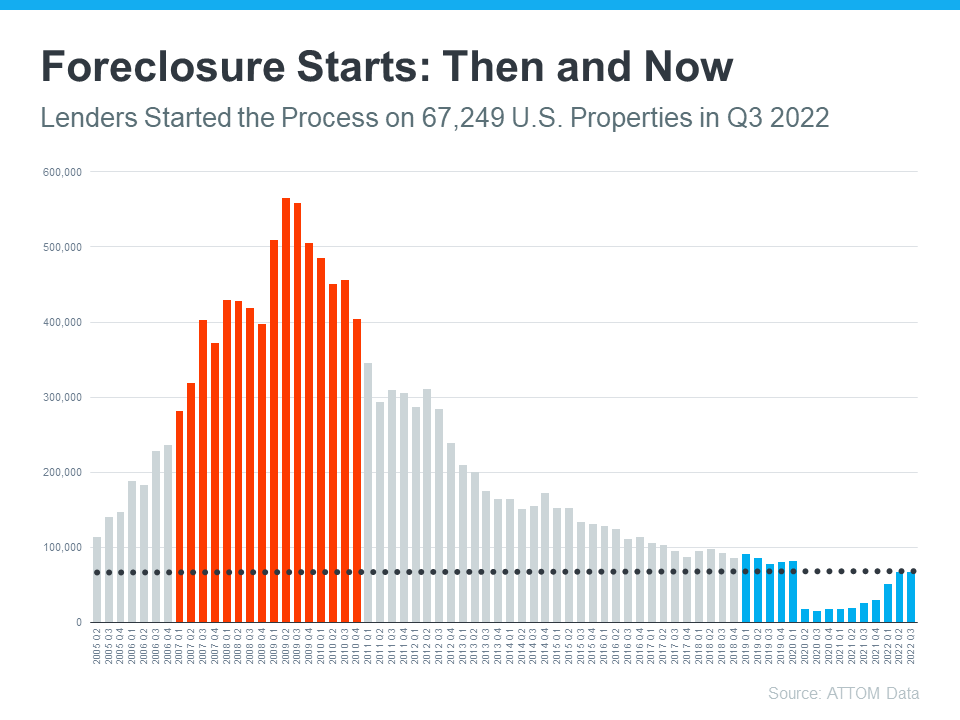 Not to mention, homeowners today have options they just didn't have in the housing crisis when so many people owed more on their mortgages than their homes were worth. Today, many homeowners are equity rich. That equity comes, in large part, from the way home prices have appreciated over time. According to CoreLogic:
"The total average equity per borrower has now reached almost $300,000, the highest in the data series."
Rick Sharga, Executive VP of Market Intelligence at ATTOM Data, explains the impact this has:
"Very few of the properties entering the foreclosure process have reverted to the lender at the end of the foreclosure. . . . We believe that this may be an indication that borrowers are leveraging their equity and selling their homes rather than risking the loss of their equity in a foreclosure auction."
 This goes to show homeowners are in a completely different position this time. For those facing challenges today, many have the option to use their equity to sell their house and avoid the foreclosure process.
Bottom Line
If you're concerned we're making the same mistakes that led to the housing crash, the graphs above should help alleviate your fears. Concrete data and expert insights clearly show why this is nothing like the last time.
Since the 2008 housing bubble burst, the word recession strikes a stronger emotional chord than it ever did before. And while there's some debate around whether we're officially in a recession right now, the good news is experts say a recession today would likely be mild and the economy would rebound quickly. As the 2022 CEO Outlook from KPMG says:
"Global CEOs see a 'mild and short' recession, yet optimistic about global economy over 3-year horizon . . .

 More than 8 out of 10 anticipate a recession over the next 12 months, with more than half expecting it to be mild and short."
To add to that sentiment, housing is typically one of the first sectors to rebound during a slowdown. As Ali Wolf, Chief Economist at Zonda, explains:
"Housing is traditionally one of the first sectors to slow as the economy shifts but is also one of the first to rebound."
Part of that rebound is tied to what has historically happened to mortgage rates during recessions. Here's a look back at rates during previous economic slowdowns to help put your mind at ease.
Mortgage Rates Typically Fall During Recessions
Historical data helps paint the picture of how a recession could impact the cost of financing a home. Looking at recessions in this country going all the way back to 1980, the graph below shows each time the economy slowed down mortgage rates decreased.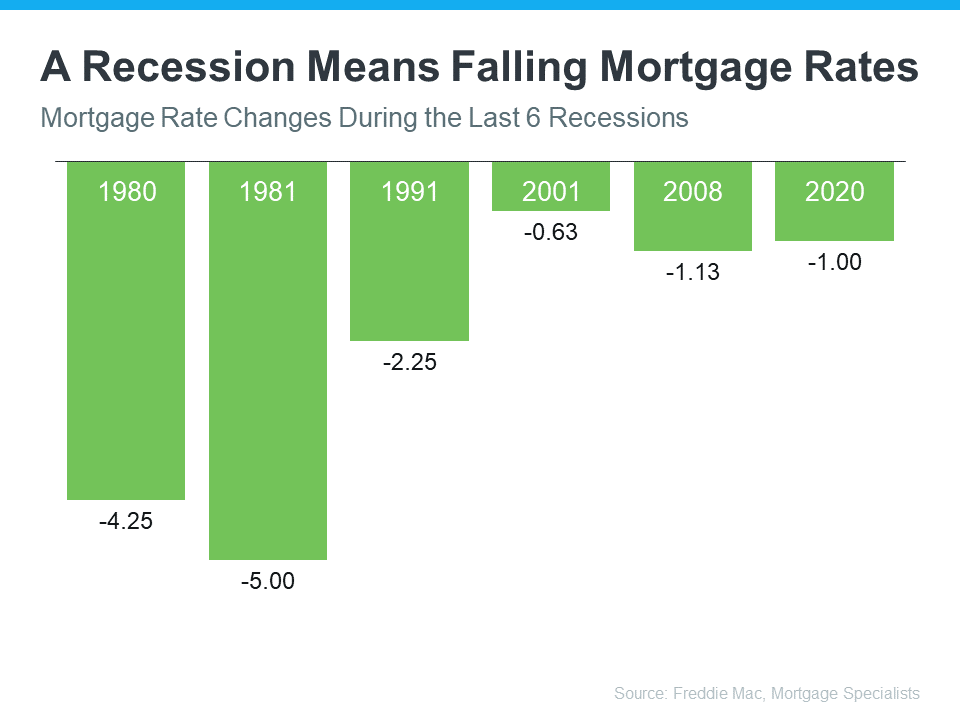 Fortune explains mortgage rates typically fall during an economic slowdown:
"Over the past five recessions, mortgage rates have fallen an average of 1.8 percentage points from the peak seen during the recession to the trough. And in many cases, they continued to fall after the fact as it takes some time to turn things around even when the recession is technically over."
While history doesn't always repeat itself, we can learn from and find comfort in the trends of what's happened in the past. If you're thinking about buying or selling a home, you can make the best decision by working with a trusted real estate professional. That way you have expert advice on what a recession could mean for the housing market.
Bottom Line
History shows you don't need to fear the word recession when it comes to the housing market. If you have questions about what's happening today, let's connect so you have expert advice and insights you can trust.
As the housing market cools in response to the dramatic rise in mortgage rates, home price appreciation is cooling as well. And if you're following along with headlines in the media, you're probably seeing a wide range of opinions calling for everything from falling home prices to ongoing appreciation. But what's true? What's most likely to happen moving forward?
While opinions differ, the most likely outcome is we'll fall somewhere in the middle of slight appreciation and slight depreciation. Here's a look at the latest expert projections so you have the best information possible today.
What the Experts Are Saying About Home Prices Next Year
The graph below shows the most up-to-date forecasts from five experts in the housing industry. These are the experts that have most recently updated their projections based on current market trends: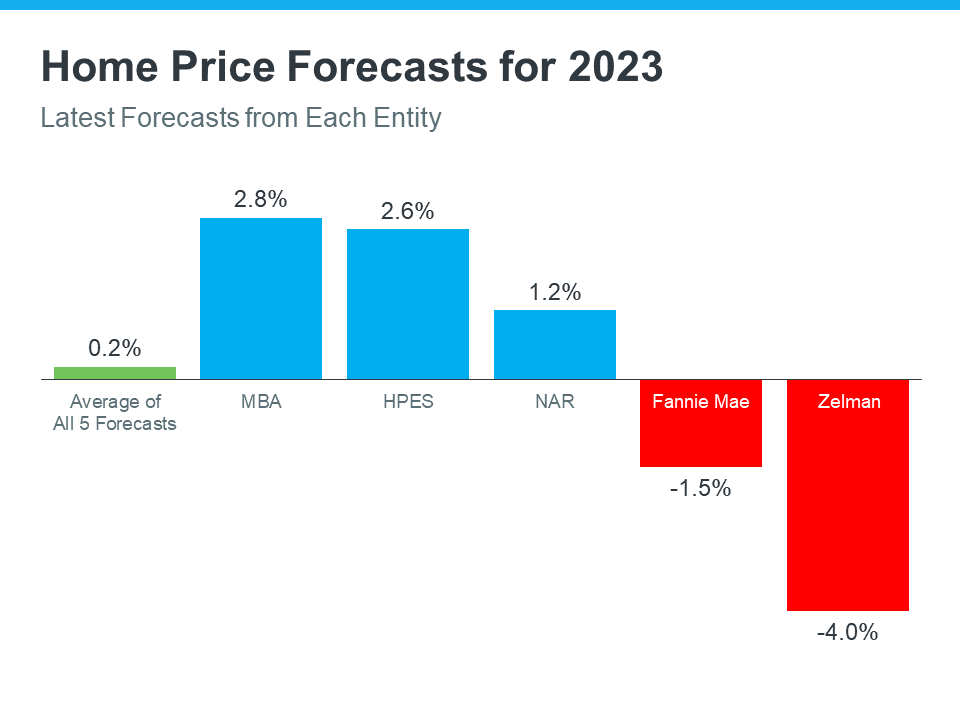 As the graph shows, the three blue bars represent experts calling for ongoing home price appreciation, just at a more moderate rate than recent years. The red bars on the graph are experts calling for home price depreciation.
While there isn't a clear consensus, if you take the average (shown in green) of all five of these forecasts, the most likely outcome is, nationally, home price appreciation will be fairly flat next year.
What Does This Mean?
Basically, experts are divided on what's ahead for 2023. Home prices will likely depreciate slightly in some markets and will continue to gain ground in others. It all depends on the conditions in your local market, like how overheated that market was in recent years, current inventory levels, buyer demand, and more.
The good news is home prices are expected to return to more normal levels of appreciation rather quickly. The latest forecast from Wells Fargo shows that, while they feel prices will fall in 2023, they think prices will recover and net positive in 2024. That forecast calls for 3.1% appreciation in 2024, which is a number much more in line with the long-term average of 4% annual appreciation.
And the Home Price Expectation Survey (HPES) from Pulsenomics, a poll of over one hundred industry experts, also calls for ongoing appreciation of roughly 2.6 to 4% from 2024-2026. This goes to show, even if prices decline slightly next year, it's not expected to be a lasting trend.
As Jason Lewris, Co-Founder and Chief Data Officer for Parcl, says:
"In the absence of trustworthy, up-to-date information, real estate decisions are increasingly being driven by fear, uncertainty, and doubt."
Don't let fear or uncertainty change your plans. If you're unsure about where prices are headed or how to make sense of what's going on in today's housing market, reach out to a local real estate professional for the guidance you need each step of the way.
Bottom Line
The housing market is shifting, and it's a confusing place right now. Let's connect so you have a trusted real estate professional to help you make confident and informed decisions about what's happening in our market.