One of the major story lines over the last year is how well the residential real estate market performed. One key metric in the spotlight is home price appreciation. According to the latest indices, home prices are skyrocketing this year.
Here are the latest percentages showing the year-over-year increase in home price appreciation:
The dramatic increases are seen at every price point and in all regions of the country.
Increases Are Across Every Price Point
According to the latest Home Price Index from CoreLogic, each price range is seeing at least a 19% increase year-over-year: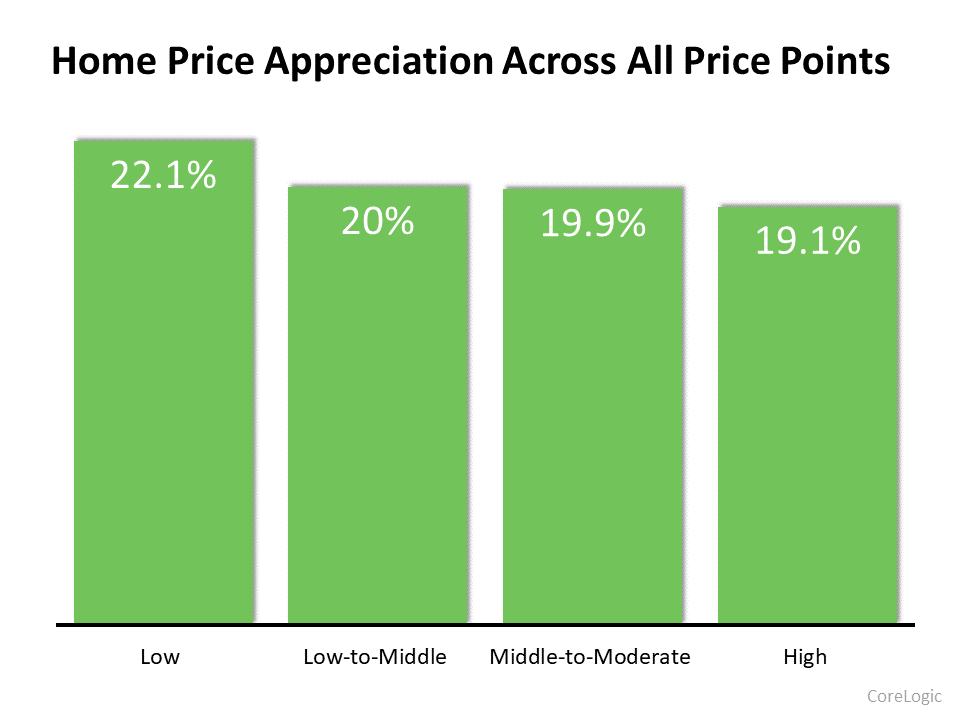 Increases Are Across Every Region in the Country
Every region in the country is experiencing at least a 14.9% increase in home price appreciation, according to the Federal Housing Finance Agency (FHFA):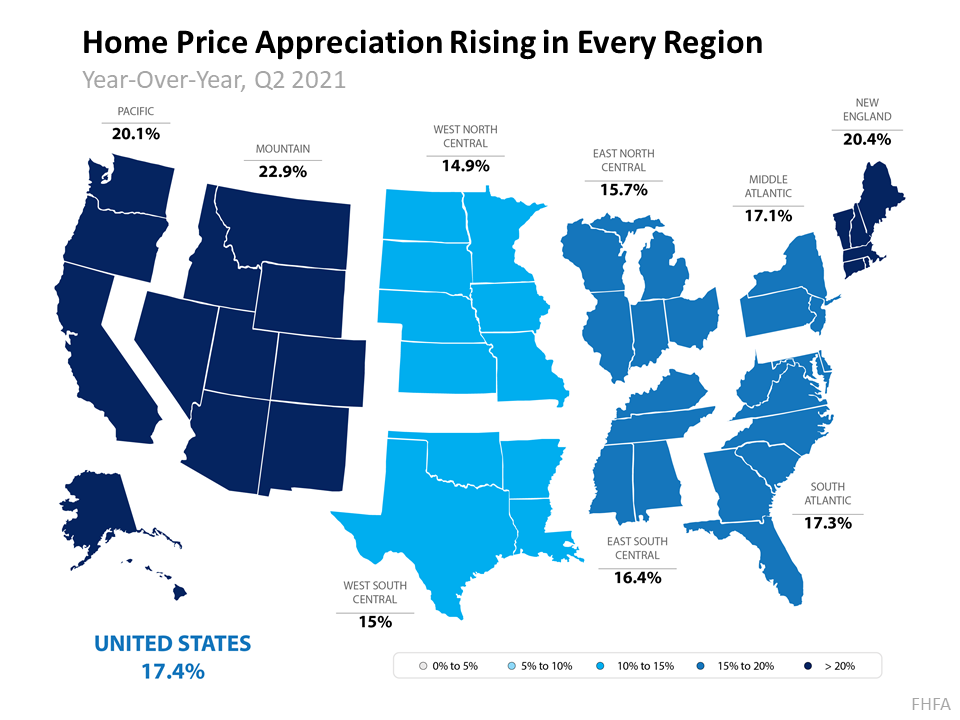 Increases Are Across Each of the Top 20 Metros in the Country
According to the U.S. National Home Price Index from S&P Case-Shiller, every major metro is seeing at least a 13.3% growth in prices (see graph below):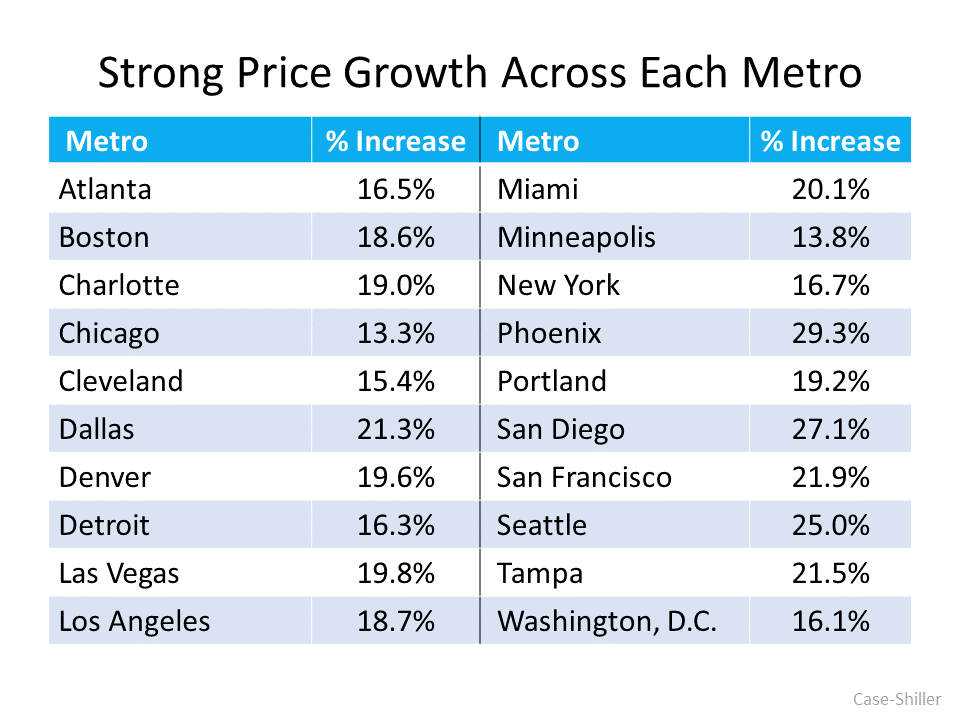 What About Price Appreciation in 2022?
Prices are the result of the balance between supply and demand. The demand for single-family homes has been strong over the last 18 months. The supply of houses available for sale was near historic lows. However, there's some good news on the supply side. Realtor.com reports:
"432,000 new listings hit the national housing market in August, an increase of 18,000 over last year."
There will, however, still be a shortage of supply compared to demand in 2022. CoreLogic reveals:
"Given the widespread demand and considering the number of standalone homes built during the past decade, the single-family market is estimated to be undersupplied by 4.35 million units by 2022."
Yet, most forecasts call for home price appreciation to moderate in 2022. The Home Price Expectation Survey, a survey of over 100 economists, investment strategists, and housing market analysts, calls for a 5.12% appreciation level next year. Here are the 2022 home appreciation forecasts from the four other major entities:
The 

National Association of Realtors

 (NAR): 4.4%
The Mortgage Bankers Association (MBA): 8.4%
Fannie Mae: 5.1%

Freddie Mac

: 5.3%
Price appreciation is expected to slow in 2022 when compared to the record highs of 2021. However, it is still expected to be greater than the annual average of 4.1% over the last 25 years.
Bottom Line
If you owned a home over the past year, you've seen your household wealth grow substantially, and you'll see another nice boost in 2022. If you're thinking of buying, consider buying now as prices are forecast to continue increasing through at least next year.
Even though experts agree there's no chance of a large-scale foreclosure crisis, there are a number of homeowners who may be coming face-to-face with foreclosure as a possibility. And while the overall percentage of homeowners at risk is decreasing with time (see graph below), that's little comfort to those individuals who are facing challenges today.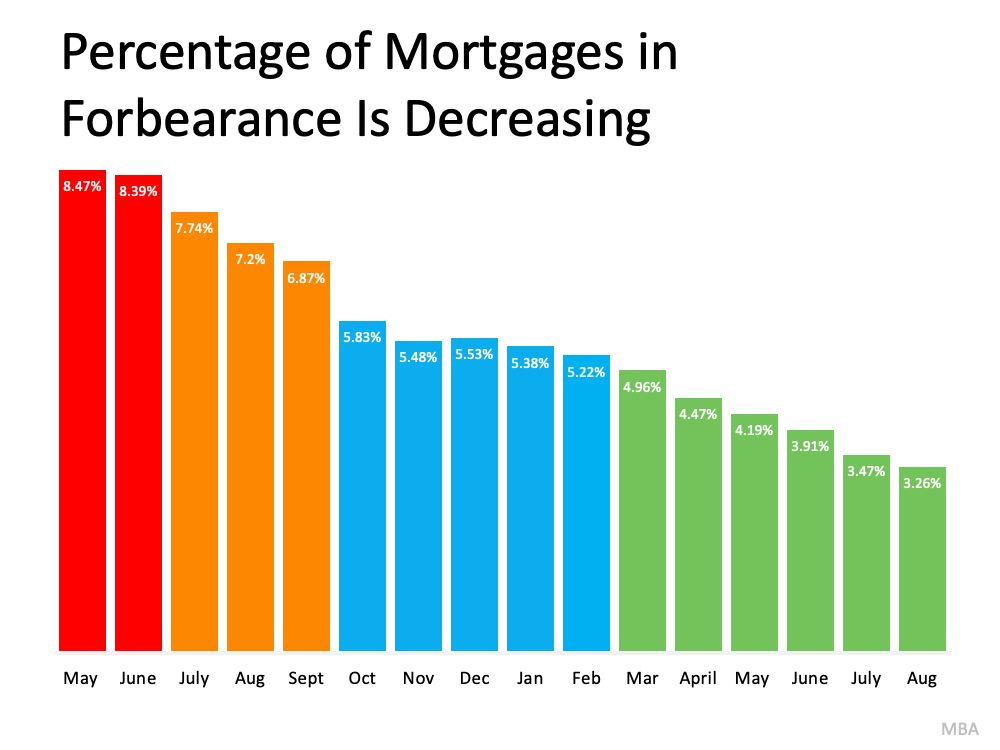 If you haven't taken advantage of the forbearance period, it may be time to research and understand your options. It starts with knowing what foreclosure is. Investopedia defines it like this:
"Foreclosure is the legal process by which a lender attempts to recover the amount owed on a defaulted loan by taking ownership of and selling the mortgaged property. Typically, default is triggered when a borrower misses a specific number of monthly payments . . ." 
The good news is, there are alternatives available to help you avoid having to go through the foreclosure process, including:
Reinstatement
Loan modification
Deed-in-lieu of foreclosure
Short sale
But before you go down any of those paths, it's worth seeing if you have enough equity in your home to sell it and protect your investment.
Understand Your Options: Sell Your House
Equity is the difference between what you owe on the home and its market value based on factors like price appreciation.
In today's real estate market, many homeowners have far more equity in their homes than they realize. Over the last year, buyer demand has been high, but housing supply has been low. That's led to a substantial increase in home values. When prices rise, so does the amount of equity you have in your house.
According to CoreLogic, on average, homeowners gained $33,400 in equity over the last 12 months, and the average equity on mortgaged homes is now $216,000 (see map below):
So, what does that mean for you? Over the past year, chances are your home's value and therefore your equity has risen dramatically. If you've been in your home for a while, the mortgage payments you've made over time chipped away at the balance of your loan. If your home's current value is higher than what you still owe on your loan, you may be able to use that increase to your advantage.
Frank Martell, President and CEO of CoreLogic, elaborates on how equity can help:
"Homeowner equity has more than doubled over the past decade and become a crucial buffer for many weathering the challenges of the pandemic. These gains have become an important financial tool and boosted consumer confidence in the U.S. housing market."
Don't Go at It Alone – Lean on Experts for Advice
To find out what your house is worth in today's market, work with a local real estate professional. We'll be able to give you an estimate of what your house could sell for based on recent sales of similar homes in your area. Since home prices are still appreciating, you may be able to sell your house to avoid foreclosure.
If you find out that you have to pursue other options, your agent can help with that too. We'll be able to connect you with other professionals in the industry, like housing counselors who can look into your unique situation and offer advice on next steps if selling isn't the best alternative.
Bottom Line
If you're a homeowner facing hardship, let's connect to explore your options and see if you can sell your house to avoid foreclosure.
If you're trying to decide when to sell your house, there may not be a better time to list than right now. The ultimate sellers' market we're in today won't last forever. If you're thinking of making a move, here are four reasons to put your house up for sale sooner rather than later.
1. Your House Will Likely Sell Quickly
According to the Realtors Confidence Index released by the National Association of Realtors (NAR), homes continue to sell quickly – on average, they're selling in just 17 days. As a seller, that's great news for you.
Average days on market is a strong indicator of buyer demand. And if homes are selling quickly, buyers have to be more decisive and act fast to submit their offer before other buyers swoop in.
2. Buyers Are Willing To Compete for Your House
In addition to selling quickly, homes are receiving multiple offers. That same survey shows sellers are seeing an average of 4.5 offers, and they're competitive ones. The graph below shows how the average number of offers right now compares to previous years: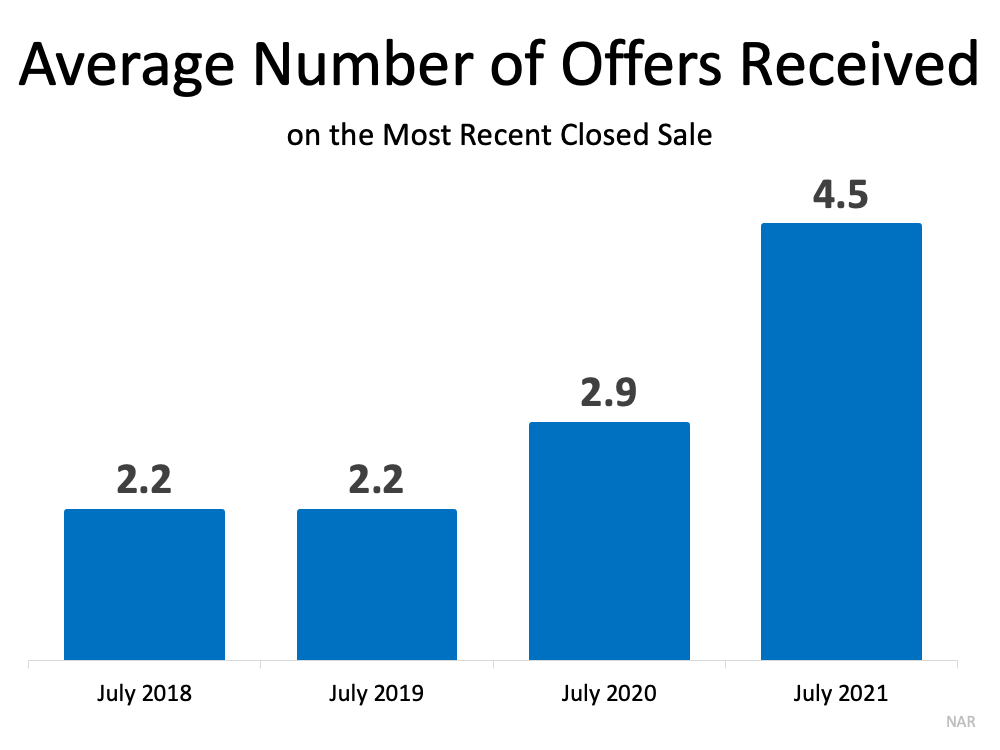 Buyers today know bidding wars are a likely outcome, and they're coming prepared with their best offer in hand. Receiving several offers on your house means you can select the one that makes the most sense for your situation and financial well-being.
3. When Supply Is Low, Your House Is in the Spotlight
One of the most significant challenges for motivated buyers is the current inventory of homes for sale. Though it's improving, it remains at near-record lows. The chart below shows how today's low inventory stacks up against recent years. The lighter the blue is in the chart, the lower the housing supply.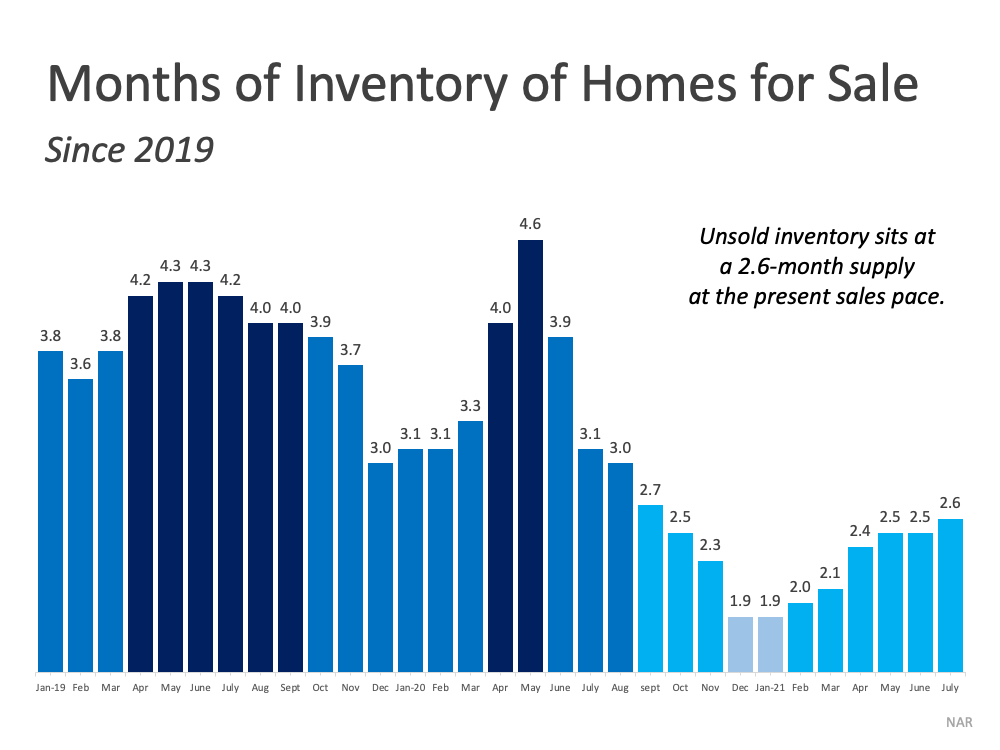 If you're looking to take advantage of buyer demand and get the most attention for your house, selling now before more listings come to the market might be your best option.
4. If You're Thinking of Moving Up, Now May Be the Time
If your current home no longer meets your needs, it may be the perfect time to make a move. Today, homeowners are gaining a significant amount of wealth through growing equity. You can leverage that equity, plus current low mortgage rates, to power your move now. But these near-historic low rates won't last forever.
Experts forecast interest rates will rise. In their forecast, Freddie Mac says:
"While we forecast rates to increase gradually later in the year, we don't expect to see a rapid increase. At the end of the year, we forecast 30-year rates will be around 3.4%, rising to 3.8% by the fourth quarter of 2022."
When rates rise, even modestly, it'll impact your monthly payment and by extension your purchasing power.
Bottom Line
Don't delay. The combination of housing supply challenges, low mortgage rates, and extremely motivated buyers gives sellers a unique opportunity this season. If you're thinking about making a move, let's chat about why it makes sense to list your house now.
According to recent data from realtor.com, median rental prices have reached their highest point ever recorded in many areas across the country. The report found rents rose by 8.1% from the same time last year. As it notes:
"Beyond simply recovering to pre-pandemic levels, rents across the country are surging. Typically, rents fluctuate less than 1% from month to month. In May and June, rents increased by 3.0% and 3.2% from each month to the next."
If you're a renter concerned about rising prices, now may be the time to consider purchasing a home.
Monthly Rents Are Higher Than Monthly Mortgage Payments
When you weigh your options of whether to buy a home or continue renting, how much you'll pay each month is likely top of mind. According to the National Association of Realtors (NAR), monthly mortgage payments are rising, but they're still significantly lower than the typical rental payment. NAR indicates the latest data on homes closed shows the median monthly mortgage payment is $1,204.
By contrast, the median national rent is $1,575 according to the most current data provided by realtor.com. In other words, buyers who recently purchased a home locked in a monthly payment that is, on average, $371 lower than what renters pay today (see graph below):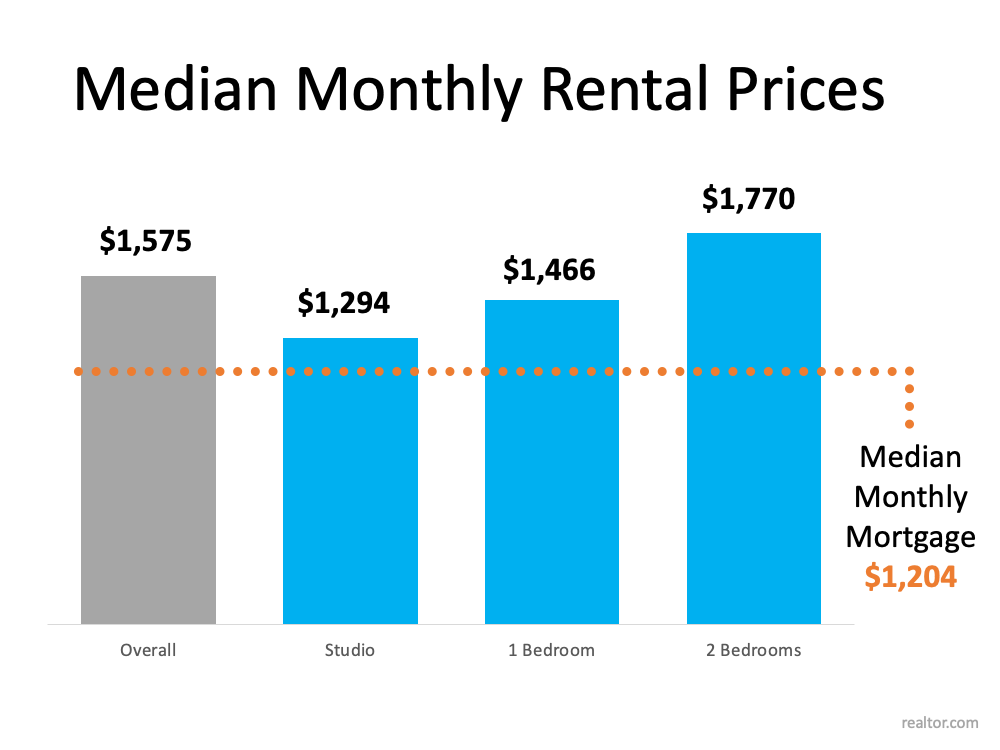 Rents Are Rising Sharply, and They Continue To Increase
The difference in monthly housing costs when comparing renting and homebuying today is significant, but many would-be homebuyers wonder about the future of rental prices. If we look to historical Census data as a reference, the median asking rent has risen consistently since 1988 (see graph below):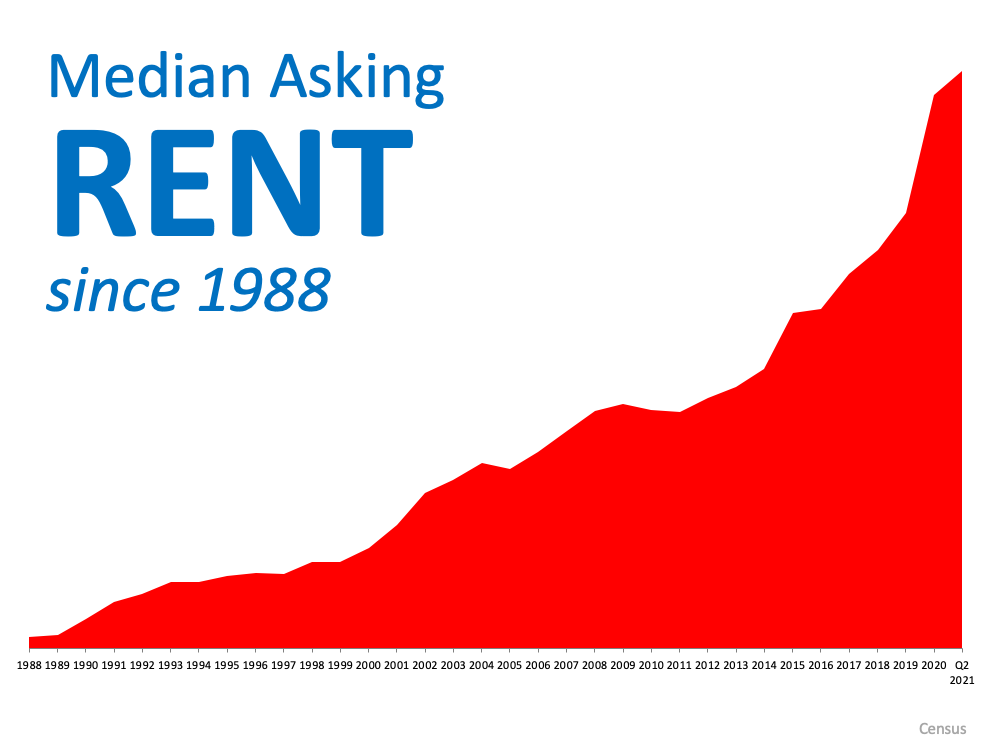 The rise in rent over time clearly shows one of the major advantages homeownership has over renting: stable housing costs. Renters face increasing costs every year. When you purchase your home, your mortgage rate is locked in for 30 years, meaning your monthly payment stays the same over time. That gives you welcome peace of mind and predictability for many years ahead.
Bottom Line
With rents continuing to rise across the country, renters should consider if now is the right time to buy. There are multiple benefits to buying sooner rather than later. Let's discuss your options so you can make your most powerful decision.
With forbearance plans about to come to an end, many are concerned the housing market will experience a wave of foreclosures like what happened after the housing bubble 15 years ago. Here are four reasons why that won't happen.
1. There are fewer homeowners in trouble this time
After the last housing crash, about 9.3 million households lost their home to a foreclosure, short sale, or because they simply gave it back to the bank.
As stay-at-home orders were issued early last year, the overwhelming fear was the pandemic would decimate the housing industry in a similar way. Many experts projected 30% of all mortgage holders would enter the forbearance program. Only 8.5% actually did, and that number is now down to 3.5%.
As of last Friday, the total number of mortgages still in forbearance stood at  1,863,000. That's definitely a large number, but nowhere near 9.3 million.
2. Most of the 1.86M in forbearance have enough equity to sell their home
Of the 1.86 million homeowners currently in forbearance, 87% have at least 10% equity in their homes. The 10% equity number is important because it enables homeowners to sell their houses and pay the related expenses instead of facing the hit on their credit that a foreclosure or short sale would create.
The remaining 13% might not all have the option to sell, so if the entire 13% of the 1.86M homes went into foreclosure, that would total 241,800 mortgages. To give that number context, here are the annual foreclosure numbers of the three years leading up to the pandemic:
2017: 314,220
2018: 279,040
2019: 277,520
The probable number of foreclosures coming out of the forbearance program is nowhere near the number of foreclosures coming out of the housing crash 15 years ago. The number does, however, draw a similar comparison to the three years prior to the pandemic.
3. The current market can absorb any listings coming to the market
When foreclosures hit the market in 2008, there was an excess supply of homes for sale. The situation is exactly the opposite today. In 2008, there was a 9-month supply of listings for sale. Today, that number stands at less than 3 months of inventory on the market.
As Lawrence Yun, Chief Economist at the National Association of Realtors (NAR), explains when addressing potential foreclosures emerging from the forbearance program:
"Any foreclosure increases will likely be quickly absorbed by the market. It will not lead to any price declines."
4. Those in power will do whatever is necessary to prevent a wave of foreclosures
Just last Friday, the White House released a fact sheet explaining how homeowners with government-backed mortgages will be given further options to enable them to keep their homes when exiting forbearance. Here are two examples mentioned in the release:
"For homeowners who can resume their pre-pandemic monthly mortgage payment and where agencies have the authority, agencies will continue requiring mortgage servicers to offer options that allow borrowers to move missed payments to the end of the mortgage at no additional cost to the borrower."
"The new steps the Department of Housing and Urban Development (HUD), Department of Agriculture (USDA), and Department of Veterans Affairs (VA) are announcing will aim to provide homeowners with a roughly 25% reduction in borrowers' monthly principal and interest (P&I) payments to ensure they can afford to remain in their homes and build equity long-term. This brings options for homeowners with mortgages backed by HUD, USDA, and VA closer in alignment with options for homeowners with mortgages backed by Fannie Mae and Freddie Mac."
When evaluating the four reasons above, it's clear there won't be a flood of foreclosures coming to the market as the forbearance program winds down.
Bottom Line
As Ivy Zelman, founder of the major housing market analytical firm Zelman & Associates, notes:
"The likelihood of us having a foreclosure crisis again is about zero percent."
One of the hottest topics of conversation in today's real estate market is the shortage of available homes. Simply put, there are many more potential buyers than there are homes for sale. As a seller, you've likely heard that low supply is good news for you. It means your house will get more attention, and likely, more offers. But as life begins to return to normal, you may be wondering if that's something that will change.
While it may be tempting to blame the pandemic for the current inventory shortage, the pandemic can't take all the credit. While it did make some sellers hold off on listing their houses over the past year, the truth is the low supply of homes was years in the making. Let's take a look at the root cause and what the future holds to uncover why now is still a great time to sell.
Where Did the Shortage Come From?
It's not just today's high buyer demand. Our low supply goes hand-in-hand with the number of new homes built over the past decades. According to Sam Khater, VP and Chief Economist at Freddie Mac:
"The main driver of the housing shortfall has been the long-term decline in the construction of single-family homes."
Data in a recent report from the National Association of Realtors (NAR) tells the same story. New home construction has been lagging behind the norm for quite some time. Historically, builders completed an average of 1.5 million new housing units per year. However, since the housing bubble in 2008, the level of new home construction has fallen off (see graph below):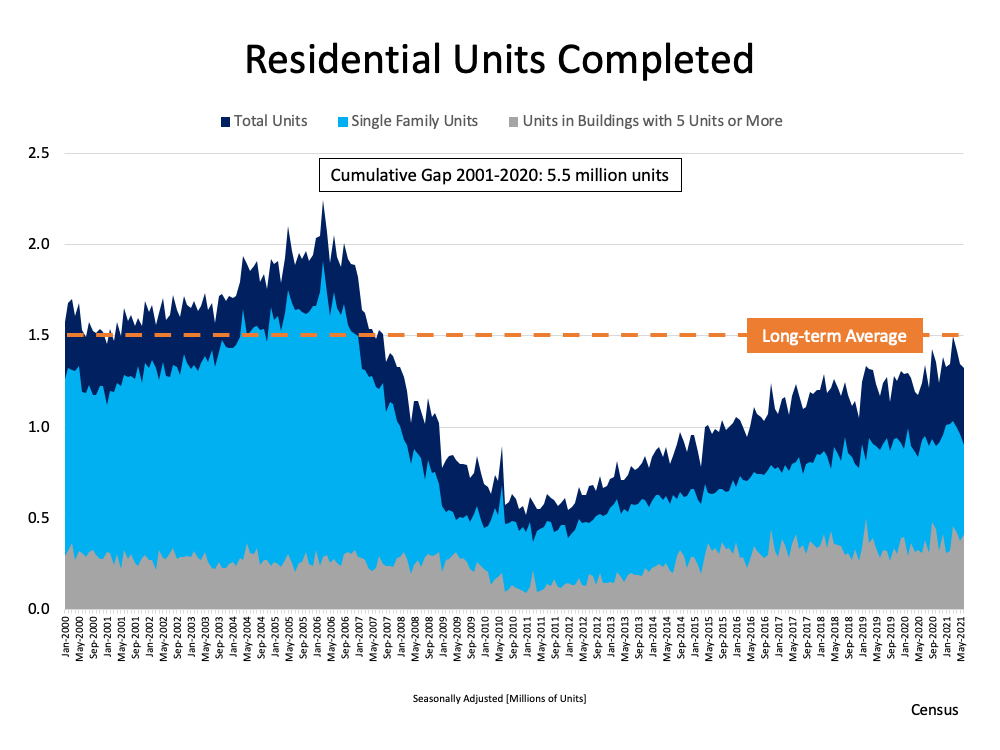 The same NAR report elaborates on the impact of this below-average pace of construction:
". . . the underbuilding gap in the U.S. totaled more than 5.5 million housing units in the last 20 years." 

"Looking ahead, in order to fill an underbuilding gap of approximately 5.5 million housing units during the next 10 years, while accounting for historical growth, new construction would need to accelerate to a pace that is well above the current trend, to more than 2 million housing units per year. . . ."
That means if we build even more new houses than the norm every year, it'll still take a decade to close the underbuilding gap contributing to today's supply-and-demand mix. Does that mean today's ultimate sellers' market is here to stay?
We're already starting to see an increase in new home construction, which is great news. But newly built homes can't bridge the supply gap we're facing right now on their own. In the State of the Nation's Housing 2021 Report, the Joint Center for Housing Studies of Harvard University (JCHS) says:
"…Although part of the answer to the nation's housing shortage, new construction can only do so much to ease short-term supply constraints. To meet today's strong demand, more existing single-family homes must come on the market."
Early Indicators Show More Existing-Home Inventory Is on Its Way
When we look at existing homes, the latest reports signal that housing supply is growing gradually month-over-month. This uptick in existing homes for sale shows things are beginning to shift. Based on recent data, Odeta Kushi, Deputy Chief Economist at First American, has this to say:
"It looks like existing inventory is starting to inch up, which is good news for a housing market parched for more supply."
Lawrence Yun, Chief Economist at NAR, echoes that sentiment:
"As the inventory is beginning to pick up ever so modestly, we are still facing a housing shortage, but we may have turned a corner."
So, what does all of this mean for you? Just because life is starting to return to normal, it doesn't mean you missed out on the best time to sell. It's not too late to take advantage of today's sellers' market and use rising equity and low interest rates to make your next move.
Bottom Line
It's still a great time to sell. Even though housing supply is starting to trend up, it's still hovering near historic lows. Let's connect to discuss how you can list your house now and use the inventory shortage to get the best possible terms for you.
With home prices continuing to deliver double-digit increases, some are concerned we're in a housing bubble like the one in 2006. However, a closer look at the market data indicates this is nothing like 2006 for three major reasons.
1. The housing market isn't driven by risky mortgage loans.
Back in 2006, nearly everyone could qualify for a loan. The Mortgage Credit Availability Index (MCAI) from the Mortgage Bankers' Association is an indicator of the availability of mortgage money. The higher the index, the easier it is to obtain a mortgage. The MCAI more than doubled from 2004 (378) to 2006 (869). Today, the index stands at 130. As an example of the difference between today and 2006, let's look at the volume of mortgages that originated when a buyer had less than a 620 credit score.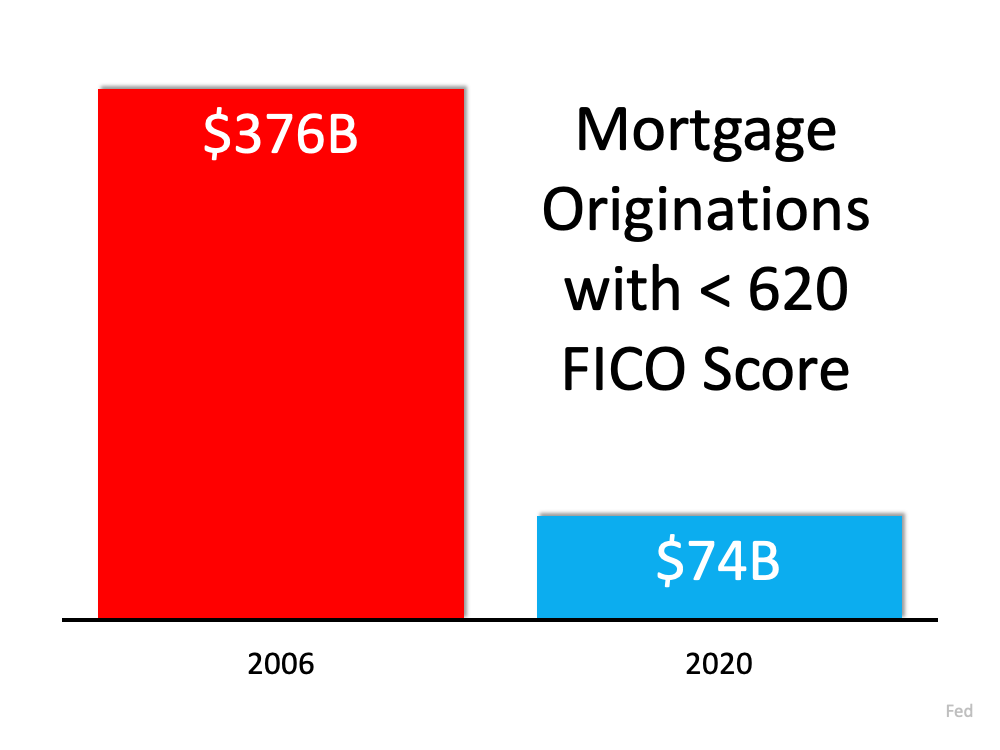 Dr. Frank Nothaft, Chief Economist for CoreLogic, reiterates this point:
"There are marked differences in today's run up in prices compared to 2005, which was a bubble fueled by risky loans and lenient underwriting. Today, loans with high-risk features are absent and mortgage underwriting is prudent."
2. Homeowners aren't using their homes as ATMs this time.
During the housing bubble, as prices skyrocketed, people were refinancing their homes and pulling out large sums of cash. As prices began to fall, that caused many to spiral into a negative equity situation (where their mortgage was higher than the value of the house).
Today, homeowners are letting their equity build. Tappable equity is the amount available for homeowners to access before hitting a maximum 80% combined loan-to-value ratio (thus still leaving them with at least 20% equity). In 2006, that number was $4.6 billion. Today, that number stands at over $8 billion.
Yet, the percentage of cash-out refinances (where the homeowner takes out at least 5% more than their original mortgage amount) is half of what it was in 2006.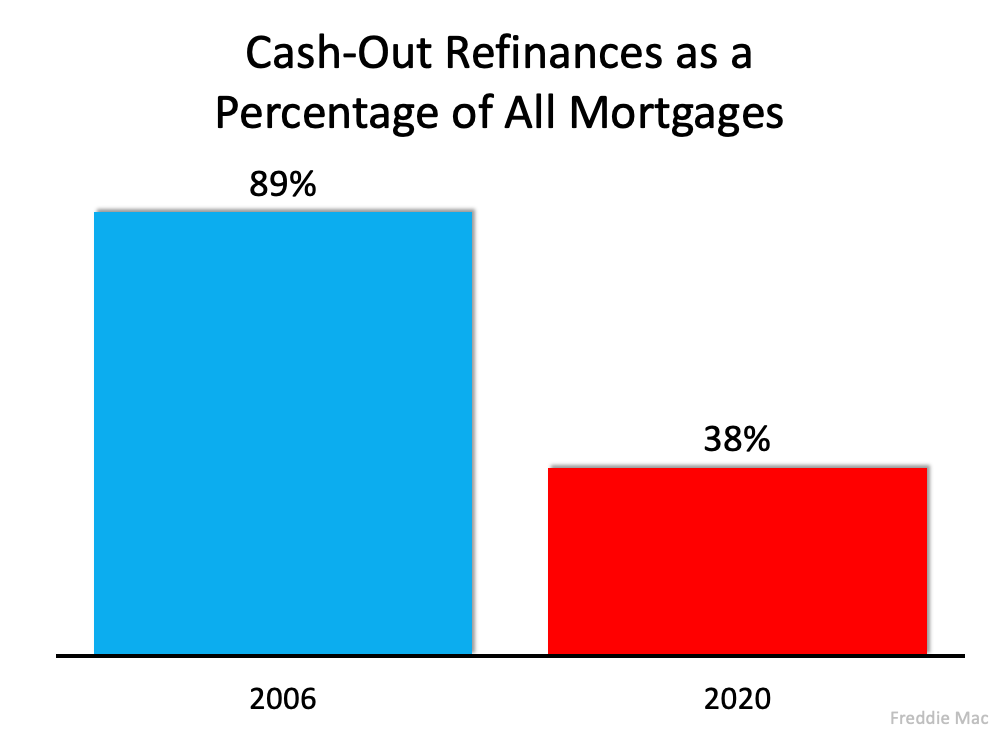 3. This time, it's simply a matter of supply and demand.
FOMO (the Fear Of Missing Out) dominated the housing market leading up to the 2006 housing bubble and drove up buyer demand. Back then, housing supply more than kept up as many homeowners put their houses on the market, as evidenced by the over seven months' supply of existing housing inventory available for sale in 2006. Today, that number is barely two months.
Builders also overbuilt during the bubble but pulled back significantly over the next decade. Sam Khater, VP and Chief Economist, Economic & Housing Research at Freddie Mac, explains that pullback is the major factor in the lack of available inventory today:
"The main driver of the housing shortfall has been the long-term decline in the construction of single-family homes."
Here's a chart that quantifies Khater's remarks: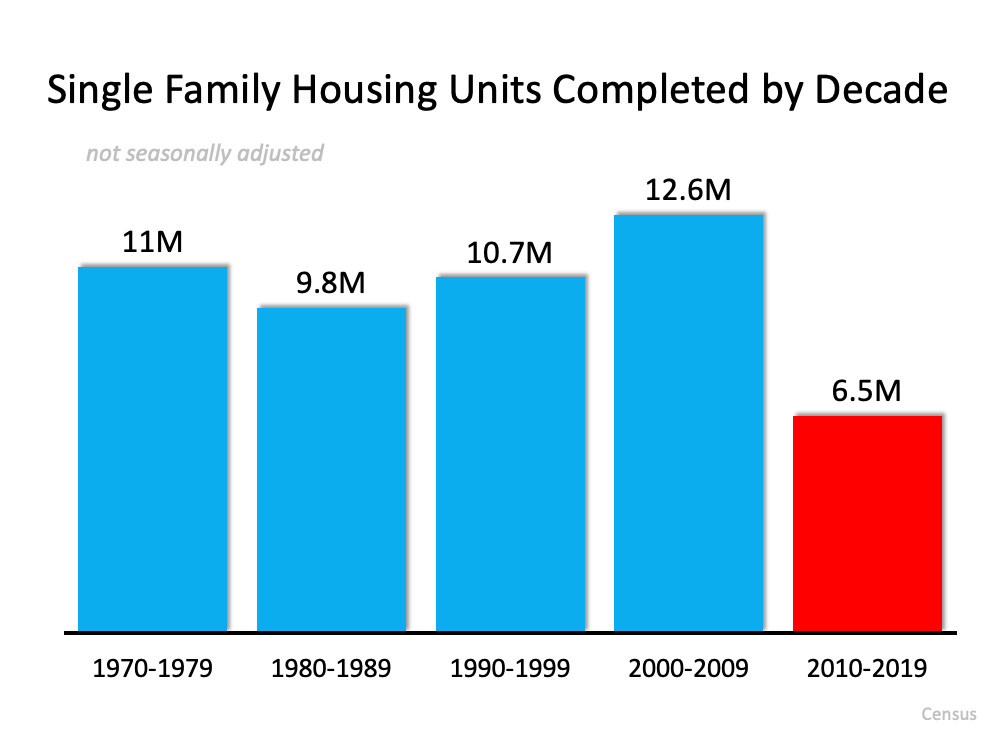 Today, there are simply not enough homes to keep up with current demand.
Bottom Line
This market is nothing like the run-up to 2006. Bill McBride, the author of the prestigious Calculated Risk blog, predicted the last housing bubble and crash. This is what he has to say about today's housing market:
"It's not clear at all to me that things are going to slow down significantly in the near future. In 2005, I had a strong sense that the hot market would turn and that, when it turned, things would get very ugly. Today, I don't have that sense at all, because all of the fundamentals are there. Demand will be high for a while because Millennials need houses. Prices will keep rising for a while because inventory is so low."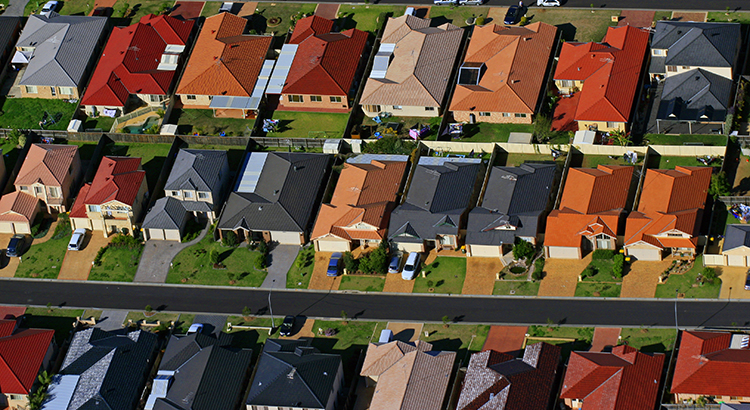 The major challenge in today's housing market is that there are more buyers looking to purchase than there are homes available to buy. Simply put, supply can't keep up with demand. A normal market has a 6-month supply of homes for sale. Anything over that indicates it's a buyers' market, but an inventory level below that threshold means we're in a sellers' market. Today's inventory level sits far below the norm.
According to the Existing Home Sales Report from the National Association of Realtors (NAR):
"Total housing inventory at the end of April amounted to 1.16 million units, up 10.5% from March's inventory and down 20.5% from one year ago (1.46 million). Unsold inventory sits at a 2.4-month supply at the current sales pace, slightly up from March's 2.1-month supply and down from the 4.0-month supply recorded in April 2020. These numbers continue to represent near-record lows."
Basically, while we are seeing some improvement, we're still at near-record lows for housing inventory (as shown in the graph below). Here's why. Since the pandemic began, sellers have been cautious when it comes to putting their homes on the market. At the same time that fewer people are listing their homes, more and more people are trying to buy them thanks to today's low mortgage rates. The influx of buyers aiming to capitalize on those rates are purchasing this limited supply of homes as quickly as they're coming to market.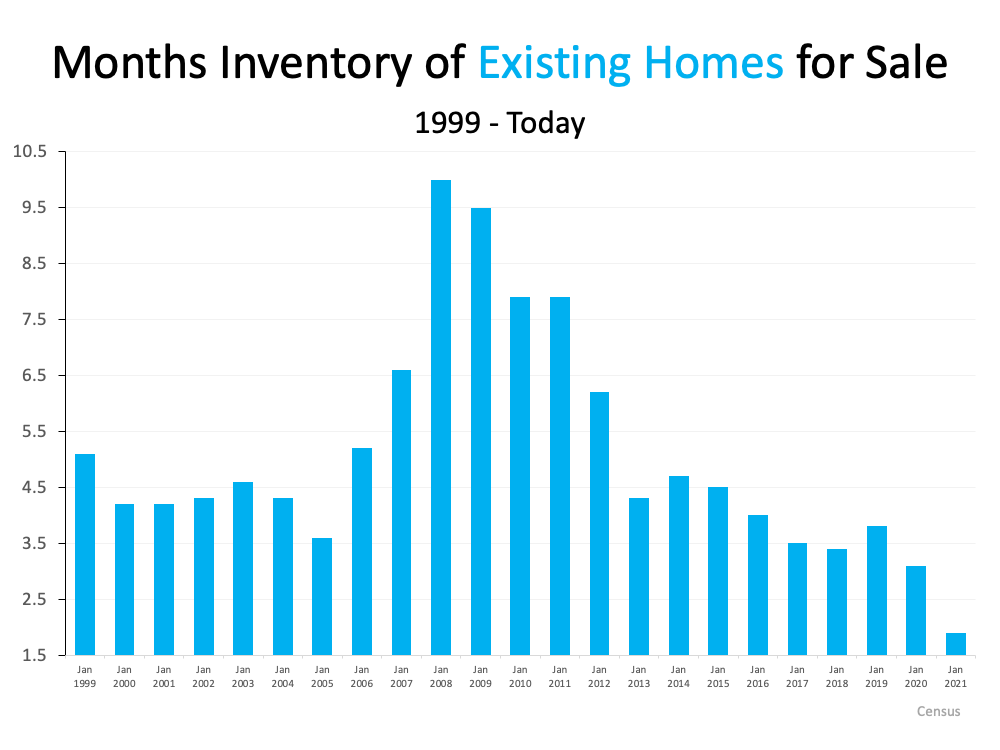 This inventory shortage doesn't just apply to existing homes that are already built. When it comes to new construction, builders are trying to do their part to bring more newly built homes into the market. However, due to challenges with things like lumber supply, they're also not able to keep up with demand. In their Monthly New Residential Sales report, the United States Census Bureau states:
"The seasonally‐adjusted estimate of new houses for sale at the end of April was 316,000. This represents a supply of 4.4 months at the current sales rate."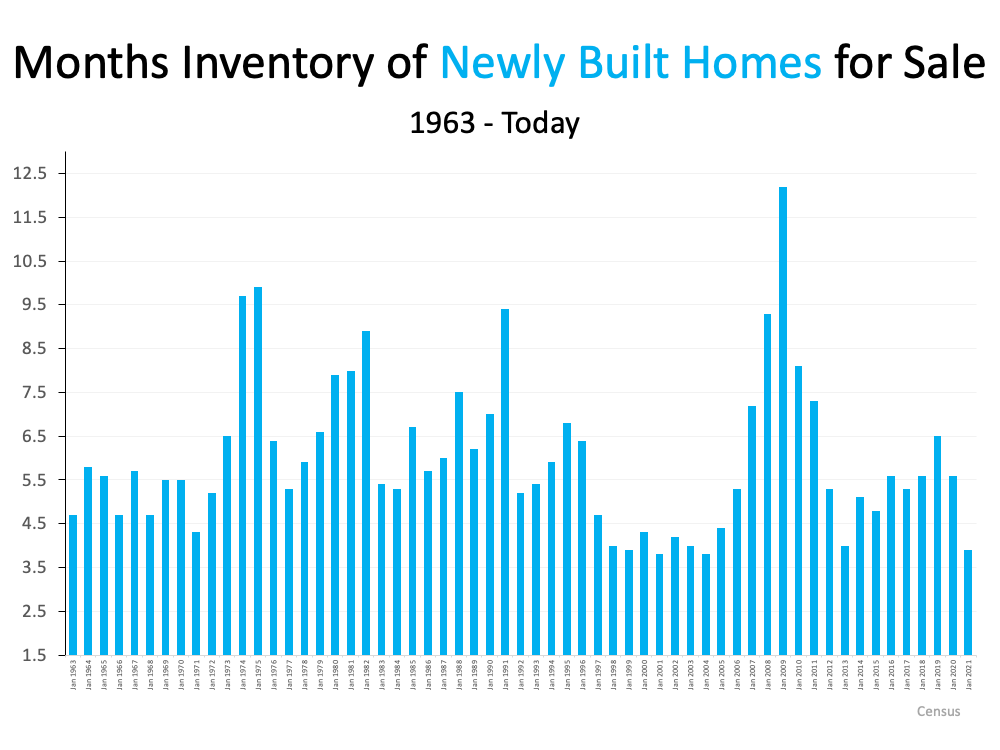 Sam Khater, Chief Economist at Freddie Mac, elaborates:
"In the span of five decades, entry level construction fell from 418,000 units per year in the late 1970s to 65,000 in 2020.

While in 2020 only 65,000 entry-level homes were completed, there were 2.38 million first-time homebuyers that purchased homes. Not all renters looking to purchase their first home were in the market for entry-level homes, however, the large disparity illustrates the significant and rapidly widening gap between entry-level supply and demand."
Despite today's low inventory, there is hope on the horizon.
Regarding existing home sales, Sabrina Speianu, Senior Economic Research Analyst at realtor.com, explains:
"In May, newly listed homes grew by 5.4% on a year-over-year basis compared to the earlier days of the COVID-19 pandemic last year…

In May, the share of newly listed homes compared to active daily inventory hit a historical high of 44.4%, 17.3 percentage points higher than last year and 15.1 percentage points above typical levels seen in 2017 to 2019. This is a reflection of quickly selling homes and, for buyers, it means that while they can expect fresh new listings every week, they will have to be prepared to move quickly on desirable homes."
As for newly built homes, builders are also confident about what's ahead for housing inventory. Robert Dietz, Chief Economist at the National Association of Home Builders (NAHB), shares:
"Builder confidence in the market remains strong due to a lack of resale inventory, low mortgage interest rates, and a growing demographic of prospective home buyers."
Things are starting to look up for residential real estate inventory. As the country continues to reopen, more houses are likely to be listed for sale. However, as long as buyer demand remains high, it will take time for the balance between supply and demand to truly neutralize.
Bottom Line
Although it may be challenging to find a house to buy in today's market, there is hope on the horizon. Let's connect to talk about your home search so we can find your dream home this summer.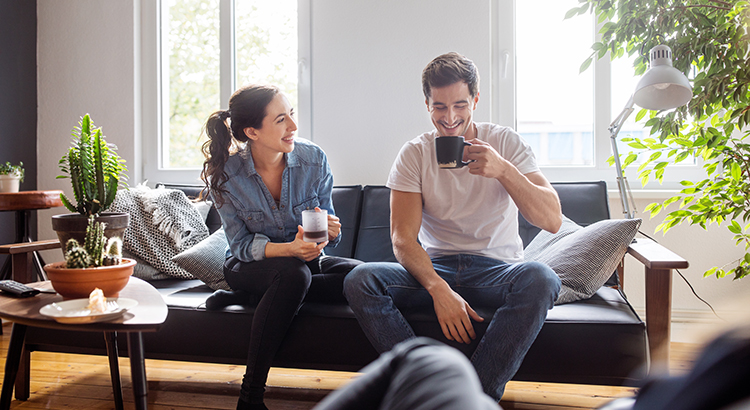 We're in the ultimate sellers' market right now. If you're a homeowner thinking about selling, you have a huge advantage in today's housing market. High buyer demand paired with very few houses for sale makes this the optimal time to sell for those who are ready to do so. Whatever the move you want to make looks like, here's an overview of what's creating the prime opportunity to sell this summer.
High Buyer Demand
Demand is strong, and buyers are actively searching for homes to purchase. In the Realtors Confidence Index Survey published monthly by the National Association of Realtors (NAR), buyer traffic is considered "very strong" in almost every state. Homebuyers aren't just great in number right now – they're also determined to find their dream home. NAR shows the average home for sale today receives five offers from hopeful buyers. These increasingly frequent bidding wars can drive up the price of your house, which is why high demand from competitive homebuyers is such a win for this summer's sellers.
Low Inventory of Houses for Sale
Purchaser demand is so high, the market is running out of available homes for sale. Danielle Hale, Chief Economist at realtor.com, explains:
"For most sellers listing sooner rather than later could really pay off with less competition from other sellers and potentially a higher sales price… They'll also avoid some big unknowns lurking later in the year, namely another possible surge in COVID cases, rising interest rates and the potential for more sellers to enter the market."
NAR also reveals that unsold inventory sits at a 2.4-months' supply at the current sales pace. This is far lower than the historical norm of a 6.0-months' supply. Homes are essentially selling as fast as they're hitting the market. Below is a graph of the existing inventory of single-family homes for sale:
At the same time, homebuilders are increasing construction this year, but they can't keep up with the growing demand. While reporting on the inventory of newly constructed homes, the U.S. Census Bureau notes:
"The seasonally‐adjusted estimate of new houses for sale at the end of April was 316,000. This represents a supply of 4.4 months at the current sales rate."
What Does This Mean for You? 
If you're thinking of putting your house on the market, don't wait. A seller will always negotiate the best deal when demand is high and supply is low. That's exactly what's happening in the real estate market today.
Bottom Line
As vaccine rollouts progress and we continue to see the economy recover, more houses will come to the market. Don't wait for the competition in your neighborhood to increase. If you're ready to make a move, now is the time to sell. Let's connect today to get your house listed at this optimal moment in time.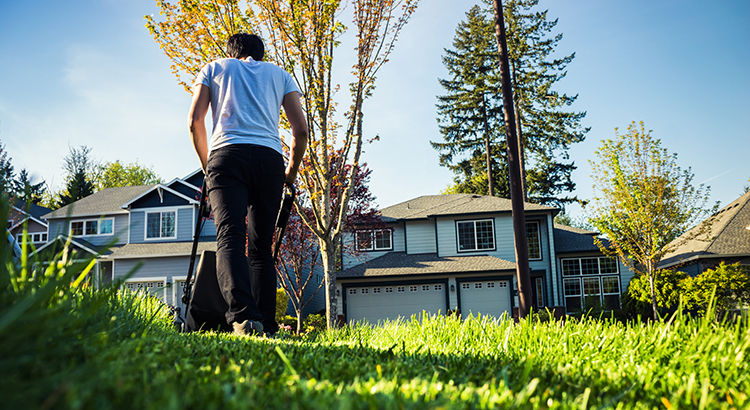 Mortgage rates are on the rise this year, but they're still incredibly low compared to the historic average. However, anytime there's a change in the mortgage rate, it affects what you can afford to borrow when you're buying a home. As Sam Khater, Chief Economist at Freddie Mac, shares:
"Since January, mortgage rates have increased half a percentage point from historic lows and home prices have risen, leaving potential homebuyers with less purchasing power." (See graph below):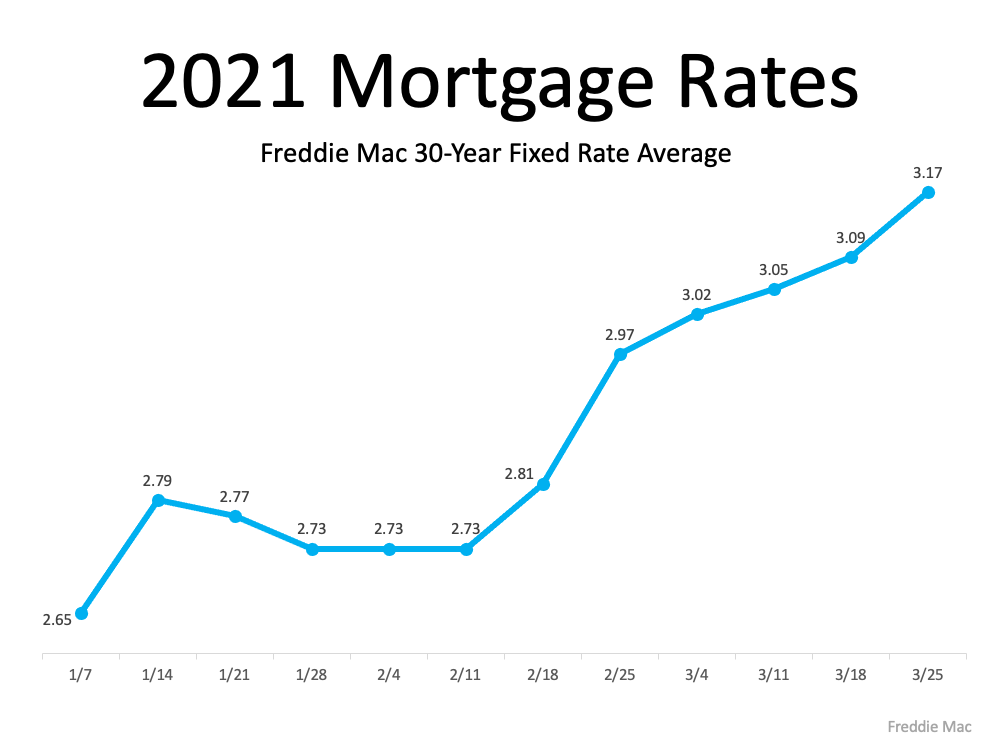 When buying a home, it's important to determine a monthly budget so you can plan for and understand what you can afford. However, when you need to stick to your budget, even a small increase in the mortgage rate can make a big difference.
According to the National Association of Realtors (NAR), today, the median existing-home price is $313,000. Using $300,000 as a simple number close to the median price, here's an example of how a change in mortgage rate impacts your monthly principal and interest payments on a home.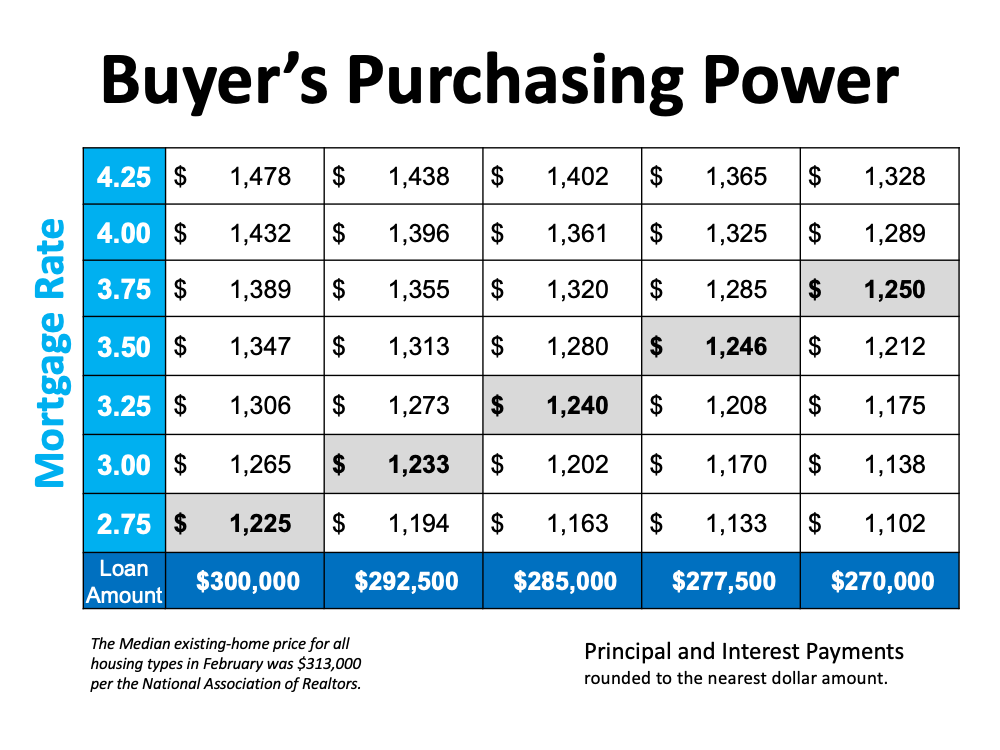 If, for example, you're getting ready to buy a home and know your budget allows for a monthly payment of $1200-1250 (marked in gray on the table above), every time the mortgage rate increases, the loan amount has to decrease to keep your monthly cost in range. This means you may have to look for lower-priced homes as mortgage rates go up if you want to be able to maintain your budget.
In essence, it's ideal to close on a home loan when mortgage rates are low, so you can afford to borrow more money. This gives you more purchasing power when you buy a home. Mark Fleming, Chief Economist at First American, explains:
"Monthly payments have remained manageable despite soaring home prices because of low mortgage rates. In fact, monthly payments remain below the $1,250 to $1,260 range that we saw in both fall 2018 and spring 2019, but they are on track to hit that level this spring.

Although they remain low, mortgage rates have begun to increase and are expected to rise further later in the year, thus affordability will test buyer demand in the months ahead and likely help slow the pace of price growth."
Today's mortgage rates are still very low, but experts project they'll continue to rise modestly this year. As a result, every moment counts for homebuyers who want to secure the lowest mortgage rate they can in order to be able to afford the home of their dreams.
Bottom Line
Thanks to low mortgage rates, the spring housing market's in bloom for buyers – but these favorable conditions may not last for long. Let's connect today to start the homebuying process while your purchasing power is still holding strong.